Aiden Fink
2022-23 Team: Brooks Bandits (AJHL)
Date of Birth: November 24, 2004
Place of Birth: Calgary, Alberta
Height: 5-foot-9, Weight: 152 pounds
Shoots: Right
Position: RW
NHL Draft Eligibility: First Year Eligible
Rankings
Aiden Fink was the best player in Canada's Junior A circuit this season, being named best forward and MVP of the Alberta Junior Hockey League (AJHL) and the Canadian Junior Hockey League (CJHL) as a whole (worth noting that the BCHL is no longer a part of the CJHL so Bradly Nadeau wasn't in consideration). Fink plays with a ton of speed and energy, constantly setting the pace of play.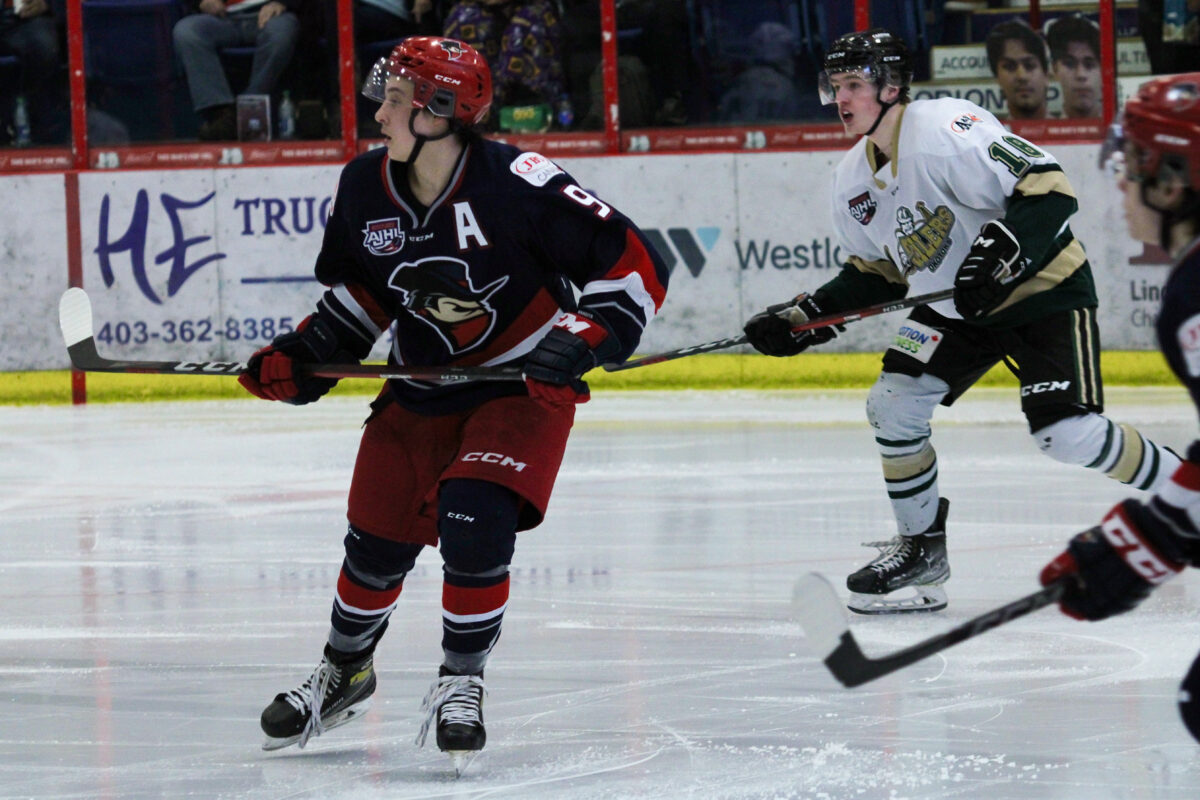 He also has an NHL caliber shot that served him well in the AJHL this season, and I expect it will be just as useful to him in the NCAA next year when he heads to Penn State for his freshman season. Fink is great at anticipating defenders' movements, making him slippery off the puck. He is also a creative playmaker so defenders have to choose whether to respect his shot or passing ability when he's coming down the wing off the rush. 
Fink has great skill with the puck and can get off impressive moves at high speeds, which gives me confidence that his game will translate to higher levels. Playing in Canada's Junior-A system has certainly lowered the attention on Fink over the years, but he was a massive reason why the juggernaut Brooks Bandits were able to win the Centennial Cup this Spring as the best Junior-A team in the nation.
The only issue in Fink's profile is his height, as the rest of his tools scream NHL player. At 5-foot-9, he's going to have a tough time handling the physicality of professional hockey, especially considering he wasn't all that great physically in junior this year. Thankfully, a few years at Penn State will give him a chance to fill out his frame and learn to use his lower center of gravity to his advantage in a similar way to smaller NHL wingers like Connor Garland or Jonathan Marchessault. He has a good motor and has the speed and sense to be a legit NHL player, so packing on some muscle should be his biggest focus over the next few years.
Related: 2023 NHL Draft Guide
Fink scored an absurd, league-leading 97 points in 54 games this season with 41 goals (2nd in the AJHL) and 56 assists (4th in the AJHL). He was an absolute force all season, scoring from a variety of spots (including his favourite, the left flank on the powerplay), setting up plays in transition, and backchecking hard each game.
The start to his season was impressive enough for him to be invited to compete for Canada at the World Junior A challenge where he led the tournament in scoring with 12 points in six games. This tournament had other high-end NHL prospects like Sam Rinzel (drafted #25 in the 2022 Draft by the Chicago Blackhawks), Otto Stenberg, and Tom Willander. No one else in the tournament cracked double digits which helped finally draw some NHL draft buzz to the Brooks Bandits star (and his teammate Hudson Malinoski).
Fink has a pedestrian performance in the AJHL playoffs, by his standards, with 13 points in 15 games, before really turning it on in the Centennial Cup tournament, leading all skaters in goals (6), assists (7), and points (13).
Other THW Draft Profiles
Aiden Fink – NHL Draft Projection
Fink is a gifted offensive player, and his skating is so good that I expect he'll be drafted in the middle rounds of this year's draft despite his small frame. I believe he would be a great pick in the late second or early third rounds, but I think he'll probably be selected in the late third or early fourth, roughly the 85-100 range. 
Quotables 
"Fink's skating and energy stand out when he's on the ice. He has excellent speed and quickness and often pushes the pace with his skating. " – Corey Pronman, The Athletic (2023 NHL Draft ranking: Connor Bedard leads Corey Pronman's tiers of the top 142 prospects, May 30, 2023)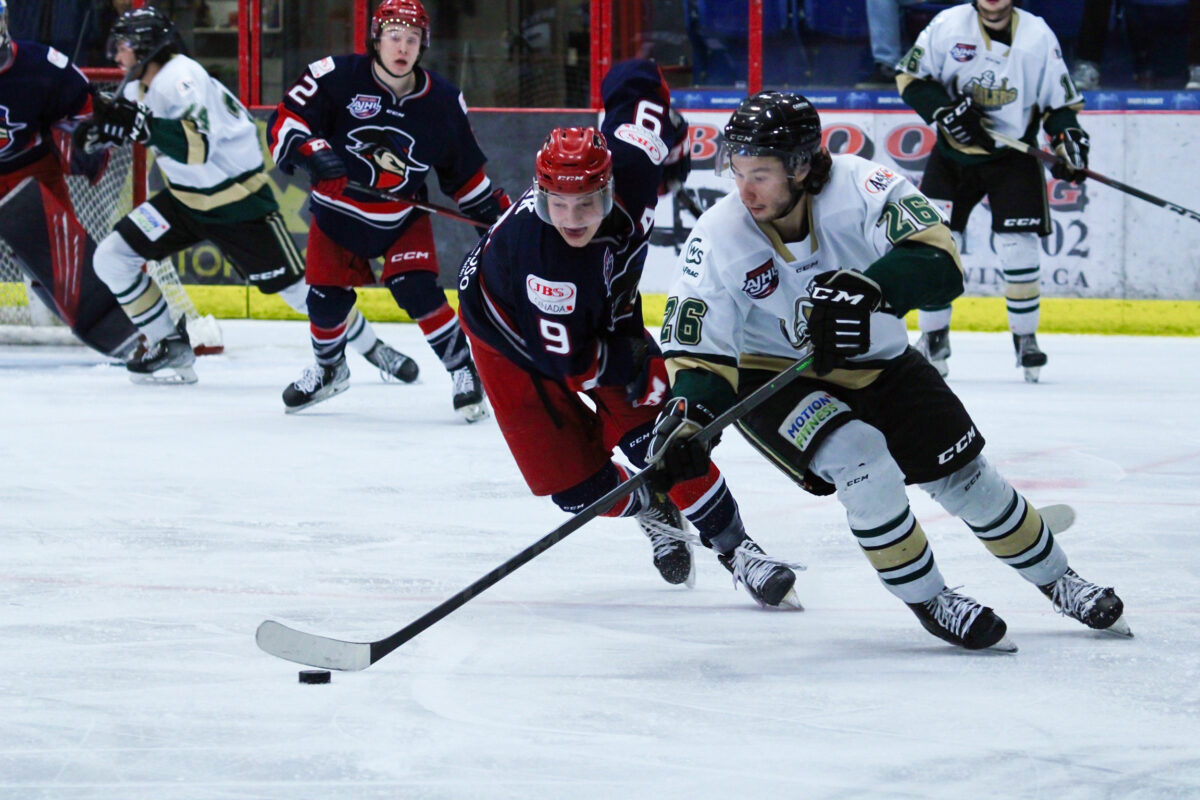 "The CJHL player of the year was dominant for the Brooks Bandits this season. He can wheel around the ice well and clearly has skill." – Chris Peters, FLO Hockey
"He's a small but extremely talented player with high-end puck skills, rare craftiness in possession, an NHL release, and a great sense of spacing and timing inside the offensive zone." – Scott Wheeler, The Athletic (2023 NHL Draft ranking: Scott Wheeler's top 100 is divided into six tiers, June 5, 2023)
Strengths
Quick and skilled skater
Makes highly skilled plays with the puck at full speed
Good NHL shot
Under Construction – Improvements to Make
Continue to build physical play through body positioning 
Add some more strength
NHL Potential 
I think that Fink has very high potential in the NHL, with the speed, skill and shot to be a middle-six winger who does most of his damage on the powerplay where he's afforded more time and space and is defended a bit less physically. He will need to get stronger to make it in that role, but his skating and shot are good enough that even with only a slight improvement to his physical play, I think he'll get games in an NHL bottom-six role.
Risk-Reward 
Risk – 3/5, Reward – 3.5/5
Fantasy Hockey Potential
Offense – 8/10, Defense – 3.5/10
Interviews/Links
Awards & Achievements
2021-22: AJHL Champion
2022-23: WJAC-19 All-Star
2022-23: AJHL Champion
2022-23: AJHL Most Points
2022-23: AJHL All-Star
2022-23: AJHL Top Forward
2022-23: AJHL MVP
2022-23: CJHL MVP
Aiden Fink Stats
Videos

---
Latest News & Highlight
---