Tonight, the Anaheim Ducks will take on the Dallas Stars at Honda Center in a showdown between two teams going in opposite directions in the Western Conference. With seven wins in their last 10 games, the Stars are sitting atop the Central Division standings, three points clear of the second-place Winnipeg Jets, while the Anaheim Ducks began 2023 where they finished 2022, with a plunge toward the conference basement, courtesy of the Philadelphia Flyers' 4-1 victory Monday night.
In their December meeting, the first of the season between the two clubs, Jake Oettinger delivered a 31-save shutout en route to a 5-0 victory; Jason Roberston, a Southern California native and offensive sensation in his fourth season, recorded a hat trick, and the Ducks surrendered 41 shots on goal. Sound familiar? It should be because it's been a season-long trend. With the second game of the 2023 calendar year on the docket, here's a look at some factors that could make a difference when the puck drops at 7 pm PST.
Will the Real John Klingberg Please Stand Up?
Klingberg has an opportunity to show his former organization and teams interested in acquiring his services at the March 3 trade deadline that he is better than what he has shown. Originally acquired to be a steady and reliable offensive contributor on the backend and mentor of sorts to the Ducks' young offensive defensemen, namely Jamie Drysdale (unfortunately lost for the season due to injury), the 30-year-old Swede has had his fair share of struggles so far.
---
Latest News & Highlights
---
Make no mistake, he possesses strong offensive talent and instinct as a defenseman and is only a couple of seasons removed from a 21-point Stanley Cup Playoff performance with the 2020 Stanley Cup finalist Stars. This season, however, has not been kind to him. He's dealt with injury, and his play has left a lot to be desired. Perhaps a game against his former team will give him some juice.
Anthony Stolarz Is Back
John Gibson just returned and already needs a break. He's been absolutely battered with shots, facing 51 against the Vegas Golden Knights (albeit with 5 minutes of overtime play), 43 against the Nashville Predators, and 29 the other night against the Flyers. While he makes goaltending look effortlessly smooth and natural and has for years, he looks tired and, at times, defeated.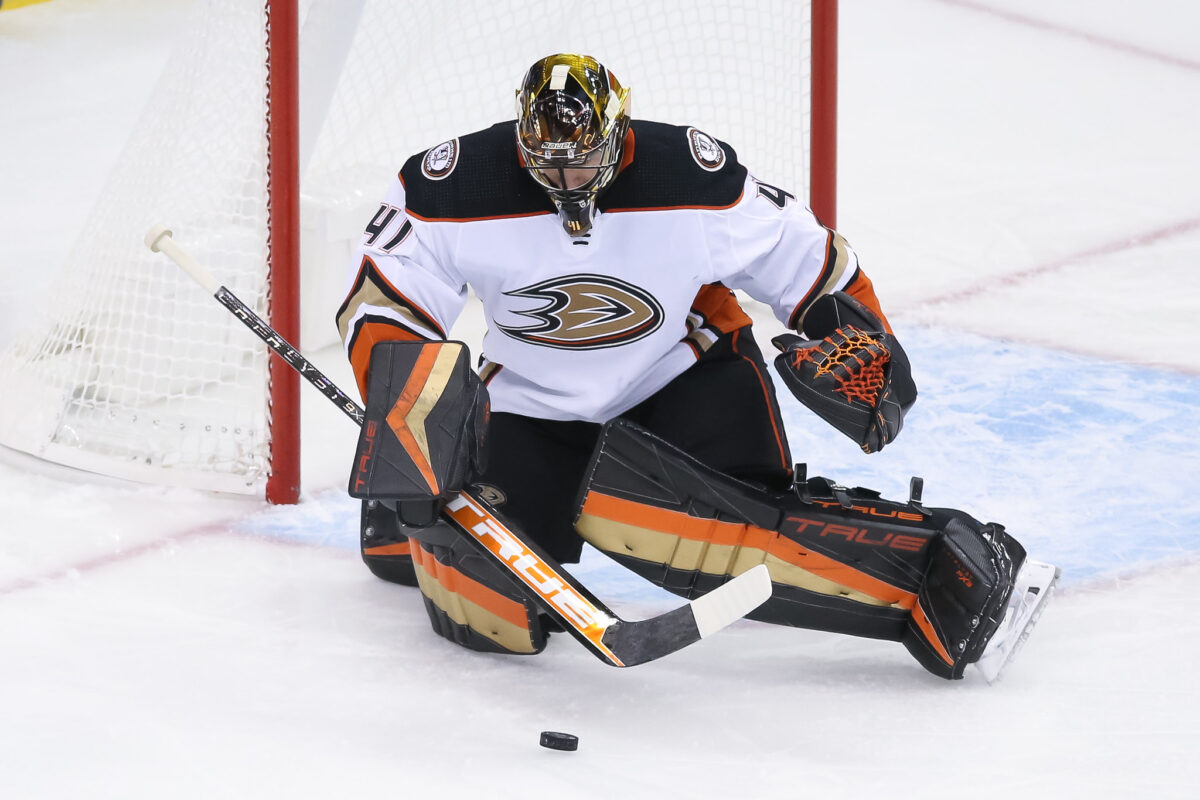 Stolarz is healthy and may get an opportunity to step in now that he has been activated from IR. If he does get the nod tonight, let's see if he can backstop the Ducks against the inevitable onslaught of offense from a talented Stars team.
Can the Defense Limit Stars' High-Powered Offense?
Speaking of a talented Stars team, names like Jamie Benn, Tyler Seguin, Jason Robertson, Joe Pavelski, and Miro Heiskanen should bring out the Ducks' A-game, or any defensive unit for that matter. They are a combination of high-end skill, speed, experience, and a bit of nastiness that cannot be replaced and gives teams fits. Containing them will require the Ducks' best effort.
No strangers to being outshot by their opponents, Anaheim needs to keep these players to the outside, clear the front of the net and give their goaltender a chance to see, stop, and freeze the puck. The Flyers and Predators scored goals within a stick's length of the crease, as have other opponents all season. While it's a tall order against this offensive unit, it's also a simple formula that comes down to locating the man, establishing position, and competing with grit and determination.
Ducks Must Take Advantage of Power Play Opportunities
Possessing the puck in the offensive zone for long stretches has been difficult for the Ducks all season long. While they have had their moments, pinning a team in the attacking zone and generating a couple of decent looks at the net off of a strong forecheck, they happen far too infrequently to be a constant threat. Which means, they MUST win the special teams battle.
The first power-play unit, flush with talent, playmaking, and finishing ability, has been improving, and if they want to string together some wins, and push some wind to their proverbial sails as we head into the dog days of the season, they need to produce on their man-advantage opportunities.
There's no time like the present.
Jordan is an Orange County native who has lived 30 minutes from Honda Center (or Arrowhead Pond of Anaheim as he used to know it) for his whole life. Growing up around the Ducks facilitated his love and passion for hockey. You are just as likely to find playing shinny at a local rink as you are at an arena watching NHL games. Otherwise, he is spending with his family, traveling with his fiance, or on the road training for a marathon.