'Ducks Drill Down' is a regular, ~weekly column that recaps the latest goings-on with the Anaheim Ducks.
---
From a standings standpoint—and that's all that really matters for the Anaheim Ducks right now—it's been a successful western Canada road trip so far. The Ducks have collected five of a possible six points heading into Tuesday night's match in Vancouver against the Canucks, allowing them to maintain a hold on third place in the Pacific Division (they are tied with the Los Angeles Kings but have a game in hand).
It's possible, too, that Anaheim will get an injection of youth and scoring ability as early as that same game in Vancouver.
Gibson Shines Before Another Comeback
The Ducks kicked off their foreign jaunt with a 4-0 win in Calgary over the barely-flickering Flames on March 21. They only managed 16 shots on goal but got three past a shaky Mike Smith before he was relieved by David Rittich at the start of the third period.
Ondrej Kase finally got back to his scoring ways with his 18th of the season and first since Feb. 17. Andrew Cogliano, Hampus Lindholm, and Francois Beauchemin (!) added the other three goals for the Ducks. John Gibson continued his stellar season with a 29-save shutout—his third whitewash in seven games.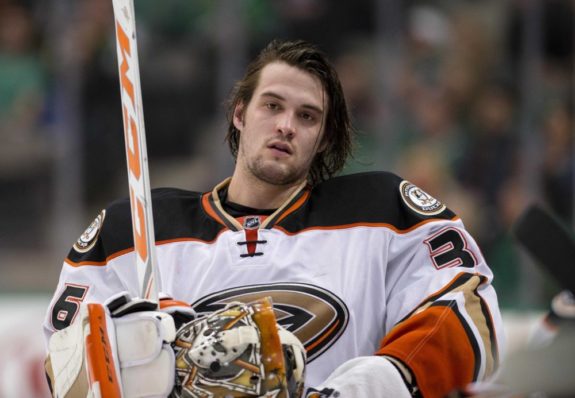 Gibson would shine even more spectacularly two nights later in Winnipeg against the high-flying Jets, albeit in a losing effort. The Jets thoroughly dominated the Ducks throughout the game, outshooting them by a whopping 42-18 margin. Gibson turned aside 39 shots and was the only reason Anaheim survived into the overtime period to pick up a valuable point. With the Ducks down 2-1, Nick Ritchie tied it up midway through the third period. Kyle Connor eventually notched the overtime winner for the Jets, but Gibson's efforts did not go unnoticed by his teammates.
"We pretty much hung [Gibson] out," Ritchie said after the game. "He, I don't know how, but somehow got us that point. He made about, I don't know how many saves, 15 good saves he made at least right in front of the net. We've got some things to work on."
Ducks Rally Against Edmonton Again
Despite Ritchie's sentiment, things did not start well in Edmonton on Sunday night, as Anaheim found itself down 3-1 to the underachieving Oilers through two periods. Anyone who's familiar with the Ducks-Oilers matchup, however, knows that the Ducks are never out of it. Goals by Adam Henrique and Corey Perry knotted things up 3-3 early in the third period. Ethan Bear restored the Oilers' lead with just over seven minutes to go, but then the invaluable Henrique scored again with just 1:29 left to force overtime.
The Ducks employed an interesting if boring-to-watch strategy in overtime, as they maintained control of the puck and skated around in their own zone in what appeared to be a conscious plan to wait for superstars Connor McDavid and Leon Draisaitl to leave the ice before taking a chance and risking a turnover in so doing. The move paid off, as Edmonton fans whose feathers were ruffled by that approach then had to watch Lindholm win the game for the Ducks as soon as Anaheim finally decided to attack.
Feel the excitement of 3-on-3 overtime! pic.twitter.com/SjdiOAQ2WX

— Bruce Arthur (@bruce_arthur) March 26, 2018
The Ducks gladly took the win after a rough first two periods that served as a wake-up call for the remainder of the game.
"We were certainly in a funk for the first two periods," Ducks head coach Randy Carlyle said. "We made a decision if we were going to get ourselves back involved in the game that we were going to have to play at a much more passionate level, and we were going to have to be more determined and execute to a higher level and everybody had to get involved in playing the game the right way."
Troy Terry Signs With Ducks
On March 26, the Ducks announced the signing of forward Troy Terry to a three-year entry-level contract. The 20-year-old Terry was a fifth-round selection of the Ducks (148th overall) in the 2015 NHL Entry Draft but has blossomed into an offensive force who seems primed to exceed the typical expectations of that type of draft position.
Terry spent three seasons playing collegiately at the University of Denver. After scoring 22 points in 41 games during his freshman season with the Pioneers in 2015-16, Terry improved his production significantly, posting 45 points (including 22 goals) in 35 games the next season—in which Denver won the national championship—and then 48 points (14 goals and 34 assists) 39 games this season to finish as exactly a point-per-game player (115 points in 115 games) for his college career. With Denver bowing out of the NCAA Tournament on Sunday to end their season, Terry was eligible to sign with the Ducks.
The Denver native also participated in this year's Winter Olympics in PyeongChang, picking up five assists in five games for Team USA. Terry has a history of strong play during international competition, as he also helped Team USA win gold in the 2017 World Junior Championship. Terry was perfect in four shootout attempts during that tournament.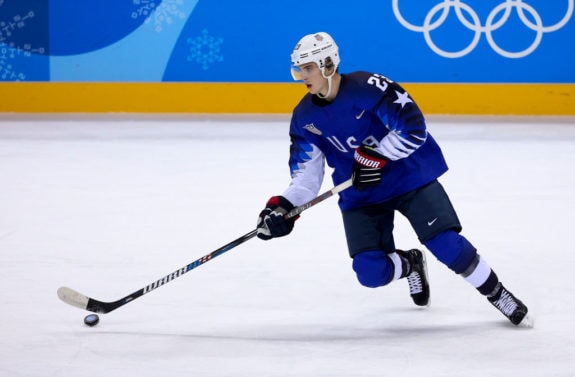 The 6-foot-1, 175-pound Terry could see immediate action with the Ducks, as indications seem to point to him joining the team in Vancouver. He would provide Anaheim with more offensive depth and potentially a youthful spark as they continue their charge towards a postseason berth.
Ducks' Upcoming Schedule
After Tuesday night's game against the Canucks, the Ducks will return home and face the Kings in a hugely important installment of their rivalry on Friday night. Each team has 91 points, but the edge goes to the Ducks for now since they have played 76 games while the Kings have played 77 games through Monday's action. As such, the Kings sit in the top wild-card position.
The Ducks will then host the Colorado Avalanche Sunday evening in a game that will carry significant wild-card implications. The Avs sit in the second wild-card spot with 90 points through 76 games.
After the game against Colorado, Anaheim will have just three games remaining in the regular season.