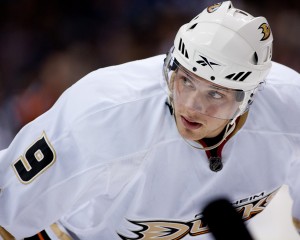 You can call it many things, an aberration, an outlier, or quite simply a missed opportunity leading to a lost season. Whatever label you want to place upon the Anaheim Ducks and their miserable 2011-12 season, the fact remains they woefully underachieved.
The Ducks weren't considered a serious threat to make a run at Lord Stanley at the beginning of the season, but no one expected them to perform like their original namesake from Disney's "The Mighty Ducks" film, District 5.
To provide an example of how futile they were this season, even respected hockey publication The Hockey News pegged them for 6th overall in the Western Conference prior to the season getting underway. How wrong many prognostications were.
When a team with as much talent as the Ducks puts forth such a dismal effort, there's a tendency to point fingers in a effort to identify who or what exactly is responsible for it all going wrong.
As for why the Ducks took a step back, it appears there were a few factors which led to a perfect storm, thus causing Anaheim to crash and burn in spectacular fashion.
The team didn't storm out of the gate under Randy Carlyle, a gruff, old-school coach whom the players clearly began to tune out and the blueline definitely left a lot to be desired.
Additionally, Jonas Hiller didn't quite have his bearings after suffering from vertigo during the 2010-11 season and you won't have success in the National Hockey League without solid play in goal. Let's not forget the Bobby Ryan trade rumours either.
When you add up all those factors, the outcome certainly isn't going to be a pleasant one which is precisely why the Ducks never managed to put it all together this season.
The unexpected happens in professional sports and players need to be ready, willing and able to deal with them, but distractions are never welcomed with open arms.
However, there are myriad reasons for optimism in Orange County, California and these reasons will enable the Ducks to fly once again.
The Terrific Triumvirate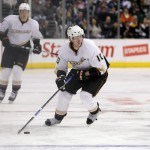 When an organization has the luxury of employing three players with the size and skill of Corey Perry, Ryan Getzlaf and Bobby Ryan, they shouldn't have any trouble lighting the lamp.
Unfortunately, with all three players underachieving this season, as well as looking disinterested at times, scoring became an issue.
Only Corey Perry managed to hit the 60-point plateau this season and even that represented a 38-point decrease from his 2010-11 output. Ryan Getzlaf barely managed to break the 10-goal mark and although Bobby Ryan managed to pot 30 goals for the fourth straight season, even he couldn't escape the regression that befell this trio.
All three players can be a bit mercurial at times, with Perry stepping over the edge, Getzlaf taking lazy penalties and Ryan mailing it in when he doesn't receive the ice-time he's accustomed to, however there's no denying the sheer amount of talent these players possess.
Getzlaf is an elite, playmaking centre with the ability to create time and space for himself due to his size and strength. Perry is a sniper and player who has won at all levels of hockey, while Ryan is a power forward that is equally adept skating around defenders or cycling the puck down low.
Any team in the league would love to have one of these players wearing their colours and after a disappointing season for the Ducks' three stars, you can bank on all three bouncing back next season. There's simply too much talent for such paltry, individual statistics to manifest themselves again.
Bruce Boudreau
Unfortunately for Bruce "Gabby" Boudreau, he'll likely always be known for being at the helm of a talented Washington Capitals team that could never win the big prize. As well as his f-bomb-laced speech as seen on HBO's 24/7 series.
Dismissing Boudreau and his ability to get he Ducks back on track would be short-sighted. He has a penchant for playing an exciting, offensive brand of hockey and this will be directly linked to the resurgence of the aforementioned Getzlaf, Perry and Ryan.
Transitioning from a defensive-minded coach such as Carlyle to a coach who generally lets his stars roam free in Boudreau takes some time, and the Ducks will benefit from an off-season in which they can adapt to Boudreau's system.
Rest assured the shackles will be taken off of Getzlaf, Perry and Ryan next season and the simple change in coaching philosophy will do wonders for the trio, as well as the Ducks, since they'll go as far as their stars can take them.
The Back-End
It's no secret the Ducks need some help on the blueline since the departures of Chris Pronger and Scott Niedermayer over the years have left gaping holes that have yet to be filled. That's not to say the Ducks don't have a couple of players to build around though, indeed they do.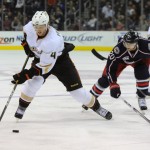 Cam Fowler represents the smooth-skating, mobile puck-mover every team in the league covets. His defensive play needs to be addressed, but that's not front-page news when it comes to young defenceman.The value of his offensive sense cannot be overlooked as he'll be taking over the Ducks' powerplay as soon as Lubomir Visnovsky moves on.
Fowler fell victim to the sophomore slump this past season, and while much is made about the jump players make during their fourth season, many elite talents shine during their third, so expect progress from Fowler next year.
The other young talent on the Anaheim blueline is Luca Sbisa, who is a bit of a departure from Fowler. Sbisa shares some similar traits when compared to Fowler as he possesses the ability to contribute offensively while being a great skater as well, but his best quality is his physical play.
Whereas Fowler is restricted to playing a finesse game, Sbisa not only welcomes the physical play, he thrives on it.
He's agile enough to angle players into the corners and away from scoring areas off the rush and strong enough to muscle them off the puck along the boards. In short, he's the perfect compliment to Fowler, and while not a top-pairing defenceman, he'll slide nicely into a second-pairing position.
If one player truly holds the key to the Ducks' fortune, it's none other than Jonas Hiller. One season removed from debilitating vertigo, his 73 appearances in 2011-12 have proved he's capable of handling the workload expected of a number-one goaltender.
Hiller's stats aren't indicative of his talent and they're inflated due to the Ducks' all-around poor performance, so an off-season in which he can dedicate himself to preparing for the upcoming season, something made difficult due to vertigo last summer, will yield positive results for Hiller and the Ducks.
The New Wave
One of the reasons the Ducks didn't perform as well as they had hoped last season stems from the influx of young, inexperienced players on their roster.
The likes of Matt Beleskey, Nick Bonino and Devante Smith-Pelly represent part of the future in Anaheim, but with a lack of true veteran leadership save for Teemu Selanne, they were left trying to tread water at times. Add to that Smith-Pelly's unfortunate injury in the World Junior Hockey Championship and the progress of the youngsters plateaued.
On the bright side however, battling through a tough year will only benefit them moving forward.
The next flock of Ducks doesn't stop with Beleskey, Bonino and Smith-Pelly as the Ducks have multiple prospects close to contributing at the NHL-level developing in the American Hockey League with the Syracuse Crunch.
Patrick Maroon has displayed some scoring touch, but will likely assume a physical, fourth-line role if he makes the jump, while Kyle Palmieri has continued to display his knack for putting up points as well as he makes a case for a top-six role on the big league club.
Beyond Maroon and Palmieri, Peter Holland also made great strides during his first season of professional hockey. While it's a stretch to see him becoming a tried-and-true number two centre, he has the ideal frame for a two-way third-line centre once he graduates from the AHL.
Lest we forget Canadian Hockey League prospects Emerson Etem, Rickard Rakell and John Gibson.
Etem is a homegrown, California product with sublime skating ability and offensive skills honed from his days as a roller hockey star.
Potting 61 goals in the Western Hockey League last season is a testament to his offensive prowess. While an apprenticeship in the AHL is likely, a top-six role awaits this offensive-minded speedster.
Rakell is a playmaking centre whose best attribute is his attention to detail in all zones. Adept at not only setting up his teammates, but lighting the lamp as well, he's more of a long-range prospect for the Ducks.
He'll need to get stronger to withstand the rigors of the NHL, and while he isn't a pure offensive force a la Emerson Etem, his contributions at both ends of the ice shouldn't be overlooked.
Gibson could very well be the next goalie in line for the Ducks as he's a highly regarded puck-stopper developing with a great Ontario Hockey League organization in Kitchener.
While he's years away from making a big impact in the NHL, Gibson's development is critical to the franchise's future success as he's seen as a potential number-one goaltender evidenced by his selection at pick 39 in the 2011 draft.
Optimism Abounds
The Ducks' flight path was diverted last season, but righting the ship will be made easier in large part due to their skill, coaching and prospects.
While the Justin Schultz saga could very well have a bearing on how the team performs moving forward, that's a situation that will sort itself out as the team moves forward.
For now, Ducks fans can rejoice and take solace in the fact that there are indeed many positives to look at and many reasons to be optimistic when looking ahead to the near-future.