With word coming from Dallas Stars writer Mark Stepneski that forward Antoine Roussel will play in tonight's game against Phoenix, the legendary land of Gaul will make another contribution to the National Hockey League.
To be more specific, Roussel will become the eighth Frenchborn person to play at least one game in the NHL.
While there have only been seven before him, two have come in the last couple years: Last season, Boston second round pick Max Sauve got in one game with the Bruins after spending parts of seasons with their AHL affiliate the Providence Bruins, and the Ottawa Senators' Stephane Da Costa made his debut the year prior.
Just as Da Costa was making his debut, St. Martin d'Heres-born journeyman goalie Cristobal Huet was bringing his seven year NHL career to a close.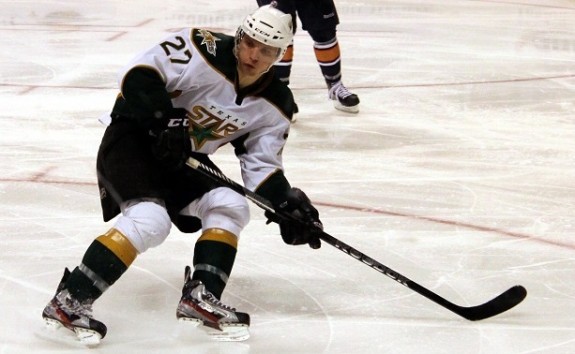 We have to jump back to 1992 to find the next French-born player, Philippe Bozon, who played 144 NHL games for the St. Louis Blues between 1992 and 1995. During that time, Bozon fathered a son, Tim, currently a Montreal Canadians prospect who plays for the Kamloops Blazers of the Western Hockey League. (While Tim grew up playing in France and Switzerland, he was born in St Louis.)
Grostenquin, France native Paul MacLean played 11 seasons and 719 regular season games in the NHL, racking up 324-349-673 points in that span, easily putting him atop the leaderboard for French born players.
Pat Daley played 12 games across two seasons for Winnipeg back around 1980, but before that he put up respectable numbers playing for Laval National in the Quebec Major Junior Hockey League (QMJHL). This was the same team, under a different name, for which Andre Peloffy, the first Frenchman ever to play in the NHL, played his Junior hockey (and the same team on which Mike Bossy would put up great numbers and Mario Lemieux would put up astounding numbers). Although he was drafted by the New York Rangers, Peloffy made his brief debut with the Washinton Capitals in 1975. He has gone on however to have a great influence on the development of ice hockey in France.
Where Roussel likely differs from his countrymen is exactly how he reached the NHL. Growing up outside of Paris, he played club hockey with Deuil-la-Barre and likely would have continued to play there had his parents not decided to move to Quebec and open a Bed and Breakfast. Roussel played Bantam hockey but was not drafted into Juniors. He says he was fortunate one day to be given a call-up to play for the Chicoutimi Saguenéens of the QMJHL.
He scored. So he stayed.
You can read about Roussel's rise from Chicoutimi to Dallas when I jumped the gun on his debut back on January 14.