Game 4 of the Colorado Avalanche's series against the Seattle Kraken certainly offered a glaring look at some of the team's weak points, which were especially apparent in the first period. Sure, the Avalanche are being largely stymied by their former netminder, Philipp Grubauer, who is playing like he has a chip on his shoulder. But, that doesn't excuse the lacklustre effort the team brought into the game, particularly in the first half. There's a lot that the club needs to work on, but also a new style of play that can certainly be used heading into the series' remaining contests. Here are three takeaways from Game 4 of the Avalanche's first round matchup against the Kraken.
Another Game, Another Deficit
The Avalanche have yet to score first in this series, and often have to spend the game chipping away at a Kraken lead, and working from behind. It's a tough spot for the club to play themselves into every night, but they just don't come out of the gate buzzing. They let the Kraken start the game strong – both home and away – and seem to sit back while Seattle puts on offensive pressure.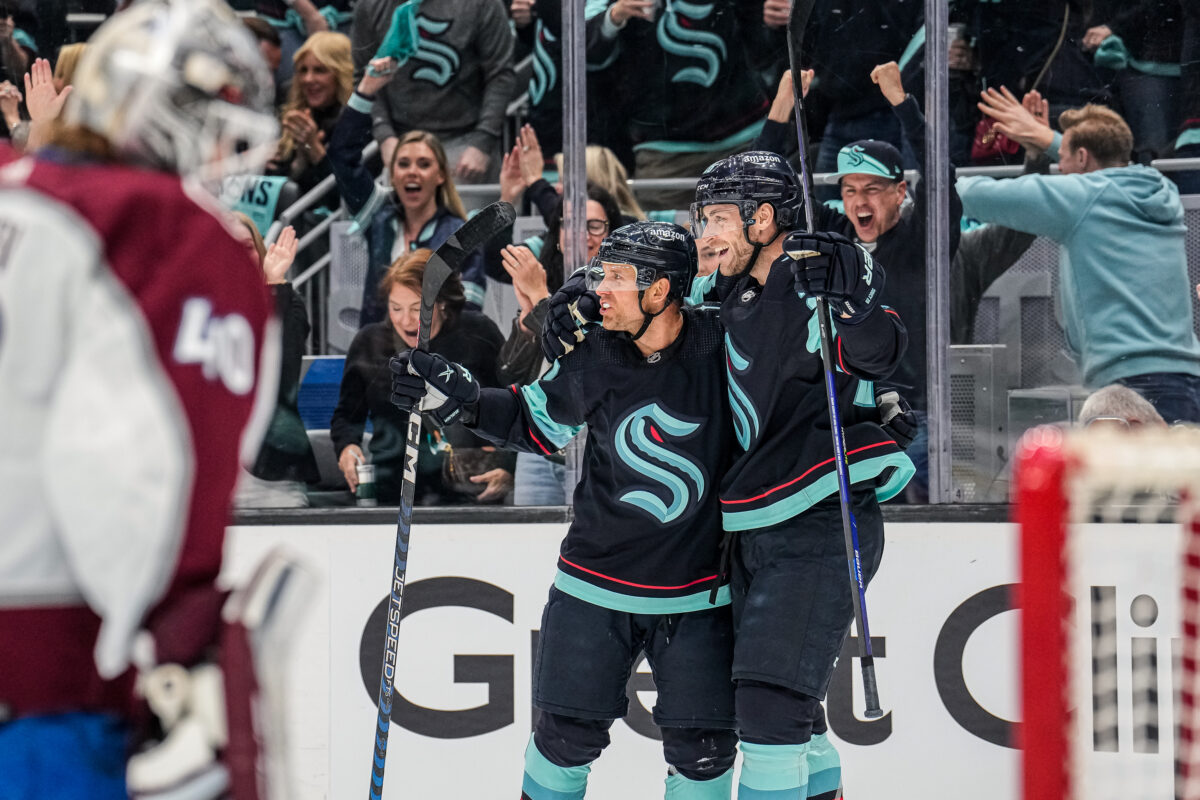 If they're going to make a deep playoff run, they need to keep the same energy going for 60 minutes, something they have yet to show in this year's postseason. Sure, they've shown in both regular season contests and playoff matchups this year and beyond that they're capable of climbing out of a deficit, but it's definitely not an ideal place to be in. Playing under pressure night in and night out is likely not sustainable, even for the defending champions.
A New Focus on Physicality
Right as the contest began, Cale Makar absolutely blanked Jared McCann, drilling him into the boards with a big hit. It set the tone for the entire game, bringing a grittiness to the ice that the series didn't have until Game 4. Yanni Gourde laid a huge hit on Artturi Lehkonen, and the energy was carried by both teams through the entire 60 minutes. There was no shortage of scrums, and a real animosity that wasn't apparent in the first three games shone through in the fourth tilt.
Related Post: Nathan MacKinnon Chasing a Sidney Crosby Playoff Record
---
Latest News & Highlights
---
That level of grit can only help the team, as they battle through a set of injuries incurred by key players like Val Nichushkin and, of course, Gabe Landeskog, two forwards who bring physicality to the playoffs that's hard to neutralize.
Josh Manson Needs to Step Up
"I thought Manson was rusty. He was rusty today," Jared Bednar told the media after Game 1. "Coming back in, missed time and it showed in a couple of areas." Unfortunately, Manson doesn't seem to have sorted his game out through four contests, which could suggest rust or, potentially, playing through an injury.

The Avalanche traded for Manson – a big, gritty defenseman with a solid defensive mind and a strong physical game – at the trade deadline last year, and quickly extended his contract when the playoffs ended. He was crucial to the Avalanche's Stanley Cup victory, but hasn't brought the same energy to the first handful of games against the Kraken. Granted, he missed significant regular season time with an injury, but he's made some serious defensive mistakes and taken a bunch of unnecessary penalties throughout the series thus far. Of course, his biggest blunder in Game 4 may have been the tripping penalty he took in overtime that led to Jordan Eberle's power play game-winner. If he can't sort his game out, he just may lose his spot in the starting lineup to another enforcer, like Kurtis MacDermid.
Final Thoughts
Mikko Rantanen bailed the team out again, erasing a 2-0 deficit essentially by himself. It was another tale of the superstars, and the Avalanche did not seem to find their game – the one that won them the Stanley Cup a year ago – until Rantanen scored his first goal of the night. Sure, they were extra physical, but the way the Avalanche are playing is not sustainable. If they're going to make another deep run, they need to return to their brand of hockey – and fast.