Believe it or not, the start of the 2023-24 NHL season is nearly upon us with the Nashville Predators and the Tampa Bay Lightning opening the campaign on Oct. 10. The Colorado Avalanche, winners of the 2022 Stanley Cup, look to improve upon an unsuccessful title defence after succumbing to the Seattle Kraken in seven games during the first round of the 2023 Playoffs.

While this core should be focused on winning another Stanley Cup, the Avalanche have several franchise records and career milestones on their radars. These include records held by members of both the Avalanche and the Quebec Nordiques prior to the latter's relocation to Colorado. Let's dive into 10 of the most significant of those benchmarks and how long it might take for each one to be reached this season.
Georgiev: Career Games Played & Wins by a Goaltender
The Avalanche's front office took a risk last offseason and gambled on Alexandar Georgiev eventually becoming a starter-level netminder after acquiring him from the New York Rangers for a pair of mid-round draft picks. After one season, that trade already looks to be another in a long line of shrewd transactions completed by the organization with Georgiev ranking highly among all netminders in a number of statistical categories.
Georgiev started the third-most games (62), tied for the league lead in wins (40), and finished 10th in save percentage (SV%) and goals saved above expected (GSAx) among all goalies to play in at least 10 games last season. He was a workhorse and rewarded the organization for its faith in him after several inconsistent campaigns.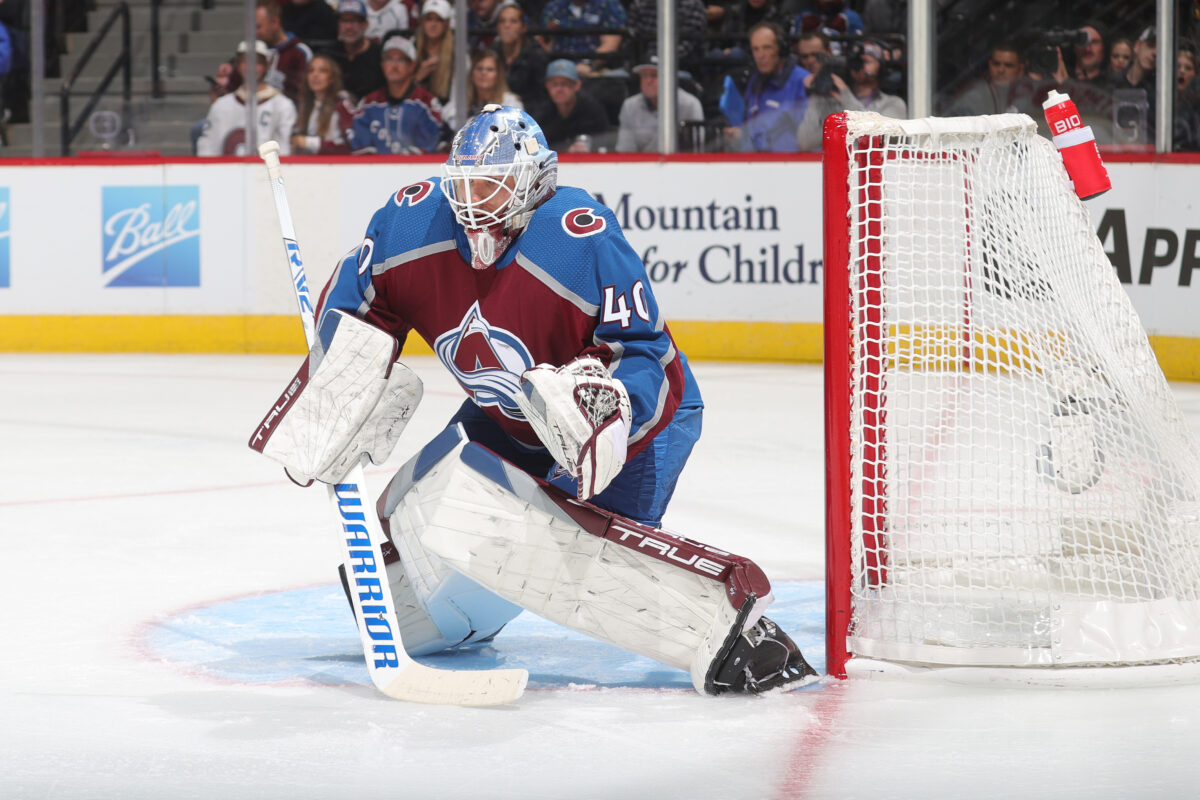 Despite only just joining the Avalanche, the 27-year-old Georgiev already has the opportunity to enter the franchise's top-10 leaderboard in several goaltending categories. Assuming he posts the exact same numbers as last season, he would finish the 2023-24 campaign 10th in saves and games played, seventh in wins, and fifth in shutouts (he had five last season).
Given Georgiev's inconsistent career to date, it's fair to expect some regression from him in some capacity. Regardless, he should find himself in the vicinity of the Avalanche's franchise leaders in the crease. It speaks to the organization's recent carousel of goaltenders as well as the dearth in quality since the retirement of Patrick Roy that someone like Georgiev can play two seasons and already sit near the top of the career charts. Let's hope he forges his own path in Colorado and joins Roy in the pantheon of great Avalanche goaltenders.
MacKinnon: Career Assists & Points by a Skater
Avalanche center Nathan MacKinnon doesn't have much left to prove. He's helped the organization win another Stanley Cup, finally eclipsed 100 points in a season in 2022-23, and ranks fourth in the league in points scored since making his NHL debut during the 2013-14 season. He's burnished his reputation around the league, so all that's left is to cement his place among the Avalanche greats by reaching the top of the franchise scoring leaderboards.
Currently fifth in career goals, MacKinnon sits 91 and 96 goals back of Milan Hejduk (fourth) and Peter Stastny (third), respectively, so jumping into the top three won't happen until at least the end of next season.
What is attainable for the 2023-24 campaign, however, is moving up at least one spot in both assists and points. MacKinnon (475) is 63 helpers shy of Forsberg in third (538) and 15 back of Michel Goulet (490) in fourth. Since he accumulated 69 assists in 2022-23, I'd wager he can pass Forsberg this season if he stays healthy.
Goulet (third in points) outstrips him by nearly 200 career points, so MacKinnon will have to settle for leapfrogging Hejduk for fourth, needing only 47 more points to do so.
At this point, MacKinnon is the only active Avalanche player who could challenge Joe Sakic for the top spot on the franchise's career scoring marks. He'll have to pair elite production with longevity, but another 100-point campaign in 2023-24 would go a long way making up the current gap of nearly 900 points.
Bednar: Career Playoff Games & Wins by a Head Coach
Head coach Jared Bednar has come a long way since the infamous 2016-17 season, in which the Avalanche tallied a miserable 48 points over 82 games. The corresponding .293 points percentage (PTS%) was the third-worst in franchise history, and could have doomed many members of the organization, especially the team's rookie head coach who had just earned a promotion from their American Hockey League (AHL) affiliate.
Instead, the Avalanche stood by their green bench boss and he's helped steer the team to its best stretch of success since the late '90s and early 2000s, winning the 2022 Stanley Cup.
You may also like:
Bednar already holds the Avalanche regular-season record for wins (290) and sits second in games coached (535) while owning the third-best PTS% (.592) in franchise history. In terms of the playoffs, Bednar ranks second in games coached (70) and wins (43), sitting 10 and six games back of Bob Hartley (1999-2003) in each category, respectively.
---
Latest News & Highlights
---
While the regular-season games coached record is out of reach for this season, Bednar will likely set a new benchmark in games coached and won in the playoffs if the Avalanche reach the second round. Given that they will enter the 2023-24 season as one of the leading contenders for the Stanley Cup, these two milestones are very attainable.
Makar: Career Goals, Assists & Points by a Defenseman
While I've argued that Cale Makar is already on the path to the Hall of Fame, next season presents the opportunity to cement himself as the best defenseman in Avalanche history. Sitting atop all three of the major offensive statistical categories is possible, and would underline an already sparkling career.
Makar currently sits 10 goals (G), 51 assists (A), and 61 points (PTS) back of Tyson Barrie for the career lead, marks that he's eclipsed or been on pace to eclipse in each of his first four NHL seasons. If he stays healthy and plays at least 60 games for the Avalanche in 2023-24, all three franchise records will be his come playoff time.
| Player | GP | G | A | PTS |
| --- | --- | --- | --- | --- |
| Tyson Barrie | 484 | 75 | 232 | 307 |
| John-Michael Liles | 523 | 68 | 207 | 275 |
| Adam Foote | 967 | 56 | 203 | 259 |
| Sandis Ozolinsh | 333 | 72 | 181 | 253 |
| Erik Johnson | 717 | 68 | 178 | 246 |
| Cale Makar | 238 | 65 | 181 | 246 |
The Avalanche's career leaderboard for scoring by a defenseman. Sorted by total points in descending order
In terms of playoff scoring, Makar is tied with Sandis Ozolinsh for the Avalanche's all-time record (65) but already holds the all-time mark for postseason assists (49). With another three goals in the playoffs, Makar will subsequently own all three records, with this season potentially concluding with the 24-year-old blueliner holding every major Avalanche statistical record for a defenseman, except for games played.
With the Norris and Conn Smythe trophies already secured, there is little left for Makar to win. Of course, he could challenge for the 2023-24 Hart Trophy, but that is unlikely given that Chris Pronger (1999-2000) is the last defenseman to win the award. One can dream, however.
Rantanen: Career Goals & Points by a Skater
Just like how Peter Forsberg flanked Joe Sakic two decades ago in an Avalanche uniform, winger Mikko Rantanen is doing the same for this Avalanche era's superstar center in MacKinnon. Like Forsberg, he's carved out his own place in Avalanche history and has developed into one of the NHL's elite power forwards, scoring 55 goals and 105 points in 82 games in 2022-23.
Rantanen has quietly climbed the Avalanche's franchise scoring leaderboard as a result, ranking 12th or better in career goals (eighth), assists (12th), and points (ninth). For an estimate of where he could stand after this season, let's use his career averages to set a reasonable baseline that accounts for his lowest scoring seasons as well as his recent jump in production.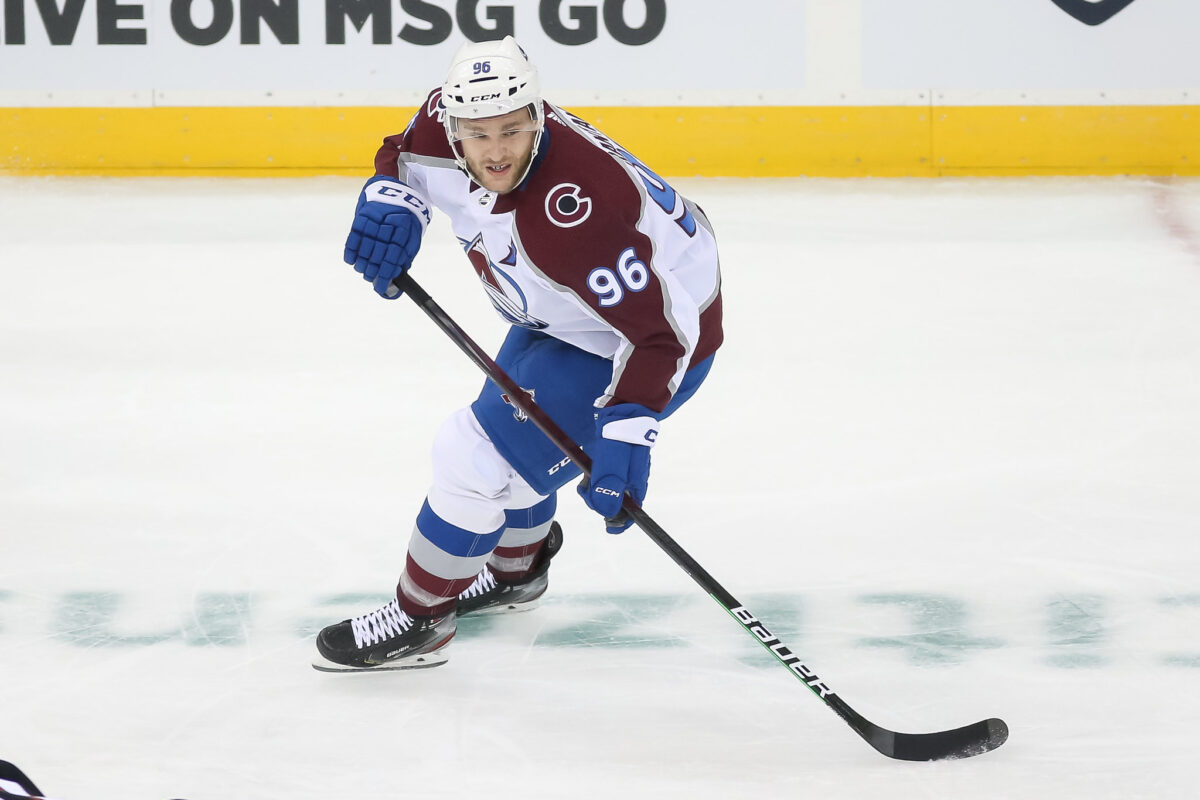 Through his first eight NHL seasons, Rantanten has averaged 0.45 goals per game (G/G), 0.65 assists per game (A/G), and 1.05 points per game (P/G). Using a conservative estimate of 74 games played this season (the lowest full-season total of his career), the Finnish winger projects to score 33 goals, 48 assists, and 81 points, which, given his past two seasons, are also very conservative predictions.
Either way, those numbers would be enough to vault him into sixth in goals and eighth in both assists and points by an Avalanche skater for their career. Rantanen was already well on his way to becoming an Avalanche legend. Now, it's only a matter of time and actually compiling the requisite numbers.
Avalanche Franchise Records Ready to Fall
If this core manages to win another Stanley Cup in the near future, there is an argument to be had for this to be the most successful era of Avalanche hockey, rivalling the franchise's first extended run of success from 1996 to 2003.
The current crop of Avalanche stars are mounting an attack on the franchise's record books and, barring injury, should etch their names atop the statistical leaderboards when all is said and done on their careers. Whether or not the 2023-24 season brings another Stanley Cup to the organization remains to be seen, but the key figures of the modern-day Avalanche should continue to build on their lore as future legends of the sport.
Data courtesy of Hockey Reference and the NHL.
---
---