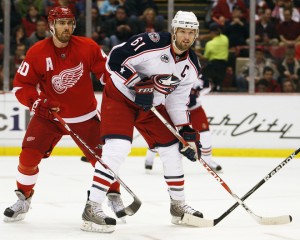 Rick Gethin, Staff Writer
 "I wasn't comfortable at 5-1. When it got to 6-1, I was a little more comfortable." ~ Blue Jackets Coach, Ken Hitchcock    
     Two days after losing to the Nashville Predators, the Columbus Blue Jackets rebounded in Detroit, shellacking the Stanley Cup Champion Red Wings 8-2. It was a night that saw two franchise records set; most goals in a game (previous mark was 7) and the largest margin of victory (previously was 5). It was a night that saw secondary scoring jump up and contribute 5 goals. Calder Trophy candidate goalie Steve Mason looked like, well, Steve Mason, stopping 44 of 46 shots. And Captain Rick Nash scored the 4th hat trick of his career, three of which have come at the expense of Detroit. All of Nash's goals were unassisted, a feat not seen since March 14, 1948, when the legendary Maurice "Rocket" Richard scored four goals against the New York Rangers in Madison Square Garden (courtesy of Elias Sports Bureau).
     Columbus showed that they are writing a new chapter in Blue Jackets history. In an arena that has stymied them over the years (they've lost 19 times in 25 games at Joe Louis Arena), they put their collective feet on the throat of Detroit and never let up. Forechecking, backchecking, clearing pucks out of their zone and bottling up the neutral zone are what won them this game. The Blue Jackets PK stood tall, keeping the Red Wings scoreless in 5 chances. Their own PP converted at 33%, going 1-3. In other words, they played "Hitch Hockey" and they played it for 60 minutes. The leaders stepped up and were leaders, but this was a total team effort.
     The Blue Jackets might not have had an army at the 'Joe (more like a company sized contingent), but the fans that made the trek north were proudly wearing the Union Blue. The Motor City crowd never seemed to be a factor and in fact, many started leaving during the 2nd period. At one point during the FSN post-game wrap-up, Jeff Rimmer and Danny Gare (play-by-play, color analyst respectively) were overwhelmed by the chants of "Let's Go Jackets" by the Jackets Backers faithful directly underneath their broadcast booth. From Tom Reed of the Columbus Dispatch on playing in Joe Louis Arena:
It's a venerable venue in which modest Jackets winning streaks often go to die and losing skids frequently get extended. These Jackets, however, are trying to prove they're made of a different constitution.

They supplied a record-breaking statement last night in an 8-2 win over the Detroit Red Wings before 20,066 stunned fans.
     The Columbus Blue Jackets were massive Saturday night. The win put them back into sole possession of 6th place in the tight Western Conference standings with 72 points. It was a statement win against a storied franchise that said they will not go quietly into that goodnight. They played with a purpose that showed they have to be taken seriously and that they have every intention of making the playoffs. Don't dust off your golf clubs yet, this team isn't finished. Not by a long shot.
     Carry The Flag!!!
Rick Gethin was an Associate Editor of TheHockeyWriters.com.