Djurgårdens IF's Betty Jouanny is an absolute testament to perseverance in the face of repeated setbacks. There are not many hockey players that could break their foot – twice within the past year and a half, no less – in the exact same spot, and still be able to play at an elite level and represent their country. Jouanny has done just that, and she continues to do it still. The 26-year-old forward from France will be playing her first season with Djurgårdens IF after five previous seasons in the SDHL as a member of Brynäs IF. The SDHL (Svenska damhockeyligan) is the top women's league in Sweden, and is as fine of a collection of talent as the NWHL or CWHL. A number of Canadian and American players including the likes of Jennifer Wakefield, Sidney Morin, Kennedy Marchment, and Kaitlyn Tougas currently play in the league as well.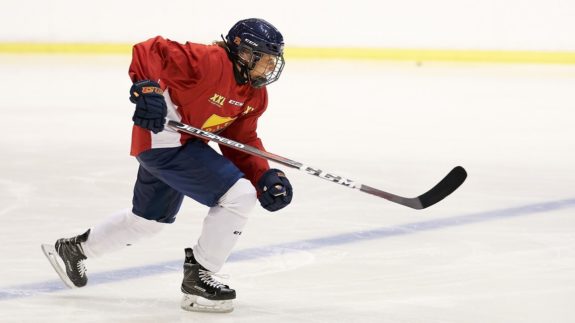 THW caught up with Jouanny as she embarks upon the 2018-19 season as a member Djurgårdens. For this writer, it was particularly nice to catch up with Jouanny after speaking with her nearly two years ago. This time around we discussed her aspirations for the upcoming season, what brought her to the team based in Stockholm, and what she has been working on with regards to her training.
So Long to Brynäs IF
Jouanny was born in the city of Annecy, but spent most of her life growing up in the town Chamonix – one of the most beautiful places in all of Europe for skiing. Despite a picturesque home, she sought to play hockey at the highest level possible. Hence, joining Brynäs IF in the SDHL beginning with the 2013-14 season. In 147 career regular season games with Brynäs, Jouanny scored 25 goals and 36 assists for 61 career points. Her finest season statistically was her second year – the 2014-15 season – when she compiled 10 goals and seven assists for 17 points in 28 games. Thus far, those have been her career highs in the SDHL for both goals and points.
As they say, all things must pass. Jouanny turned in a most decent 2017-18 campaign. Having missed a sizable portion of the year prior due to her foot injury (more on that shortly) she played a complete final season for Brynäs. Feeling fully healed and loaded for bear, Jouanny played all 36 regular season games with the team and both of their playoff contests. While her two goals scored in the regular season were the lowest total of her career, the 10 assists she added were a career high. Despite the positives – particularly coming back so strongly after both injury and surgery – Jouanny knew that it was time to move on.
Igår stod hon på is första gången sedan hon bröt foten, idag tar hon oss igenom hennes känslor över nya hemmaarenan, vad hon ser fram emot och att hon är redo att ge 100%. Möt ett av nyförvärven, Betty Jouanny. pic.twitter.com/VmHJowlBNN

— DIF Hockey Dam (@difhockeydam) August 2, 2018
"The last SDHL season was not a very exciting season with Brynäs," Jouanny shared. "We had a tough season, and it was hard to keep the motivation all of the time. And a lot of girls and I decided to leave because for me it was five years, and I wanted to discover something new. With a new coach, new teammates, new training, and be on a team that has a winning spirit. I decided to join Djurgårdens because I heard that it was a team that did a lot of good things for the girls, and that it was a good team too to improve me more as a player with every training."
Djurgårdens has lined up a squad for the 2018-19 season with some truly talented players on it. Scoring aces like Josefine Jakobsen, Isabel Waidacher, and Andrea Dalen are all now teammates of Jouanny's. Adding Jouanny into the mix will provide versatility to Djurgårdens, as the French forward can play either center or wing. Surrounded by such talented forwards will pay dividends for Jouanny as well, and she could easily have her best offensive season yet.
Overcoming Injury and Adversity
The first time that Jouanny broke her right foot she had five screws and one metal plate inserted into it. Although she has suffered the same injury twice, she first broke her foot in a Jan. 11, 2017 game against Leksands IF. To add icing onto the cake, the injury occurred just a week after her 25th birthday. The incident obviously put an immediate end to her 2016-17 SDHL season. Jouanny never allowed it to slow her down though. As soon as she could commence working out and exercising again, she did so in order to come back stronger than ever. Enough so that at the time, this writer referred to her as a "butterfly made of steel".
Jouanny had posted a quote to one of her social media accounts shortly after this first setback. The quote accompanied a photo of her performing chin-ups, and it is as follows:
"The difference between who you are and who you want to be is the work that you put in. I am just working hard to make my comeback. Everyday is not easy; it is mentally hard but you can't change what happened. It is in this period that family and friends are very important – when you can't use your legs, you can use your arms. If you want to train you always can; no excuses . It is just your motivation and the work that you put in."
It is said that lightning never strikes twice in the same spot. Well, in Jouanny's case it somehow managed to do so. Not even half a year ago from the time of this interview, Juoanny broke her foot once more – in the exact same spot. This time it was during the 2018 IIHF Women's Division IA World Championships. Representing France for the 13th time in international play, the injury occurred on Apr. 11, 2018 during a 3-2 win over Austria. At least initially, losing Jouanny seemed to spell disaster. Through the first three games of the tournament – including the one in which she was injured – she was a point-per-game player with a goal and two assists. Perhaps rallying behind the loss of an injured comrade and one of their best players, France finished the tournament having won four of their five games and did so on home soil. Jouanny and her teammates came away with a gold medal and a promotion into the top division for the 2019 Women's Worlds. France has never played in this highest level of IIHF competition for women's hockey. This made her injury somewhat easier to swallow.
A Fresh Start and Moving Beyond
Now mostly recovered – and with six new screws and a new metal plate installed – Jouanny is more committed to her own rebuild than ever. While she admits nervousness, her never-say-die attitude is what is ensuring her preparedness for the upcoming SDHL season. It is an opportunity for a fresh start and being able to move beyond her injury.
Jouanny chuckled a little, "I don't know if I should laugh or if I should be nervous, but two times I broke my foot at the same place in one and a half years, so it is beginning to be a lot. But I am one of those people who works hard and loves training. It is my drug, so maybe that's why I can come back and find my level every time. But it is frustrating because I did one of my best World Championships before this happened after the third game. So it is hard to get an injury again when you are on top. It is two summers now that I haven't had a holiday because I must do my rehab in the hospital. Right now I am not 100%. I have some pain that has stayed in my foot, so I work on it and I hope it is going to be good. It is four and a half months today (that we're speaking) after my operation."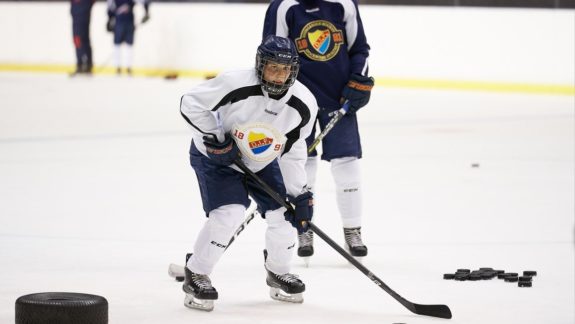 While Jouanny may be diminutive – she is only 5-foot-2 and 120 pounds – she is tough as nails. Yes, there is a natural need to proceed with caution and ensuring that her rehab continues to be successful. That being said, Jouanny is the furthest thing from a quitter. If anything, she is ready to move full speed ahead.
The Excitement Over a New Year
At the time of her interview Jouanny and Djurgårdens have only had practices. The team's first live games of the 2018-19 SDHL season are just a few days a way. Autumn is generally not considered a time for new beginnings, but in Jouanny's case it may as well be the freshness of spring right now. A new team, a new season, a new start. Coming off of substantial injuries in an environment of newness, there is even a sense of rebirth around her. Jouanny's abilities should be greatly accentuated by the talents of the new teammates surrounding her.
"My goal is to come back at the same level as the last year," Jouanny stated when asked what goals she has in mind for her first year with Djurgårdens. "And after we will see."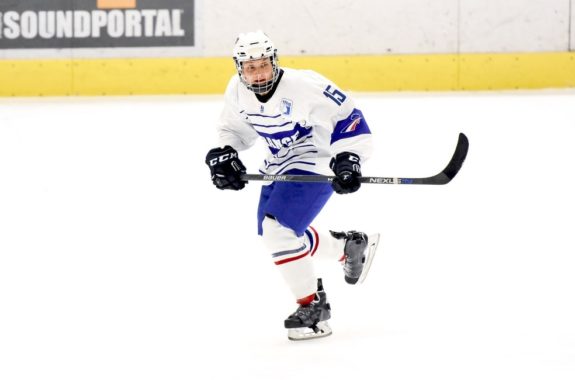 Aside from all that, she has also witnessed a dream come true this past year with France's promotion. For the first time Jouanny will compete for her country against the best of the best in international play. USA, Canada, Finland, Sweden, Russia, Czech Republic, and so on – they will all be there in April 2019. So while Djurgårdens brings her new beginnings, her homeland gives her the opportunity for newfound excitement on hockey's international stage.
"I am very excited to begin a new season and see what the team (Djurgårdens) can do," she told THW. "But the most exciting thing is the World Championship in Finland in the top division. This is going to be the first time for the French team, and it is just amazing. So my goal it is to be 100% for that because it has been 11 years that I've worked with the national team to go onto this division – and we did it!"
General Manager of the Buffalo Beauts (NWHL). Hockey history writer "The Hockey Writers". Credentialed media for the NHL Combine and 2018 IIHF World Junior Championships in Buffalo, NY, USA. Born and raised in Buffalo, NY. Lifelong hockey fan for over 40 years. Proponent of the women's game.