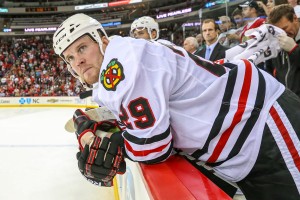 One of the surest ways for a professional athlete to secure a big payday is a great postseason run.  Over-zealous GMs with money to burn often mistake a few weeks of inspired playoff production for the true value of a given player.  We've seen this in the NHL many times.  Cam Ward, the 2006 Stanley Cup and Conn Smythe winner, is the 4th highest paid goalie in the league, yet his career regular season numbers (25th in career active GAA, 22nd in save %, and never higher than 7th in Vezina voting) hardly match his magical '06 Cup run.  Another recent example that comes to mind is Ville Leino.  Leino enjoyed a great 2010 postseason for the runner-up Flyers.  Playing alongside Danny Briere and Scott Hartnell, Leino notched 21 points in 19 games.  Prior to the 11-12 season, the Sabres inked him to a six year, 27 million dollar deal, despite Leino having a paltry total of 73 career regular season points at the time of the signing.  Just like Ward, Leino hasn't been able to live up to his playoff brilliance, his time in Buffalo marred by injury and pedestrian numbers (just 43 total points as a Sabre).
With or Without Teeth?
Unfortunately, the Blackhawks have also proved themselves to be prone to these misguided contracts with last summer's signing of Bryan Bickell.  Before going into the disappointment and frustration of Bickell's 13-14 campaign, let's remember just how integral he was to the Hawks' 2013 Cup win.  Bickell was to the 2013 team what Dustin Byfuglien was to the 2010 team.  He parked himself in front of the nets of Howard, Quick and Rask, cleaning up rebounds and generally making himself a nuisance to anyone wearing the opposite-colored sweater.  He tallied 17 points (9 goals, 8 assists) and scored two of the biggest goals of the postseason—the first a go-ahead strike in the third period of a must-win Game 6 in Detroit, the second his unforgettable game-tying goal against the Bruins in the waning moments of Game 6 in the Final.  Further, Bickell earned enough of Coach Q's confidence to play a significant amount of time on a line with Toews and Kane.  The 2013 postseason endeared Bickell to Hawk Nation, with his amiable demeanor and goofy toothless grin, another big personality in the Hawks' long line of big personalities.    
Fast forward to the present.  After receiving a four year, 16 million dollar contract in the offseason, Bickell (now fully-toothed) has scored 12 points in 47 games this year.  After battling injury and ineffectiveness to start the season, he endured the embarrassment of being a healthy scratch in several mid-season games.  When he has been in the lineup, his ice time has often fallen under ten minutes a game.  To Bickell's credit, he's clearly holding himself accountable for his poor play this year, but that hasn't stopped many fans and pundits calling for either his trade or Stan Bowman's head.
 Getting It Done In the Playoffs
The jury is still out on whether the Hawks/Bickell relationship can be a solid one going forward.  To me, it all depends on Bickell's postseason production, and whether the team can be realistic about what they really have in #29.  The truth is that Bryan Bickell will never be a superstar.  He is a talented role player who got hot at the right time and played himself into a deal a little above his actual value.  But that doesn't mean that Bickell's contract is necessarily money wasted for the Hawks.  Four million dollars a year is clearly too much to give an underproductive third line winger who doesn't appear on the power play, but it's a bargain if Bickell can turn it on again in the postseason, where big men with soft hands are more important than ever.
The Hawks' core will continue to get them to the postseason as long as they stay healthy.  Whether or not they continue to win Cups may hinge on the roles that the Bickells and Byfugliens of the hockey world will be able to play.  When Stan Bowman is paying a Bryan Bickell $16 million, what he's really paying for is depth.  Come playoff time, when the opposition is keying on the likes of Toews, Kane, Sharp and Hossa, it's guys like Bickell that tend to find the loose pucks and put them in the back of the net.  And that sort of production is invaluable.