The Chicago Blackhawks have traded Rockford IceHogs forward Philippe Paradis to the Tampa Bay Lightning for Cornell University defenseman Kirill Gotovets.
Gotovets was a 7th round draft pick in the 2009 NHL Entry Draft and is currently playing at Cornell University. In 22 games this season Gotovets, has not registered any points. Over a span of three years, Kirill has appeared in 80 games for Cornell, scoring two goals and adding 13 assists.
At this point in Gotovets career it doesn't look too bright. He is added to a Blackhawks prospect crop that includes 16 other defenseman. Chances are, he ends up at the bottom of that list considering he is a 5′ 10″ proclaimed offensive defenseman who has dried up this season in terms of production at the NCAA level. The Blackhawks had to make this move because they were flirting with the 50 contract limit after acquiring Michal Handzus, so perhaps there is more to come at the deadline where they plan on adding another piece to their playoff run.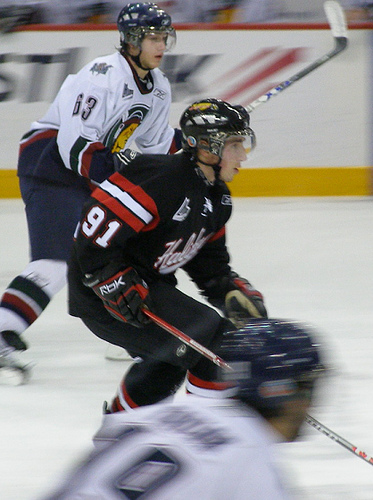 Paradis was a former 1st round pick by the Carolina Hurricanes back in 2009. He has already been traded between several organizations and this will be his fourth NHL organization in four years. He was never really drafted for his offensive acumen, and rightfully so. Over parts of three seasons in the AHL, Paradis has appeared in 66 games, scoring six goals while adding 13 assists. Paradis does provide a solid physical edge to his game and projects to be a checking line player, whether he gets that opportunity at the NHL level is up to the Tampa Bay Lightning at this moment, but chances are it won't happen any time soon.
Overall, this move is pretty minor on both sides, but could be a sign of things to come for the Chicago Blackhawks, who could prepare to make another deal at the trade deadline and/or plan on signing multiple prospects to play in the American Hockey League for the final stretch of the professional season.