With the trade deadline looming, various rumors have circulated around the Philadelphia Flyers and whether the team will be buyers or sellers on April 3.  It remains to be seen if the Flyers will make any sort of splash during what has already been a busy week of wheeling-and-dealing, though the team did make a minor trade on Monday, adding heavyweight enforcer Jay Rosehill from the Anaheim Ducks' organization.
The Flyers landed the 6-foot-3, 215-pound defenseman turned left winger in exchange for high-energy left winger Harry Zolnierczyk, who has had his problems this season, struggling to differentiate intensity with discipline.  Rosehill, 27, is on the Flyers' roster despite spending the entire season with Anaheim's American Hockey League affiliate, the Norfolk Admirals but is not expected to make his debut with the orange and black until Thursday in Toronto, against his former team.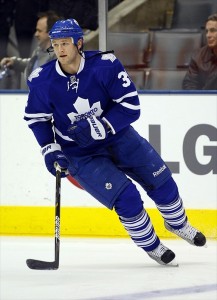 So what exactly can the Flyers and their fans expect from Rosehill?
The role of enforcer is a dying art in today's NHL, a game built around speed and offense, which could be the reason as to why Twitter was flooded with questions and displeasure about General Manager Paul Holmgren's latest move.  There's a simple explanation for the trade, however.
Philadelphia is currently without its two heavyweight enforcers – the type of player the franchise made famous during back-to-back Stanley Cup championships in the 1970s – one of whom (Tom Sestito) was waived last month and the other (Jody Shelley) is on long-term injured reserved, having likely played his final game in a Flyers uniform back on January 24.  The Flyers have plenty of grit in the lineup thanks to Luke Schenn, Wayne Simmonds and Zac Rinaldo – who throws the gloves, no matter the opponent.
Rinaldo is a high-energy, gritty fourth liner and perhaps the Flyers' best player – not named Jake Voracek – this season, who has molded nicely into a disciplined player that can change momentum but also defend his players when the time comes.  That's where Rosehill comes in.
During Sunday's 5-4 win over the Washington Capitals, Voracek – the team's current points leader – got into the first fight of his five-year career protecting captain Claude Giroux after a wicked hit.  With the Flyers already depleted from injuries, the team cannot afford to put any other players at risk.  The fight must have gotten the the attention of Philadelphia and Holmgren, forcing the GM to go out and get Rosehill.  Rosehill does have some NHL experience, having played 72 games in his career since he was drafted 227th overall by the Tampa Bay Lightning in 2003.  All of those games were with the Toronto Maple Leafs, the organization he spent most of his career with before signing with the Ducks last year.
Having played defense in the past, Rosehill is a versatile player that relies heavily on both his size and his physical style of play to be effective.  With the physicality comes his ability to throw devastating hits, which can sometimes lead to more extracurricular activities.  He's not one to back away from a fight and has gone toe-to-toe with the likes of Shawn Thornton, Milan Lucic and Brian McGratton – and has managed to hold his own.
"He's one of the best guys I've ever played with, as far as in the locker room and being a good character guy," Schenn, a former teammate of Rosehill's in Toronto, told the Philadelphia Inquirer.  "He's a great fighter, but not only that, he's a good hitter and strong on the forecheck and he wins battles out there. And he used to be a defenseman, and you have to know how to pass a little bit if you are a defenseman.
Rosehill is finishing up a one-year contract worth approximately $550,000, which means that even if he doesn't work out, Holmgren and the Flyers can move on, or resign him and send him to their AHL affiliate in Glen Falls, New York.  It was a low risk picking up Rosehill but he could blossom into a nice role player for the team – and at the cost of Harry Zolnierczyk, why not?
Ed is a die hard sports fan from Philadelphia who follows all of the city's local teams. He has written for a number of print and internet media sources and is a hockey junky. When he is not watching a game, he is spitting out useless trivia knowledge, or upholding his title as movie quote extraordinaire. You can follow Ed on Twitter @PhillyEdMiller.