It's easy to harp on the excitement that prospects like Connor Bedard and Kevin Korchinski have brought to the team this season as they're leading the way for the Chicago Blackhawks. Many players are playing well for the team at the moment, but it's the players who are lighting the lamp that are getting the most recognition, and for good reason. But when that happens, it's easy to forget the team's depth players. They are always mentioned as the backbone of a squad that helps bring success.

One of the players that fits that description is MacKenzie Entwistle. The 24-year-old forward isn't standing out in the traditional stats sense, but he stands out for every reason you want him to.
Entwistle's Strong Season Start
Entwistle was an interesting case for the Blackhawks going into the season. He made his NHL debut in 2021, so he has been in Chicago for quite a bit, and that's saying something, as the team has undergone drastic changes since he was acquired from the Arizona Coyotes in 2018 as part of the Marian Hossa trade. He was primarily used as a fourth-line forward. Still, his spot on the team seemed threatened by Reese Johnson, Boris Katchouk, and even from the summer acquisitions of Nick Foligno, Ryan Donato, and Corey Perry filling out the roster.
Before this season, Entwistle racked up 24 points in 126 career games, and having limited production in a limited role was not making a compelling case for the Blackhawks. There's a lot to like about his game. He plays with 100% effort on every shift, is good on the forecheck, and brings a bite to his game that complements his 6-foot-4, 184-pound frame. He does the dirty work and draws penalties, which is good, but he needed to enter the season with an identity that set him apart from the other bottom-six players who play similarly.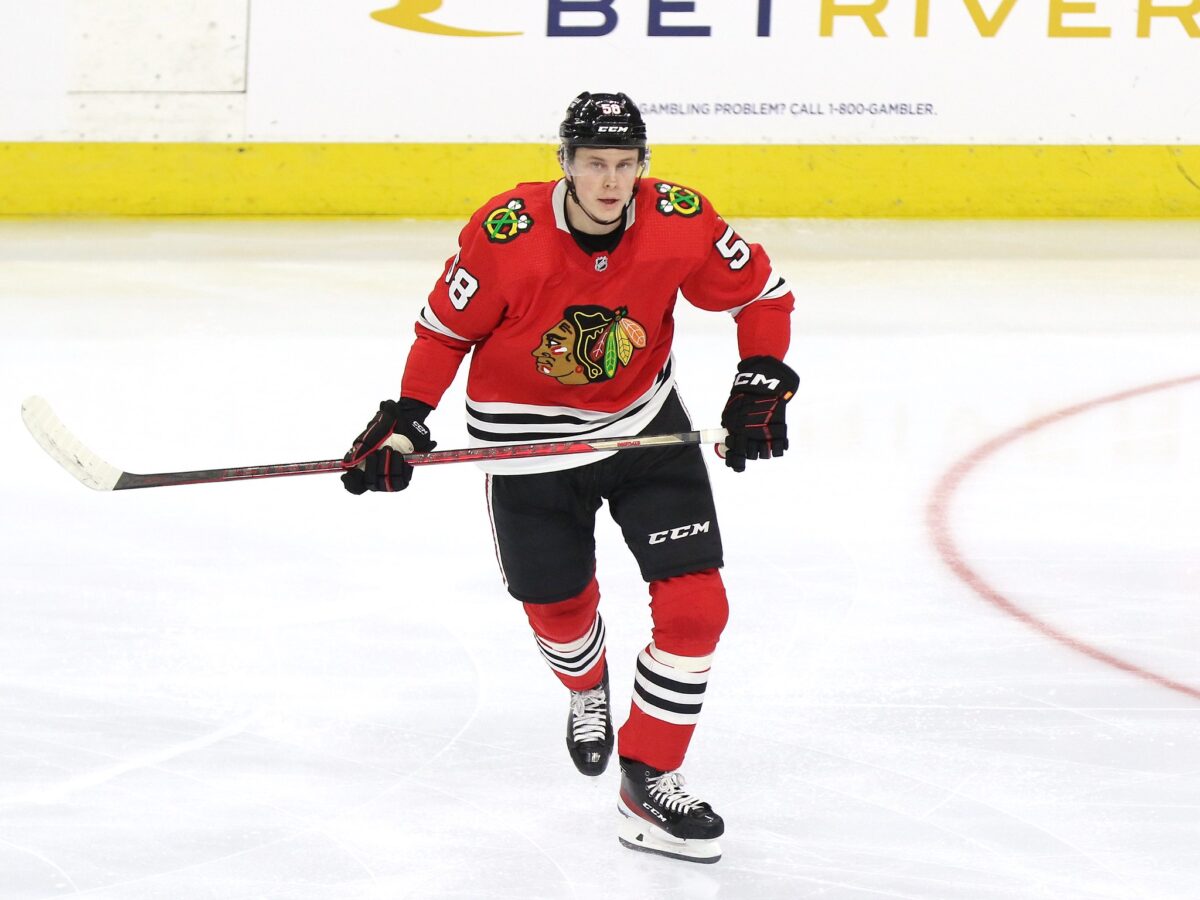 During an interview with CHGO Blackhawks in April, Entwistle recognized what he needed to work on. He mentioned about last season, "I don't want to say I had a bad year, but I don't think I had a great year." He expounded on that, saying the summer was vital for him to prove to the Blackhawks that he deserves a spot and show them the player he wants to be, which Entwistle described as being a third, fourth-line guy who can play against other teams' top lines and make their jobs hard every night. It's one thing to talk the talk and another to walk the walk, and he is backing it up with his play.
Related: 3 Blackhawks Training Camp Battles to Watch
Going into the Blackhawks team scrimmages, he scored in both games and was also a significant factor in the team's preseason games, scoring two goals. It seemed like a no-brainer that he earned a spot on the team. He was scoring goals, making plays, and playing with heart and confidence. You could tell how badly he wanted it, and that's what the Blackhawks wanted to see.
Entwistles Rags to Riches Start to Blackhawks' Season
Even though Entwistle was one of the Blackhawks' best players during the preseason, he was a healthy scratch during the first three games, and head coach Luke Richardson described it as a "numbers game" with Cole Guttman and Reese Johnson filling the bottom-six spots, but they needed him. They lost two straight games against the Boston Bruins and the Montreal Canadiens in embarrassing fashion, and there is no better spark plug than Entwistle. He debuted against the Toronto Maple Leafs on Oct. 14 and had a monster game. He scored the game's first goal, caused fits for the star-studded Maple Leafs all night, and ultimately helped the team win 4-1.
Afterward, the Blackhawks scratched him in two of their next three games, in which the team went 0-2 in the games he didn't play. When the Blackhawks put him back in the lineup against the Vegas Golden Knights on Oct. 27, they had one of their best wins of the season, beating Vegas 4-3 in overtime. Although Entwistle did not record a point, he had two hits and two blocked shots, which was tied for the team lead, and he was a pesky, net-front presence all game.
Entwistle has gotten more consistent playing time, and he has made it hard for him to sit. He was on the fourth line with Boris Katchouk and Reese Johnson against the Florida Panthers on Nov. 12, and that line was used toward the end of the team's power play. Coach Richardson always preached about rewarding players who are playing well, which was a good example. Play hard, and get more opportunities.
Entwistle Is Doing Everything Asked of Him
As of now, Entwistle has two points in eight games and is on pace for 20 points, which would be a career-high for him. His previous best was 12 points in 55 games in 2021-22.
---
Latest News & Highlight
---
The good thing about Entwistle is that he has formed chemistry with most of the bottom-six. He does extremely well with Katchouk and Johnson but also did well with Perry and Ryan Donato. Donato, Entwistle, and Perry's fourth line generated the seventh-most scoring chances on the team, and they have only been paired for three games compared to other lines who have been together longer. It also helps that he can play right wing or center, but he has been primarily playing center and has a 49.2% success rate at the dot. Knowing he can be used in different roles and fits well with everyone is a big plus for keeping him in the lineup.
Entwistle is beloved in the locker room for his fun personality, and coach Richardson praised him last year for the communication he brings to the team on and off the ice. For a team that has been preaching about building culture, Entwistle fits right in. It's still up in the air whether he will be on the team next year as the team continues their rebuild. But, early on, he is showing that he benefits the Hawks, and his presence makes them better on and off the ice.
Related: Blackhawks' No-Quit Attitude on Display in Loss to Panthers
Entwistle will not turn into a Bedard-like scorer (but who is?). Offense has never been what he is most known for, but it's nice to see him play a more complete, two-way game, which sets him apart from the others. He is sticking to what he does well: being the gritty forward he mentioned he was working on. It's a small sample size, but he deserves credit for his hard work to get to where he is now. He has become a staple for the fourth line, and his hustle-style effort is all you can ask for from a depth forward. He's helping the Blackhawks build their "hard to play against" mentality while establishing his own, and it has paid off so far.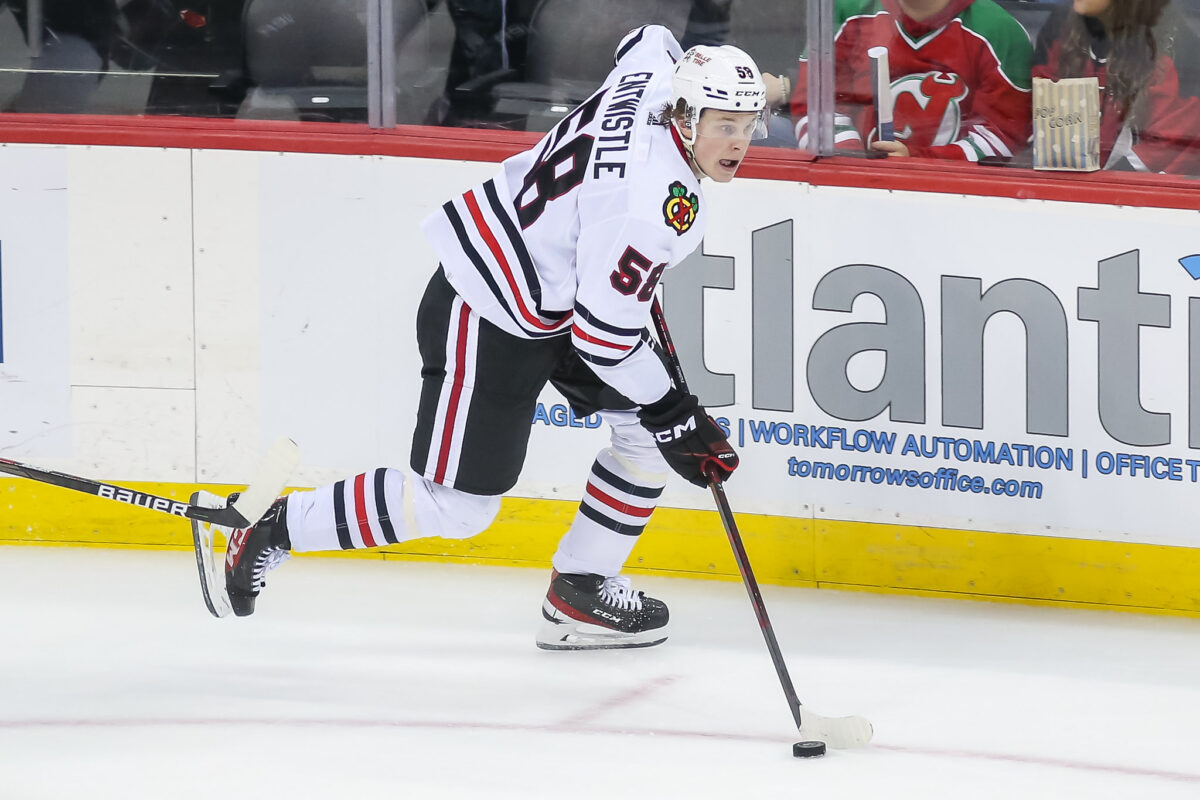 Just like he said back in April, he has to keep proving it, but he is making the most of his opportunities, making him a player to watch.