The Anaheim Ducks own a 9-6-0 record through the first 15 games of the 2023-24 campaign. It has been a dramatic improvement from last season when the Ducks only had four victories through 15 contests (4-10-1). Anaheim's turnaround has been a pleasant surprise during what was expected to be a season of development and growth for the organization. Unfortunately, the success hasn't included one of the faces of the franchise, as Trevor Zegras has struggled to find his footing so far. 
Zegras' Contract Holdout Was an Unnecessary Setback 
Zegras signed a three-year, $17.25 million contract extension with the Ducks on Oct. 2. Anaheim was not hurting for cap space at the time, with about $16.6 million available. There were reports circulating that general manager Pat Verbeek and Zegras were far apart on the average annual value (AAV) of the contract as well as another that suggested that Anaheim had issued him a lowball offer in the $3 to $4 million range per season. He ended up signing for more than that but still makes less in 2023-24 than fellow Anaheim forwards Troy Terry ($7 million AAV), Alex Killorn ($6.25 million AAV), and Adam Henrique ($5.825 million AAV). 

This whole situation felt like an unnecessary exercise. A bridge deal made plenty of sense for both sides, but that didn't stop the negotiations from dragging on for far too long. Anaheim also risked alienating a key player, while inviting opposing teams to circle them like vultures to see if a trade for the talented playmaker could be struck. Anaheim's decision to nickel-and-dime Zegras was all the more puzzling when the team claimed physical fourth-liner Ross Johnston off waivers from the New York Islanders, absorbing his $1.1 million cap hit for the next three seasons. 
Zegras Lost Valuable Training Camp Time  
Zegras reported to training camp nine days before the start of the regular season. He had been staying in shape in New York, but those workouts are very different than going through the rigors of camp. Zegras also didn't get to be on the ice much with his teammates, including several new additions to the lineup. He ended up being thrust into Anaheim's final two preseason matches to get the competitive juices flowing. Most importantly, he didn't get to spend nearly enough time learning the team's systems, strategies and expectations from new head coach Greg Cronin.
Related: Ducks News & Rumors: Cronin, McTavish, Drysdale & More
---
Latest News & Highlights
---
Consequently, Zegras has been forced to learn on the fly. He also learned the hard way that Cronin will hold players accountable for not playing the right way. Zegras didn't see the ice for the third period and overtime in Anaheim's 3-2 victory over the Columbus Blue Jackets on Oct. 24. He made some poor decisions on the power play, which resulted in him being parked on the bench. "I'd say the message was received," said Zegras. "I totally get where he's coming from. If that's going to be the standard, then I've got to play better and make better decisions. And that's what I'm trying to do." (from 'How 'brutally honest' coach Greg Cronin is getting the surprising Ducks to respond,' The Athletic, Nov. 8, 2023).
Zegras Gets Off to an Unproductive Start Offensively 
Zegras should be cut some slack for having to deal with some factors that were outside of his control, but he still needs to produce when he's on the ice. The 22-year-old forward only has one goal and one assist through 12 outings this season. Zegras has also been credited with 30 shots on goal and nine blocked shots. It's a substantial drop for a player who has amassed 46 goals and 126 points over 156 games in his previous two seasons.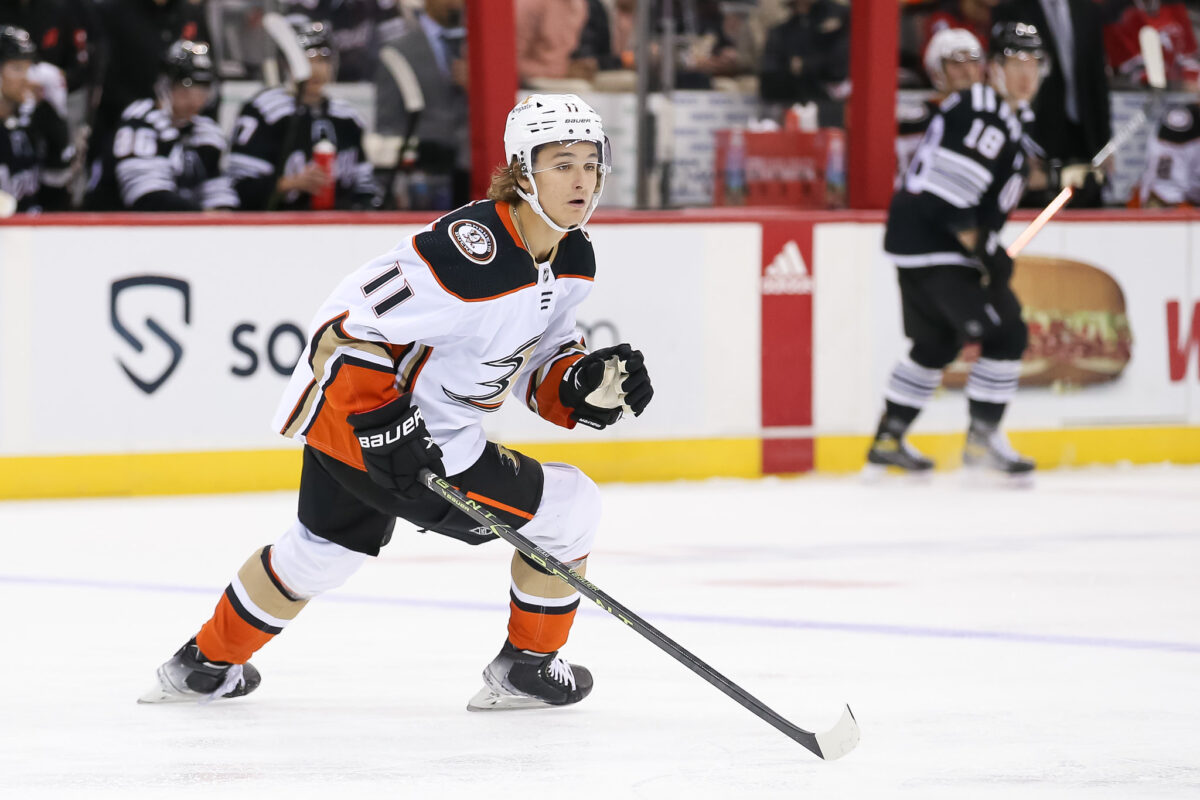 Cronin has been supportive of Zegras during the forward's sluggish start on the scoresheet. "He's getting unbelievable scoring chances every game. At least one, sometimes two of three. If he's scoring on half of those, he probably gets seven goals and we're not talking about this," Cronin told Derek Lee of The Sporting Tribune on Nov. 6. "You dig deeper into his game. He's making a real conscientious effort to defend well and analytically, he's done really well in that department. I do think it's a matter of time. I just talked to him about skating. He's got to get more involved with his feet. He's always been kind of a cerebral guy. He watches the game, he slows it down. He finds these pockets to pass the puck to. But we've got to get him to start moving his feet more."
Zegras has received plenty of praise for attempting to play a more well-rounded game this season. It was a major talking point between the Anaheim brass and Zegras prior to his contract signing. It's good to see that he is embracing that style of play, and he should start to cash in on his scoring opportunities with much more frequency eventually. 
Zegras Playing Through Injury
Zegras hasn't played since Nov. 7 against the Pittsburgh Penguins because of a nagging lower-body injury. If he has been playing hurt for most of his appearances this campaign, that could partially explain his slow start; however, it doesn't completely absolve him from it either.
Zegras has been placed on injured reserve by the Ducks, retroactive to Nov. 10. That means he can return to the lineup as soon as Friday's matchup versus the Florida Panthers, but it's unclear at this time if he will be available for that contest.
Zegras Has Plenty of Time to Bounce Back 
Zegras has experienced plenty of roadblocks early in the season, but there is plenty of time for him to get back on track. He has maintained a positive outlook despite his struggles, and the team has had his back throughout the process. It certainly helps that Anaheim has been winning during that span. Zegras appears to have a strong relationship with Cronin, which is another good sign for a potential bounce-back showing. It also doesn't hurt that Zegras has the skillset to make an impact whenever he's on the ice. Hopefully, Zegras' injury doesn't linger for too long and he can return to action soon to properly showcase the dynamic ability that has made him a popular player in the past. Anaheim has been playing well this season, but a productive Zegras would provide a meaningful boost.