The Montreal Canadiens are one of the very few teams who have had three goaltenders on the roster this season, and they have done so since the start of the season. This is due to Sam Montembeault being on such a good deal and the team wanting to extend him, Jake Allen serving as the veteran presence and rock in net, and Cayden Primeau now being eligible for waivers. This hasn't exactly created a great situation in Montreal, though, as these goalies are limited in their playing time.

The Canadiens had ample opportunity to trade a goalie at multiple points in this young season, but decided to stick with the three they have. If it hasn't already, this will create more problems and headaches for the Canadiens who don't seem in a hurry to move any of their netminders at this time.
3-Goalie System Doesn't Work for Any of the 3 Canadiens' Netminders
The main reason the Canadiens are running with three goalies on the roster is because they are afraid to lose Primeau, a young and talented goaltender who is waiver eligible. He would be the one sent down and he is serving as the third string goalie on the team this season. In 16 games, Primeau has started just two. While starting just 19 career NHL games, he has appeared in a game for the Canadiens in five consecutive seasons now. His numbers in the American Hockey League (AHL) for the past four seasons are also eerily similar with a .909 save percentage (SV%) in the past three seasons and a .908 SV% in his rookie season.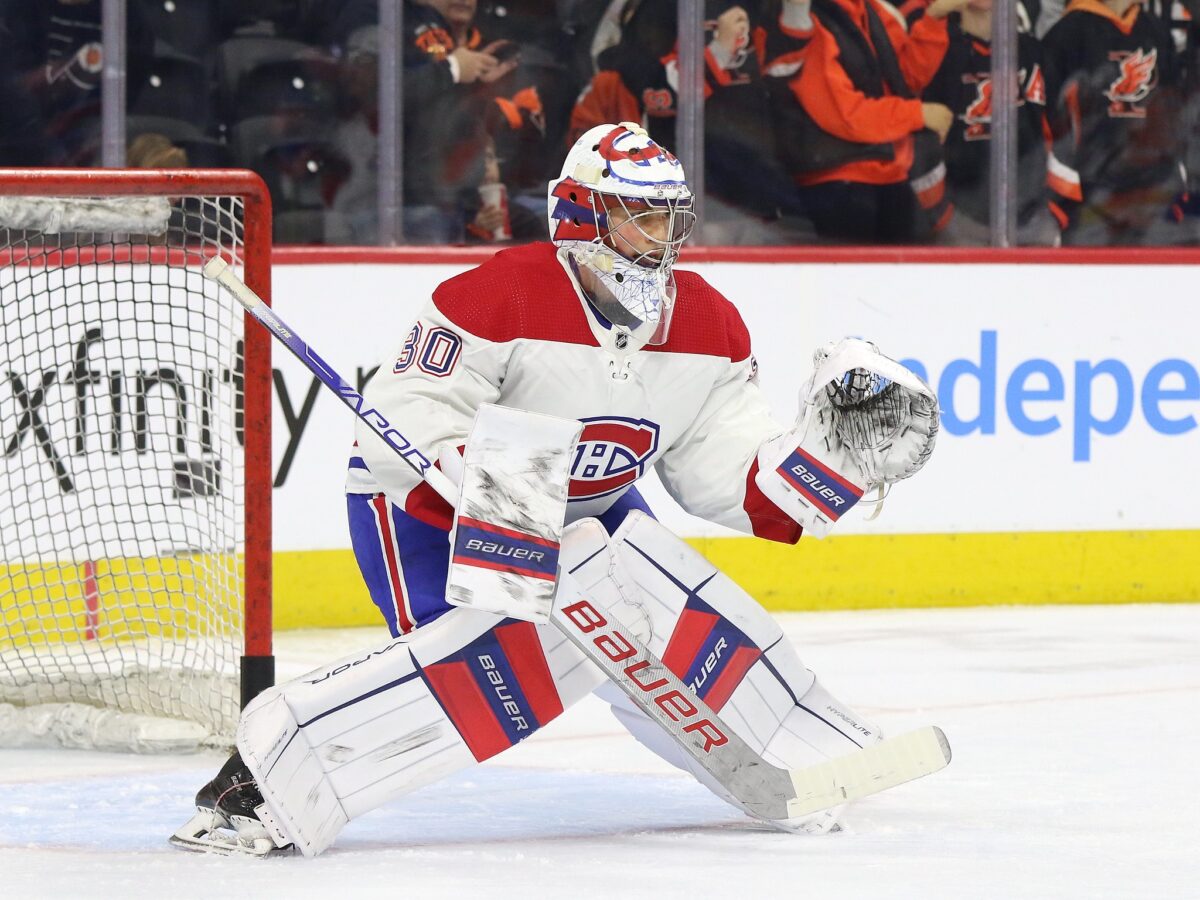 Primeau is at the age and had enough success in the AHL that he is capable of starting 20-25 games in a season, especially on a young team that isn't expected to win. This is what his role should be, not riding the pine or being up in the press box for the majority of the games. It isn't like he has played horrible in his two appearances this season either. He has one win and a .903 SV%. He needs to play because if the Canadiens don't want to lose him, they see him as a piece of the future. Primeau is getting the short end of the stick, and it might come back and hurt the Canadiens if he doesn't get more than 10 starts while being on the roster the entire season.
The Canadiens seem to see Montembeault as a fit for the next number of years as they are actively working towards a contract extension. He is paid $1 million average annual value (AAV) this season and has proven to be much more valuable than that. He became the starter last season, but seems to be splitting time right down the middle with Allen. Montembeault started 39 games last season, but with three goalies, will be taking a step back a bit. If the Canadiens weren't trying to sign him, he would have been a very easy goalie to move with his cap hit and performance.
Related: Canadiens' Unconventional Rebuild is Working Great
---
Latest News & Highlights
---
The team wanted to go into the season with Allen, so Casey DeSmith was traded soon after being acquired before the season. It seems like a good move to this point as Allen has provided strong play in net thus far. With a young goalie like Primeau on the roster, it isn't the worst idea to have a veteran around, but again, Allen is taking time away from Primeau. While Allen is playing better, I don't think any goalie is exactly happy with sitting on the sidelines. Every goalie wants to play as much as they can, Allen included.
Where Did the Canadiens Miss Their Shot?
There have been a number of teams who have dealt with an early season loss in net or just having to deal with struggling goalies. Since all three of the Canadiens' goalies are above a .900 SV%, this is seen as ideal to other teams looking for help.
Instead of making a trade with either the Tampa Bay Lightning or Columbus Blue Jackets, the Canadiens sat on their hands. Tampa Bay is still without their franchise goaltender Andrei Vasilevskiy and they appeared to be in dire trouble. Now that Jonas Johansson has held down the fort and Vasilevskiy is nearing a return, there is no point to them using any assets to make a trade. The Lightning were definitely worried heading into the season with a goalie who had started 28 games in his NHL career as their starter.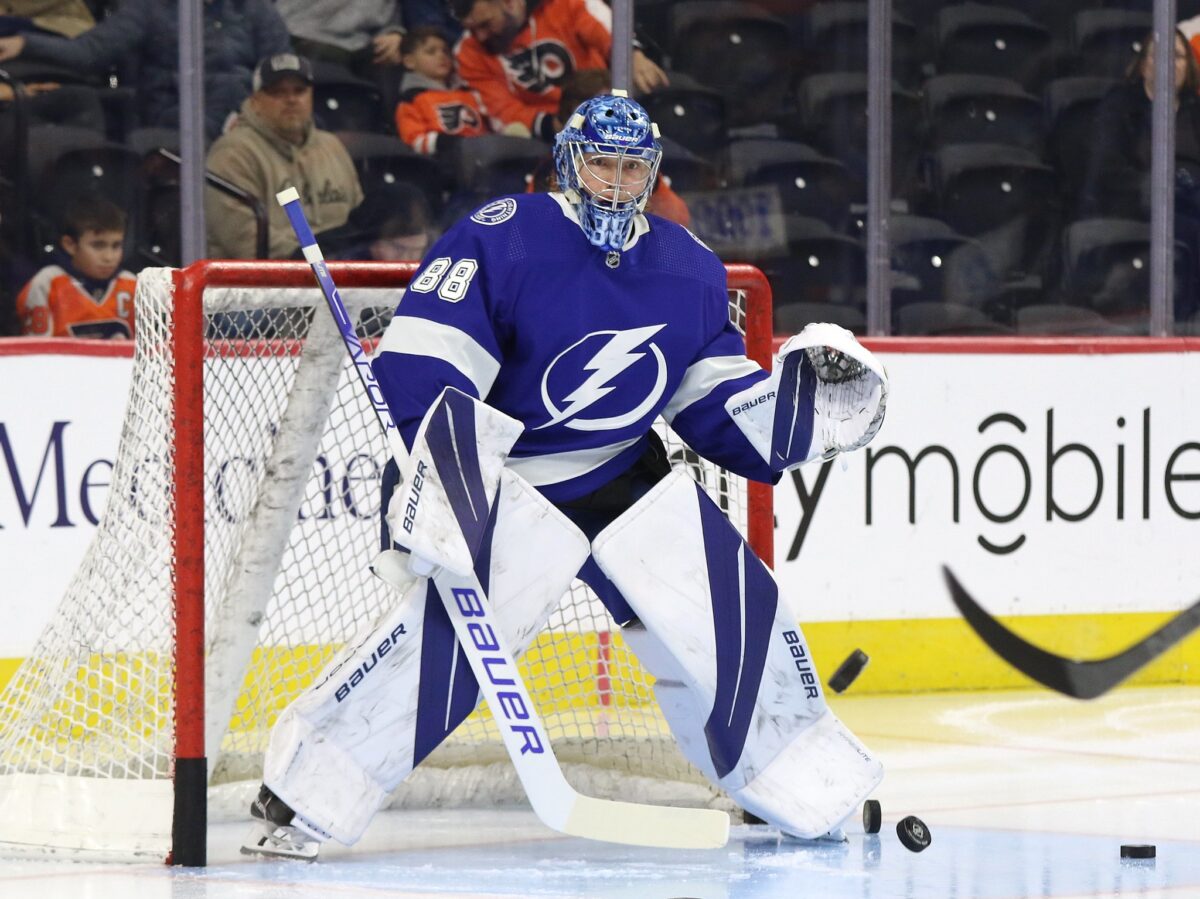 As for the Blue Jackets, they were in need of a backup. They were one of the few teams that went into this season without a third-string goalie with NHL experience. This almost hurt them immediately as Daniil Tarasov got injured before playing a game this season. Instead of jumping at the opportunity to talk with the Blue Jackets, who have a lot of young talent that could have fit into the system/team, the Blue Jackets were left to add a goalie from waivers, Spencer Martin. This worked out for them as well.
As far as trades go right now, the Edmonton Oilers and Pittsburgh Penguins might have just moved on from the idea of dealing with the Canadiens. After Jack Campbell was sent down to the AHL by the Oilers, general manager Ken Holland checked around the league at some options. He didn't like what he saw and stood pat. This very likely included the Canadiens with three goalies. The Oilers are in win-now mode, so they will still need help in net. I think there will be better options out there than what the Canadiens are offering and asking for, if they even offered anything.
The Penguins are without backup Alex Nedeljkovic as he's considered week-to-week. The team could have been a bit panicked when the news first hit. This is when the Canadiens could have reached out. Instead, the Penguins called up journeyman Magnus Hellberg and he is posting a .922 SV% through three games. Another opportunity passing the Canadiens by.
It isn't exactly an ideal situation for the Canadiens, but all three goaltenders seem to be holding the team in games at the moment. In the long run, Primeau could be most impacted and the team might look back and think about what they could have gotten. There is still time to make a trade this season, but I'm not holding my breath.