The Erie Otters have enjoyed a good offseason leading up to the start of the 2023-24 OHL season. On Tuesday afternoon, it got a lot better thanks to a major commitment from a top prospect.

Martin Misiak, taken by the Chicago Blackhawks in the second round of the 2023 NHL Draft, has committed to the Otters. The Otters selected him first overall at the recently completed CHL Import Draft.
---
Latest News & Highlight
---
The Otters expect Misiak to make an immediate impact to their lineup given the way he plays and the championship pedigree he has thanks to being a part of the Clark Cup winning Youngstown Phantoms last season. Here is what GM Dave Brown had to say about Misiak:
"Martin is best described as a complete player who combines his size with energy and tenacity to make his opponents uncomfortable. His big shot and quick release makes him a handful for goalies, and is someone who we feel will make an immediate impact. Martin was excellent during the playoffs for Youngstown, and gained post-season experience that we are excited to be adding."
"We are thrilled to be adding a player of Martin's experience, skill and who also exhibits the work ethic and determination the organization wants to be known for.  We hope Martin can share his experiences and assist our other young players in developing and creating the habits required to succeed. Having him and Ondrej together at the start of the Training Camp will be exciting for everyone."
Not only are the Otters excited to add a top talent to their lineup, Misiak is excited as well. He met with the media on Zoom Tuesday afternoon to discuss his decision to join the Otters and his excitement. Having one of his best friends and someone he's known since age 12 already on the Otters was certainly no small thing.
Misiak Discusses Joining the Otters
"I know Ondrej from probably like 12 years old. So we're really good friends," Misiak said of Molnar. "We spend a lot of time together. We've been together at the national program back home at Slovakia, at the under-18 national team program. We've been in the same room there at the hotel. So we spend a lot of time together in the national team camps. And so I have a really good relationship with him and hopefully we can help each other to get better during the season and help the team win. So yeah it's gonna be a huge help for me from the start to have my national guy and a guy that knows something about the organization and hopefully he'll help me from the start. So that's great."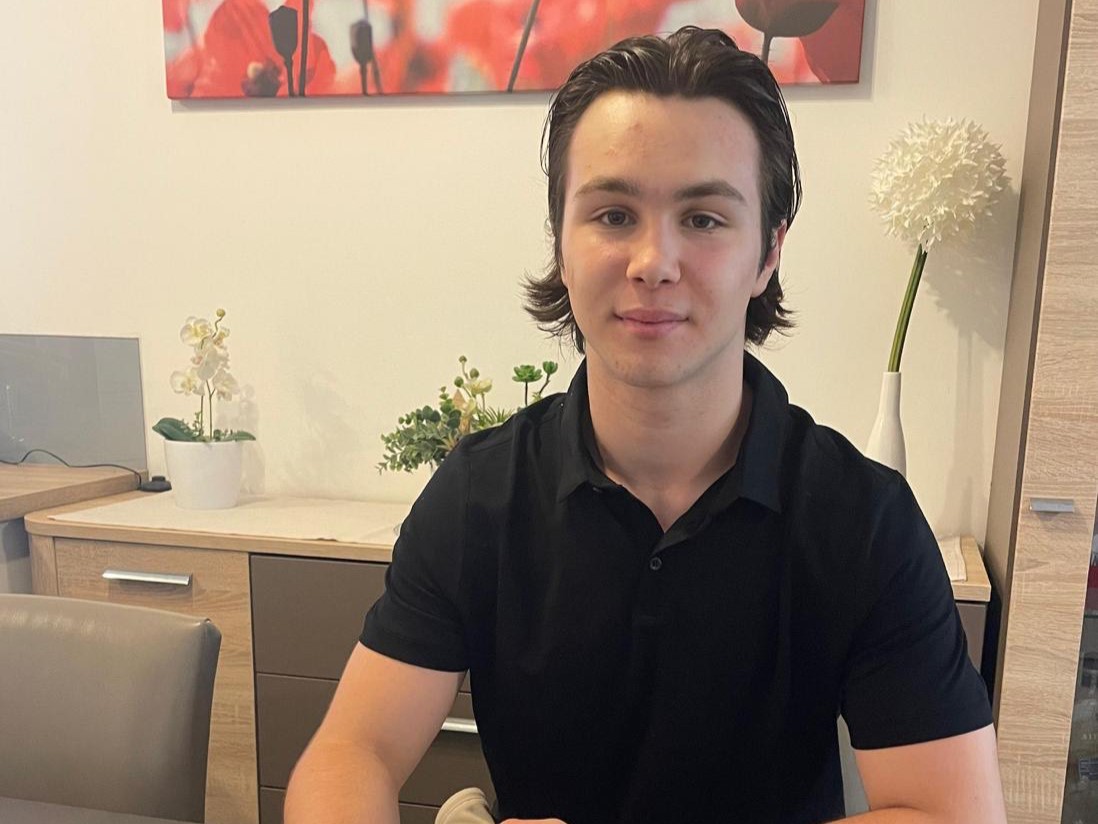 Misiak is no stranger to being in Erie watching Otters' games. During his run in Youngstown, Misiak said he came to town to watch some games including one against Flint. Being able to experience a game at Erie Insurance Arena helped him realize that coming to Erie would be good for him.
"I've been there a couple times last season to watch games. I've been watching Ondrej and the Erie Otters to play against, I think it was Flint. So yeah, I've been watching a couple games. I really like the league and I like the atmosphere in the building too. So I think it's gonna be a great move for me."
Misiak is also no stranger to being picked in the CHL Import Draft. He was selected second overall by the Saginaw Spirit in 2022. However he didn't report and ultimately ended up with the Phantoms. He discussed what went into the decision to commit to the Otters.
"After I was drafted, I had to talk with Chicago and (the Blackhawks) development staff, and I would come to the conclusion that for my best development, it's best to join the Erie Otters and their organization. And we believe that they're gonna help me the most to develop. For me, I hope I can help the team win a lot of games and hopefully we'll win a Cup at the end of the season. So that's why I joined the organization."
The Otters have been helping Misiak get everything squared away so he can be ready to go once Training Camp gets started. The team will open camp for the 2023-24 season on Aug 27. Misiak believes everything including his visa will be set by then.
"We're trying to work on my visas and little stuff to get me to the US because I need a new visa for this year. And so we've been in a contact a lot (with Otters management). I know the visa thing is almost over for me so it's almost done and so I should be really ready to go. I'm super excited. Can't wait to get to Erie."
What Misiak Brings to the Otters
Here are some of what others are saying about Misiak and what all he will bring to the Otters. You can check out our 2023 NHL Draft Profile on him below.
Related: Martin Misiak – 2023 NHL Draft Prospect Profile
"Really strong, physical, can play a two-way game. Really versatile player that can play anywhere in your lineup, different positions." – Kyle Davidson, Chicago Blackhawks
"A hard forechecker, he forces opponents to rush their plays on breakouts and creates turnovers. He drives the net, attracts the defensive presence there, and gives his teammates more room around the offensive zone to deploy their offensive skills. The Slovak center plays with the same level of energy on the defensive side of the puck, too. He hunts attackers through the neutral zone, attaches himself to them in the defensive zone, and rarely lets go." – EliteProspects 2023 NHL Draft Guide
"A high-energy winger with above-average awareness and excellent skating, Misiak has a high floor and could grow his playmaking game to unlock second-line upside." – Sebastian High, Dobber Prospects
"We are thrilled about Martin's commitment to Erie for the upcoming season. Martin has the ability to impact the game on both sides of the rink due to his relentless competitiveness, and he was a major contributor to a championship in Youngstown last season. We are excited to officially welcome Martin and his family to the organization, and we look forward to working with him on his continued development." -Scott Grieve, Erie Otters Assistant General Manager and Director of Hockey Operations.