With the current direction of the organization doing little to generate any excitement around the Chicago Blackhawks, the rescheduled 2022 World Junior Championship couldn't have come at a better time. Fans can take a break from being forced to accept the lack of success expected for the franchise, to simply enjoy watching its future blossom.
RELATED: Blackhawks & Sabres Could Orchestrate Offseason's Biggest Blockbuster
What's more, the Blackhawks being among the clubs with the highest number of prospects participating should offer at least some sense of a silver lining to supporters. Five former draft picks will be taking part, with representation spread across three nations.
Dominic James (USA)
Chicago's only prospect from the 2022 NHL Entry Draft to participate, the 2022 World Juniors offers Dominic James his first opportunity to sport his country's colours on this stage. Technically, he did get into one game back before the initial competition was cancelled, but he wasn't able to make much of an impact going pointless in that contest.

The 20-year-old spent the 2021-22 campaign with the University of Minnesota-Duluth Bulldogs, during which he accumulated 18 points through 39 contests. A solid year for the National Collegiate Athletic Association (NCAA) rookie, capped off by capturing a National Collegiate Hockey Conference (NCHC) title.
This schedule reset provides the sixth-round pick with a perfect opportunity to enhance his World Juniors' story into much more than his debut entailed.
Victor Stjernborg (Sweden)
Despite this being Victor Stjernborg's first time at the World Juniors, it's not his first taste of international competition. What's more, he's spent his entire career to date overseas in his home country of Sweden.
Stjernborg had already achieved quite a resume by the time Chicago selected him in 2021's fourth round, including having won a Swedish Hockey League (SHL) title.
Having worn Sweden's sweater earlier this year, playing three games for their U19 team, both Chicago and Stjernborg hope to see more production out of the forward than the one goal he was able to accumulate throughout that sample size.
Ethan Del Mastro (Canada)
The most recent roster addition for Team Canada, Ethan Del Mastro is the benefactor of the void left on the team's defense due to injury. That said, though, it's not as though the 19-year-old isn't worthy of the playing time.
Drafted 105th in 2021 by the Blackhawks, Del Mastro went on to have quite the season in the Ontario Hockey League (OHL) through 2021-22. Among the league's top-producing blue liners, the Mississauga Steelhead's captain accumulated seven goals and 41 assists in 68 contests. Three of those tallies being game-winners speaks to his influence.
Although this is Del Mastro's first World Juniors, it's not his only experience with Team Canada. He suited up for their U17 and U18 teams in recent seasons, winning gold with the latter in 2021.
Landon Slaggert (USA)
Chicago's highest draft pick of the group participating in this year's tournament, Landon Slaggert was selected 79th overall in 2020 at the age of 18.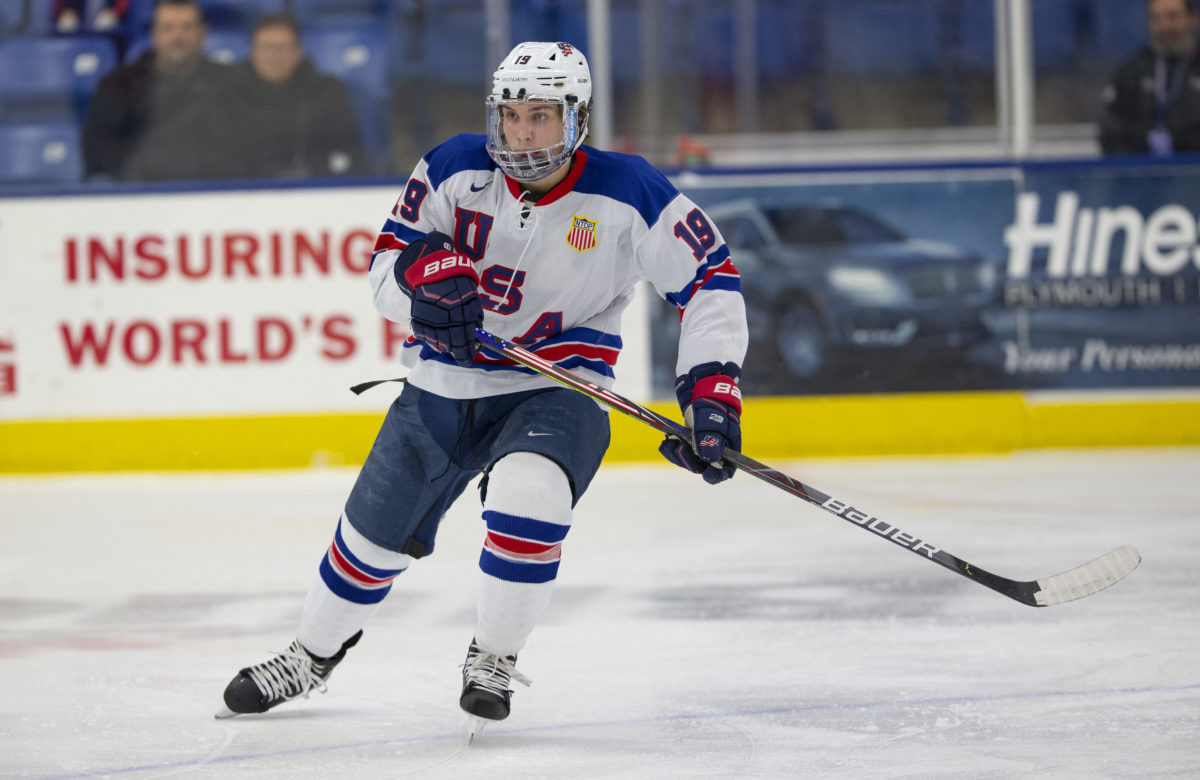 Slaggert is also one of the more accomplished in the group when it comes to international competition, having been part of the USA's first-place finish at last year's World Juniors. Despite having gone pointless throughout that run, Slaggert's ability to lead was impossible to ignore. So much so that he's been named an assistant captain for Team USA's 2022 lineup.
Having accumulated 20 goals and 28 assists through 65 games in the NCAA, Slaggert's impact continues to propel alongside the forward's development.
Further evidenced by the fact that he had already bettered his 2021 World Juniors stats, having scored in USA's first game when the 2022 tournament initially ran. A trend that Team USA hopes will translate into helping them achieve back-to-back championships.
Wyatt Kaiser (USA)
Like James and Slaggert, Wyatt Kaiser was part of Team USA's original roster when the 2022 World Juniors kicked off in Dec. 2021. The defenseman had even accumulated his first assist in that one game played. Given the former third-round pick's proven ability to progress, it's safe to predict even more out of the defenseman as this year's World Juniors proceeds.
The Blackhawks may have found a top-four defenseman in the third round, which is very difficult to do. He showed off his mobility, and offensive game in high school then became a defensive standout when he arrived in Duluth. While he still has the offensive flair today's NHL general managers crave, he has quickly become a complete, two-way defender. He takes far fewer risks on the ice and reads the play very well.
Despite limited international experience, Kaiser's accomplishments to date — especially at the NCAA level — should be more than enough to illustrate his talent.
Selected to the 2020-21 NCAA (NCHC) All-Rookie Team, Kaiser did one better in 2021-22 when he joined James in hoisting that year's collegiate title. Surely, the 20-year-old hopes to add a gold medal to his accomplishments and the Blackhawks will be happy to witness him do so.
World Juniors Success Benefits the Blackhawks
Regardless of which nation comes out on top, onlookers can count on watching James, Stjernborg, Del Mastro, Slaggert, and Kaiser play like their future in the game depends on it. Because it very well might.
The performance each is able to string together throughout the next few weeks will matter when it comes to deciding if they are a fit for this franchise, let alone how quickly Chicago is willing to pave their path.
That the Blackhawks are rebuilding provides an advantage to these former draft picks that wouldn't otherwise exist. Simply stated, the team is entering an era wherein it will be far more likely to pull from its prospect pool as they continue to prioritize collective development.
RELATED: Chicago Blackhawks' 2021-22 Player Grades: Goalies
How can one leverage this international experience to elevate the potential of their professional career? By performing in a way that makes it impossible for the Blackhawks to ignore. That way, when it comes time to address the inevitable voids that this roster is forced to fill in the years ahead, their decision-makers will have already established the list of names they want to see next.
---
Latest News & Highlight
---