We're finally in the home stretch! The long offseason is coming to an end for the Chicago Blackhawks. There are still so many question marks surrounding this team. But as we head into September, prospect camp commenced the weekend of Sept. 7-11, and the training camp schedule has been released. Sept. 14 marks the first practice, with Training Camp Festival the following day at the United Center. There will also be six preseason games, starting Sept. 18 and ending Sept. 29. The first regular season contest is against the Ottawa Senators on Oct. 4.
While we wait for these events and more answers to unfold, let's ask a few questions of our Blackhawks' staff Greg Boysen, Meghan Dillon, and Gail Kauchak.
Which Blackhawks' Veteran Needs to Step up to Make the Season a Success?
Meghan Dillon
As cliche as it sounds, Jonathan Toews. As captain, he can easily start a chain reaction when it comes to improvement. He has upgraded his training regimen, and when I saw him play in the CPHL in July he played very well. I believe he will improve this season and inspire others to step up their game.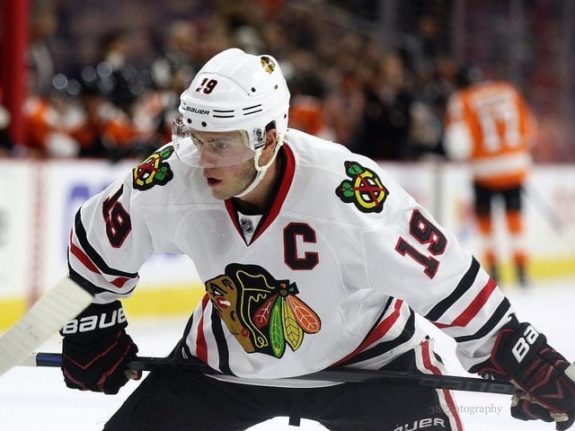 Greg Boysen
Duncan Keith needs to be huge if the Blackhawks want to have any chance of returning to the playoffs. Toews and Brandon Saad did everything you'd expect them to do last season except score. A market correction should be in order this year in respect to their shoot percentages (S%) and more goals will come.
Keith had a down year to his standards as the weight of being the team's top defenseman seemed to finally take its toll on him. Unfortunately, not much will change this year. The front office is hoping he can return to his Norris Trophy-winning form and he will need to do just that if this is to be a successful year.
Gail Kauchak
All things hinge on the defense, and the defense runs on Duncan. Sure, he had horrible statistics last year. He also had an awful lot of things going against him. He worked with a plethora of partners, and nobody that truly supported him. Keith was left to babysit and cover for others. He, therefore, made more mistakes and had little chance to contribute offensively.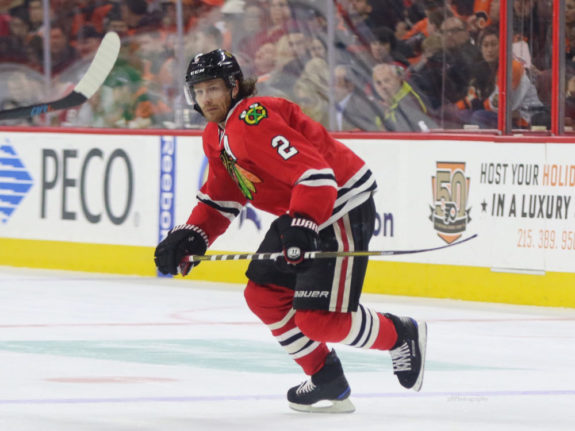 There are whispers that Keith has lost a step, and that may be true. But it could have more to do with how things unfolded last season. Head coach Joel Quenneville didn't trust anyone else, and the 35-year-old found himself with a lot of ice time in all situations. Keith needs more support, a consistent linemate, and more manageable ice time. Then the veteran can step up his game, and the Hawks, in turn, will be a better team.
---
While the veterans definitely need to pull their weight, we've already established there are numerous opportunities for the youngsters to round out this Blackhawks' team. There are no guarantees, but Dylan Sikura looks to be a lock to make the starting lineup and contribute right away. But can he take it a step further and establish himself as a member of one of the top two lines?
Will Prospect Dylan Sikura Be a Member of the Top Six Forwards?
Meghan Dillon
Sikura has the potential and talent to make it, but I believe it depends on his chemistry with teammates and training camp performance. If he meshes well with Toews or Patrick Kane and performs up to expectations, I don't see why he shouldn't be a top-six forward. However, there are some very talented forwards in the third and fourth lines and he could fit in there as well. In my opinion, your spot in the lineup largely depends on who you have the best chemistry with.
Greg Boysen
Sikura will certainly be given every chance to earn a top-six spot. I see him starting the year with Saad and Toews. Although he would be a dynamic addition to the second line with Kane and Nick Schmaltz, defense is not his strong suit at this point and it would not make much sense to add him an already weak defensive line.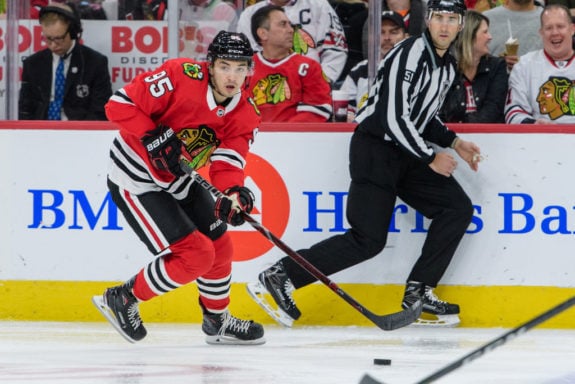 Playing with two responsible players like Saad and Toews will definitely take pressure off of him in his own zone and give him two great examples to learn from. However, as we all know by watching Coach Quenneville over the past few years, you rarely stay in the same spot in the lineup for a long period of time.
Gail Kauchak
Yes, I think Sikura has been slated as a top-six forward all along. Although we're not sure of exact positions, here's who we should see as members of the top six.
Saad – Toews –
Alex DeBrincat -Schmaltz – Kane
Sikura is a right winger by trade. Could he slide into that spot next to Saad and Toews on the first line? Before we get too excited, don't forget Coach Q likes to experiment with his lines. There's also Artem Anisimov that could easily slot into center while Schmaltz moves to the wing. And then there are players like Victor Ejdsell and even John Hayden that could fill out the top six, depending on fit and chemistry. We could easily see Sikura on the third line for balance and a scoring threat, much like DeBrincat was the majority of last season.
I predict Sikura will spend time on every line before he finally establishes himself as a member of the top six before Christmas.
Related – Blackhawks Roundtable: Line Combos, Management, and Trades
---
We've already established there are numerous issues and question marks for the Blackhawks headed into the 2018-19 season. We touched on a few of them with our questions above. But what does this season truly hinge on? Which leads us to our final question.
Most Pressing Concern: Offense, Defense, or Goaltending?
Meghan Dillon
Either defense or goaltending, it depends on who is (and who isn't) on the opening night roster. If Corey Crawford is healthy opening night, goaltending shouldn't be a problem. I do believe it's not the worst thing in the world if he's placed on LTIR and isn't on the opening night roster, since there is a chance he'll be back midseason. He seems to be progressing, but only time will tell.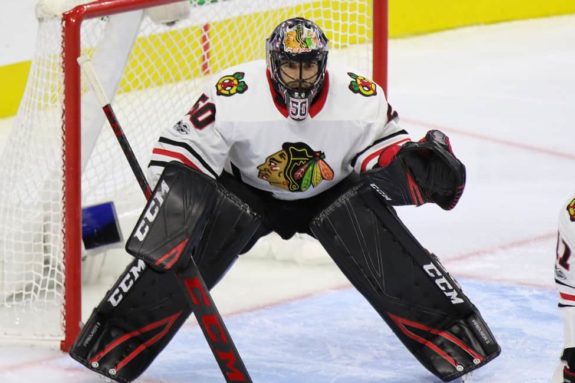 I've said it before and I'll say it again, Henri Jokiharju could really shake things up on the blue line if he makes the opening night roster. Rumor has it that Keith and Seabrook are training harder than ever, which also brings optimism to the blue line.
Greg Boysen
The biggest concern this year is the same as the biggest concern from last year; the defense. Sure, Crawford's health is the elephant in the room heading into the season, but the defense did not improve much in the offseason. Brandon Manning and Brandon Davidson do not make the Blackhawks a better hockey team.
The front office is hoping on improvement out of Connor Murphy with Keith and Seabrook returning to their prime forms. That's an awfully big gamble that likely will not pay off. It doesn't matter if Crawford is back to 100% or if Cam Ward is in goal, this current defense is not made for long-term success for even the greatest of goaltenders.
Gail Kauchak
I continue my theme from the first question. The most pressing concern is on defense. Sure, goaltending is a big issue and a huge unknown for this team. If Crawford can't play, or if he can't perform to his previous caliber, this could be a huge problem. But a team can't just simply rely on one lone man to make great saves.
The answers need to start before that. Championships are won with defense. The Hawks have a lot of weapons on offense. Sure, they could use more depth at center, and more consistency on the lines. But the main thing that can make them a contender again is to develop a strong defense.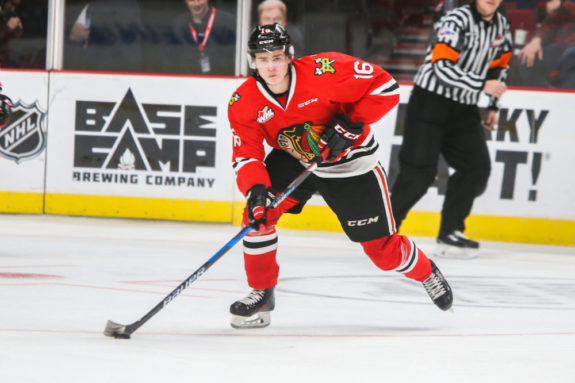 Keith and Seabrook need to become supporting characters (strong characters, but supporting characters) as prospects like Jokiharju and Adam Boqvist take the reins. Unfortunately, this could take a few years. Fans need to be patient.
Related – Blackhawks Roundtable: Goalies, Defense, and Marian Hossa
---
All these questions and more will eventually be answered in the coming weeks and months as the season evolves. Unfortunately, this roundtable doesn't give a very positive outlook, especially regarding defense and goaltending. Can the Blackhawks prove us wrong? We'll find out soon.
Gail Kauchak has covered the Chicago Blackhawks as a content writer since 2014. She previously wrote for Fansided's Blackhawk Up, and has been part of The Hockey Writer's team since 2017. It's not always easy to balance life's responsibility's with one's passion, but Gail's doing her best to make it happen. Quote to live by, "Follow your dreams, and good things will happen." Wait, maybe it's "Good things happen when you shoot the puck!" You get the idea.
Follow Gail for her unique commentary about this storied franchise. And be sure to catch her and the rest of the Blackhawks' crew on their weekly Blackhawks Banter show, as well as follow her on Twitter.