What does this offseason have in store for the Columbus Blue Jackets? We will start to find out in about a week's time.
GM Jarmo Kekalainen and his staff will embark on the 2020 NHL Draft. Then right after that, the window for free agency opens.
It is widely expected that the Blue Jackets will make some moves. The question here is just how big will these moves be?
In this space, we will try to get you as prepared as possible for what could happen both leading up to the draft and at the draft itself. Kekalainen was kind enough to join me to help get us ready. As you would expect, he won't divulge their plans. But he did have some interesting things to say about both the draft and the offseason. You will see his draft comments sprinkled throughout this piece. You'll see his thoughts on the offseason when we drop our post-draft offseason preview later on.
For this draft preview, we'll set the Blue Jackets scene for you and try to give you a sense of what could happen from possible trades before the draft to possible targets at the draft. Let's get started.
Setting the Blue Jackets Scene
The draft might not be until Oct 6, but the action could start as soon as this week. Heck, there may even be a deal done by the time you read this article. There's chatter. That chatter will only pick up as we get closer to the New York Rangers officially going on the clock.
We jumped right into it with Kekalainen and I asked him about the chatter around the league. How active has it been from his point of view?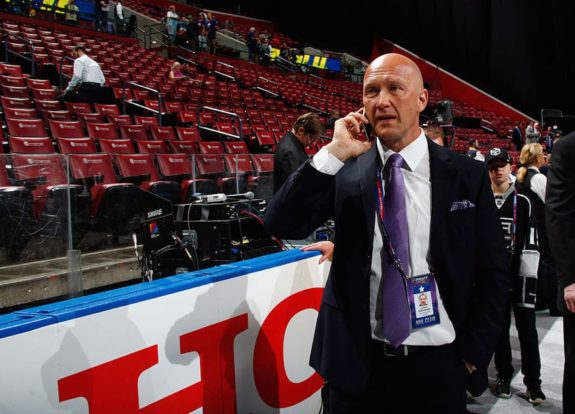 "(Paused for a minute) There's been some talk," Kekalainen said. "There's always talk and I think it always accelerates getting closer to the draft. I anticipate that happening in the next week or two. So we'll see how that goes."
Considering their need for a scoring forward and who might be available on the Blue Jackets, Kekalainen is going to be talking a lot. Even if Kekalainen doesn't strike a deal this week, don't be surprised if you see picks traded around the league as teams look for ways to shed salary. The Rangers successfully did that with Marc Staal. He was traded to the Detroit Red Wings, but it cost the Rangers a second-round pick.
As of this writing, the Blue Jackets will enter the draft with five total picks. They will pick 21st overall. More on that pick later. They also hold one pick in each of rounds 4-7. They do not own a second or third rounder. Do not discount Kekalainen trying to give his scouting staff more picks though.
In the past, Kekalainen has admitted they went into drafts looking to acquire more picks. However trades never materialized primarily because players on their list were available at those spots. Could this year be different? I asked Kekalainen if he and his staff will try to prioritize adding more picks before the draft since they are without a second and a third. He certainly didn't discount the idea. In fact, he reiterated the confidence he has in his scouting staff.
"We're always looking for ways to have the most effective draft," Kekalainen said. "Sometimes you use those picks for a player that you like or a prospect. Sometimes you feel like you need to make the pick. But I think the more picks you have, the better opportunity you'll have to get more prospects out of it. That's just a statistical fact. If we could recoup a second or third in the leading days here before the draft, that would be great. We have a lot of faith in our scouting staff and they've done a great job for us. So I'd like to be able to provide as much ammunition for them to show what they can do."
This is definitely worth watching for the Blue Jackets. With just five picks, they will look to add picks if possible.
Reports have surfaced that the Blue Jackets are considering a buyout of Alexander Wennberg [From: Blue Jackets Considering Contract Buyout of Struggling Center Alexander Wennberg, Aaron Portzline, The Athletic, 9/25/20]. He hasn't been placed on buyout waivers yet. I do wonder if they're looking for a trade before they go the buyout route. Teams like Ottawa and Detroit have plenty of picks at their disposal. Even New Jersey could afford to deal a first for a young, controllable player.
A side note. If the Blue Jackets can't come to terms with Josh Anderson, watch the return on a possible trade. I'm not sure how they could get a first given Anderson's situation, but a second is certainly in play if there's more to a deal.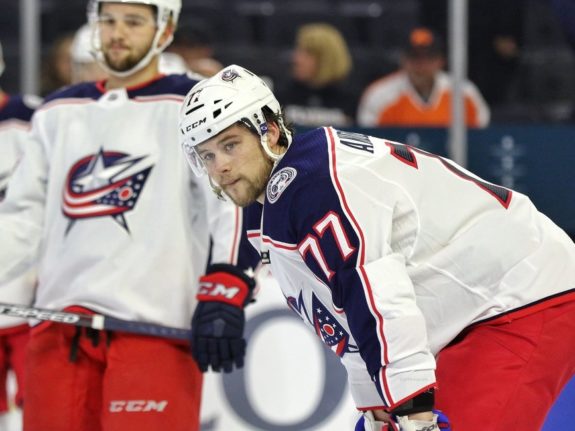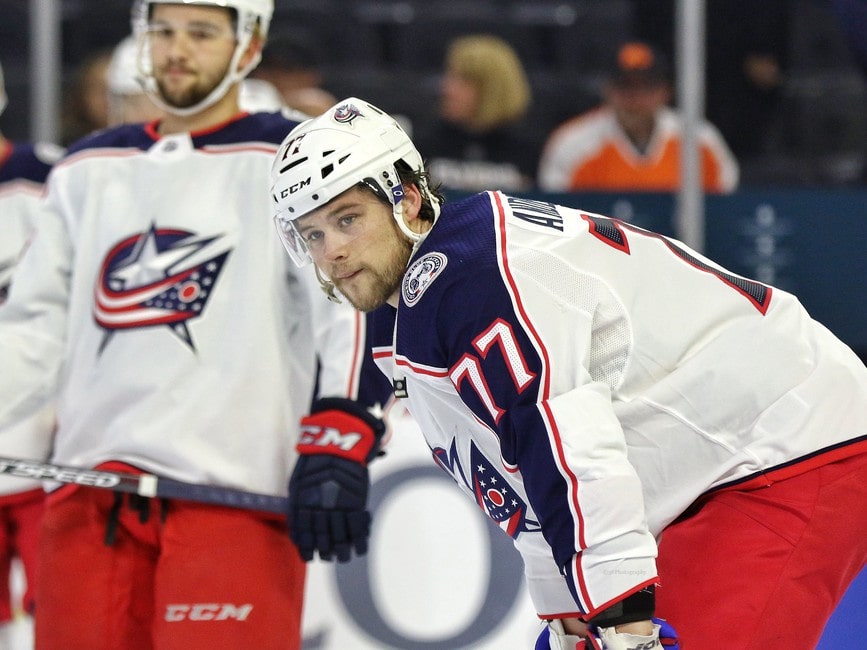 The point is there are options out there should the Blue Jackets want to add picks. It could be at the top of the draft. It could be later in a swap of picks. It comes down to if their player is on the list and available in a desirable spot.
Are the Blue Jackets Prepared?
With the season suspended in March, time became an ally to teams trying to get ready for an eventual draft. Although there was more time to prepare, teams didn't have their normal assortment of ways to prepare.
There was no playoffs in juniors as their seasons were eventually canceled. There was no NHL Combine. Teams didn't get to see players play in the highest of stakes. They also didn't get face-to-face interviews.
Related: The Downstream Effects of Covid-19 on the Combine and Draft
We asked Kekalainen how his scouting staff has handled these challenges and does he think they're ready to go come Oct 6. The answer shouldn't surprise you.
"I think they've done great," Kekalainen said of his staff. "They've missed a month of a lot of games and then some playoff games. But we made up for it by watching a lot of video and doing a lot of the background work and being more extensive at that. That's an important part of the process as well so we've done the best we can under unprecedented circumstances. I'm confident we'll be able to have a great draft again."
This will be fascinating to watch as the draft goes on and in the years to come. How many prospects got a boost because of their playoff performance in past seasons? Well there are no playoffs this time. We're going to see decisions made based on earlier impressions. Teams will be familiar with the prospects but they won't have as much information as normal.
Kekalainen says the background work was more extensive. If we know anything about the Blue Jackets under his leadership, they value players of high character. They will do some deeper digging to ensure that the prospects they select meet this criteria. The same goes with checking on their fitness with no Combine.
Teams will inquire of other sources, such as a prospect's trainer, to get a sense of where their fitness is at and what needs improvement. Top prospect Cole Perfetti recently told me that teams have talked to his trainer about this aspect. He won't be alone on that ship.
The bottom line is that the Blue Jackets are ready to go now. Their list is mostly complete, Kekalainen said. Director of Amateur Scouting Ville Siren is coming to Columbus the week before the draft to finalize the list and go over any possible last minute changes. Manager of Scouting Operations and Player Evaluation Tom Bark will also join Kekalainen and Siren in Columbus in a conference room. The rest of their scouting staff will join them via Zoom.
The Scene is Set. Now What?
We know the Blue Jackets have the 21st overall pick in the draft. There are a couple of questions worth asking at this point.
First, could the Blue Jackets trade this pick? If a big trade comes together, then sure, this pick could be in play. If somehow Patrik Laine talks get rolling, that's a situation where this pick would be involved.
But all season, Kekalainen was adamant that they were not interested in trading their first rounder this season since they've done that in previous seasons. He stayed true to his word so unless something overwhelming comes together, we are going to operate under the assumption they'll pick at 21.
Second, who will the Blue Jackets take at 21? That's impossible to say at this point since there are 20 picks before them. But there are some things we do know.
The Blue Jackets won't take a goalie in that spot. They're loaded in net and can afford to wait until later in the draft to take one. That's their usual style anyway when it comes to goalies. Both Joonas Korpisalo (62nd in 2012) and Elvis Merzlikins (76th in 2014) were taken in the third round.
So it will be a skater. The Blue Jackets don't look at positional need in these spots and will aim to take their best available player.
In the mock drafts that I have been a part of or seen, the Blue Jackets can land a great talent in that spot. I will try to highlight possible forwards and possible defensemen who could fit this bill and why I think they should consider them.
Forwards
Hendrix Lapierre: Don't let the injury history distract you from his high upside talent. At 21 should he be there, you rush that pick in. This would be my current choice if I was forced to pick someone as a forward.
Tyson Foerster: When you can shoot the puck like Foerster can, you deserve first-round consideration. He's going to tear the OHL up once they resume.
Dawson Mercer: Focus on the fact that he made Team Canada at the World Juniors, not on his numbers. He can impact the game in multiple ways.
Connor Zary: He has emerged as one of the best players available from the WHL. He would fit the Blue Jackets mold.
Jacob Perreault: He has the bloodlines and good offensive instincts. Once he refines the other side of this game, he could take off.
A side note: I think players like Seth Jarvis, Jack Quinn and Rodion Amirov will be gone in the top-20. Otherwise it should be one of these three should they fall.
Defensemen
Braden Schneider: An argument could be made that he's the third best defensemen in this draft. If he had a little more offense, he'd be a top-10 pick. As is, he could fall and would be a nice pick at 21.
Kaiden Guhle: Perhaps one of the better shutdown defenders available at the top. His upside will increase if he can continue to develop an offensive element to his game.
Justin Barron: The injury must be monitored and he could fall as a result. Someone will take their chance with him though especially if he falls too far.
Ryan O'Rourke: O'Rourke is my steal of this year's draft. He has everything the Blue Jackets would love and plays the kind of game that drives opponent's nuts. If I had to choose a player they should take here, it's O'Rourke.
Helge Grans: Grans shot up the Central Scouting final rankings thanks to his ability to create offense from the blue line. I'm not sure he's a first rounder, but some like the talent enough where someone could take a chance.
The Rest of the Picks
The Blue Jackets will have four other picks assuming no other action involving their picks happens. Those will be at 114th, 145th, 176th and again at 207th.
I'm not going to sit here and tell you the names in play at each spot. That's foolish. But I will share some of my favorites that are projected to go later in the draft.
Brandon Coe: Didn't get the attention he deserved in North Bay. If he falls far enough, he's a must have in the middle rounds.
Tyler Tullio: Think of a combination of Brad Marchand and Anthony Cirelli. That's what you get in Tullio. He'll have a chance to chase a Memorial Cup and should excel in the OHL.
James Hardie: Perhaps my favorite player late in this draft, Hardie exploded for 34 goals and was over a point per game when the season was suspended.
Zion Nybeck: This is the kind of player you acquire an extra pick for. Projected as a second rounder by many, Nybeck has first-round talent. This feels similar to when the Blue Jackets traded for the pick that landed them Alexandre Texier.
Aidan Campbell: He has the same coach that worked with Carter Hart. He's 6-foot-5 and athletic. He's projected to go very late in this draft. This is the perfect combination for the Blue Jackets.
There you have it. The Blue Jackets will no doubt be busy this week leading up to the draft. There could be new players coming in via trades and there will be new players coming in via the draft. It will be a different looking team come Wed Oct 7 and that might just be the beginning.
We'll be back after the draft to recap things and look ahead to the rest of the offseason including free agency. Kekalainen had plenty to say about this too. So stay tuned.
---
---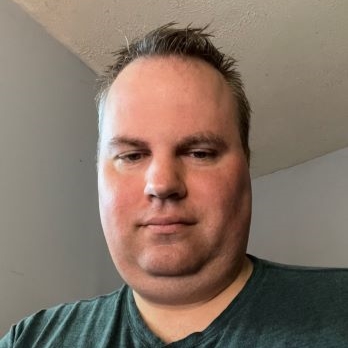 I am a fully credentialed writer who covers the Columbus Blue Jackets, Cleveland Monsters and Erie Otters as well as the Ontario Hockey League and NHL Draft. The 2022-23 season will mark nine seasons with the Hockey Writers. I am also the site's Credentials Manager. Please take note of the updated Twitter handle: @mark_scheig.