The Columbus Blue Jackets are coming off of a season to forget in 2022-23. Most of the season saw them in a race for the bottom of the standings. They were tested with injuries to their top players including number one defenseman, Zach Werenski, and former top-six wingers Jakub Voracek and Gustav Nyquist. Their goaltending and team defense were abysmal. Ultimately, it left much to be desired.
There is no doubt that the Blue Jackets will be better next year. If not by sheer mathematics alone, as they almost literally cannot finish worse in the standings. Let's look at a couple of specific ways that they will be better in 2023-24.
The Return of Werenski and Texier
The Blue Jackets must be looking forward to seeing what their roster can do when all of their top guns are in the lineup because they spent almost the entire year without one or more of their big pieces. That started immediately when star forward Patrik Laine was injured on opening night. That put the season off-kilter, but what really set things awry was the injury to Werenski.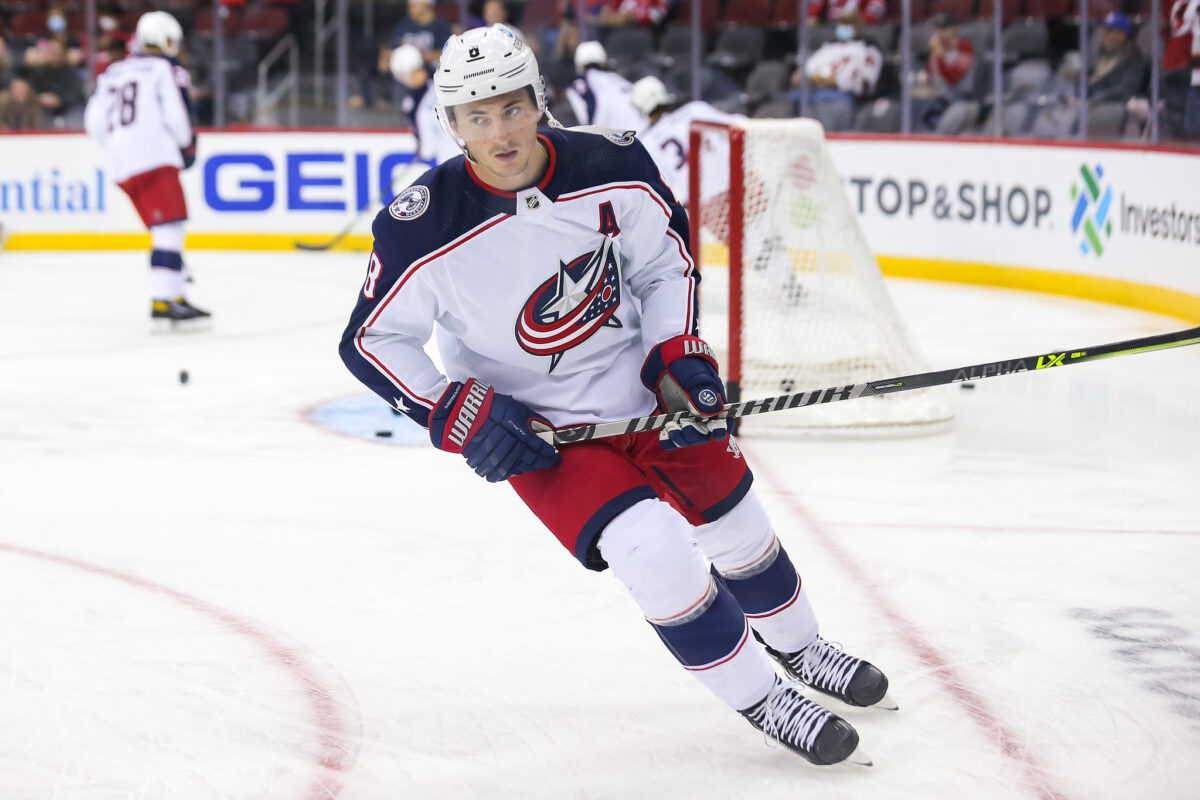 It was a devastating loss after only 13 games and put him out for the rest of the year. Werenski was the one stabilizing piece on the Jackets' back end. Afterward, no player was slotted in where they were supposed to be. Vladislav Gavrikov, a guy who should be a 3-4 defenseman on a good team was called upon to be the leader of the blue line. Fringe rookie defensemen were called on to become regulars in the top-four and they were almost always outmatched. Werenski's return to the top pairing will put things closer to how they should be.
Another important return will be Alexander Texier, from his self-imposed exile in Switzerland. He had a decent season away from Ohio, playing in Zurich. He didn't take a massive step back in his development, posting a strong 35 points in 46 games.
In 2021-22, Texier was the Jackets' best forward at times. He was developing a nose for the net and becoming a two-way force. Still young at 23 years old, he will come back to the NHL with time to blossom into an elite player. He had often been pushed out of the top-six by other wingers like Nyquist, Voracek, and Oliver Bjorkstrand. Their absence will give him the opportunity to take the ball and run with it.
A New Coach Will Work Wonders
The immediate reaction to this tough season was to fire head coach Brad Larsen. His two seasons as the bench boss will be largely remembered as unspectacular. Players and fans alike adored him personally, but things were clearly not working out professionally. Larsen was brought in with hopes of maintaining former coach John Tortorella's high standards of work ethic with a softer touch. Well, the touch was a little too soft at times and the learning curve of the long-time assistant coach getting the reins was too steep.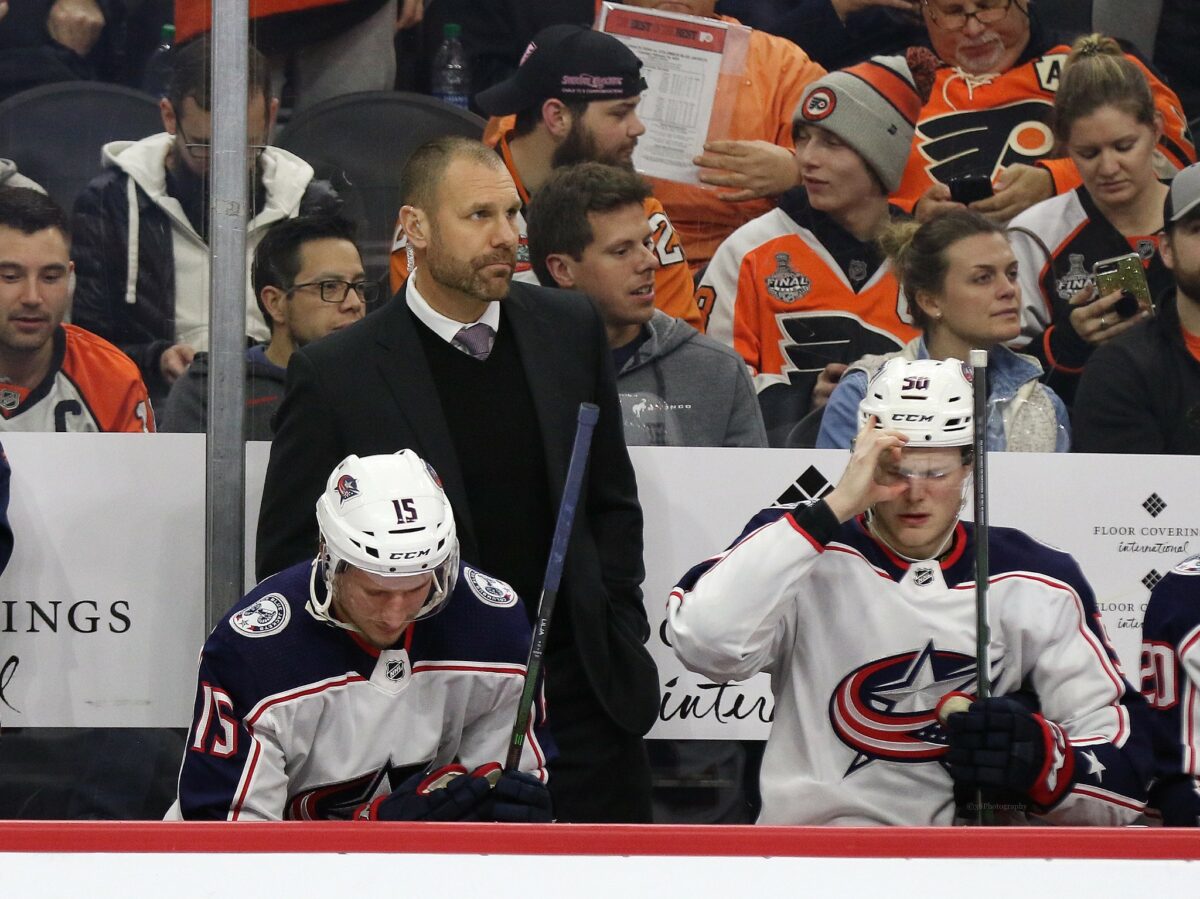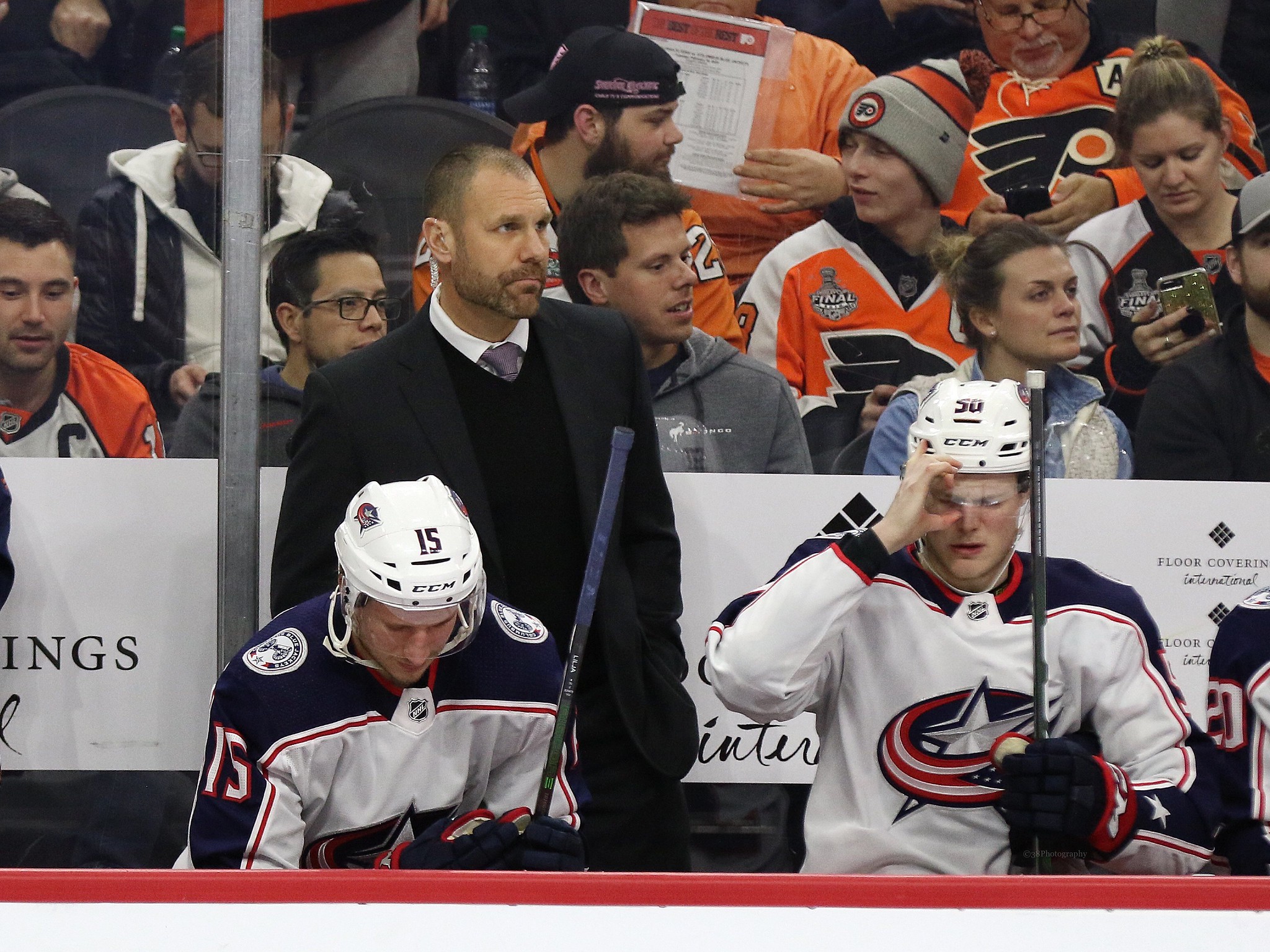 Now the Jackets look for a new leader. I would assume they follow the inexperience of Larsen with a more veteran presence. There are a few options on the market already and could be more based on how the playoffs shake out. Recently available Peter Laviolette is near the top of that list. Others could include Bruce Boudreau, Alain Vigneault, and the controversial Joel Quenneville – if approved for reinstatement.
Related: 3 Early Candidates to Fill Blue Jackets' Head Coaching Vacancy
---
Latest News & Highlights
---
A new head coach isn't the only thing that could pay immediate dividends for the Blue Jackets. They're also in need of a new goalie coach after releasing Manny Legace. There could be a brief learning curve while starter Elvis Merzlikins learns to adjust to a new voice, especially considering how close of a relationship the two shared.
However, it was clear that something was rotten in the state of the team's goaltending. The Blue Jackets had five goalies play in more than one game for them throughout the year. The only one who recorded over a .900 save percentage (SV%) was traded away. Not all of that can be blamed on the goalies, with a leaky team defense in front of them, but you would have to hope that any change would be for the better.
Another Top Prospect Coming into the Fold
The one blessing from tanking this year is the Blue Jackets will reap the rewards of picking high in an elite draft class. Regardless of how the lottery turns out next week, they will be adding a top-four pick loaded with potential "franchise" forwards. It comes at the right time for them as their defensive pipeline is already elite, with players like David Jiricek, Corson Ceuelemans, Denton Mateychuk, and Stanislav Svozil knocking on the door.
There is so much talent in the top-five forwards. Connor Bedard, is well, Connor Bedard. Adam Fantilli and Matvei Michkov would be locks to go first overall in most other draft classes if they existed mutually exclusive of one another. Even when reaching down to fourth and fifth, players like Leo Carlsson and Will Smith would generally be top-three talents.
The light at the end of the tunnel for Jackets fans should be the realization that the team's 23-year search for a legitimate number-one centre could be over after the 2023 Draft. That's not even mentioning who they could pick up by drafting or trading their second first-round pick, but that's an article for another day.
The Blue Jackets will be better in 2023-24. That is certain. With the return of key players Werenski and Texier, the addition of a couple of new coaches, and a top-four draft pick, how could they not be? Now we look ahead to the Draft Lottery on May 8 for a little more certainty on just how much better they'll be.
---
---