Welcome back to our prospect's check-in series for the summer of 2023 for the Columbus Blue Jackets. We are checking in with notable prospects throughout the organization.

In case you missed the last part of the series, we took a look at top defensive prospect Stanislav Svozil and previewed his upcoming season. Today we stay on the blue line and look at yet another top prospect on the Blue Jackets.
Related: Blue Jackets' Prospects Summer 2023 Check-In: Stanislav Svozil
---
Latest News & Highlight
---
The need teams have for top-flight defensemen in the NHL is at an all-time high. Teams that have them are generally considered Stanley Cup contenders. Then there's what the Blue Jackets have encountered the last two seasons. They entered the 2022 NHL Draft in desperate need of high-end defensemen knowing it would take some time before they'd be ready. Not only did the team take a defenseman with their first pick, they took one with their second pick too. While he's a tad further away than some other prospects, his upside remains very high and could make a major impact this season in the junior ranks.
Denton Mateychuk Check-In
How Acquired: Drafted by the Blue Jackets 12th overall in the 2022 NHL Draft.
2022-23 Teams: Moose Jaw Warriors (WHL).
2022-23 Stats: Recorded 8-57-65 in 63 games and added 3-5-8 in 10 playoff games for the Warriors as their captain.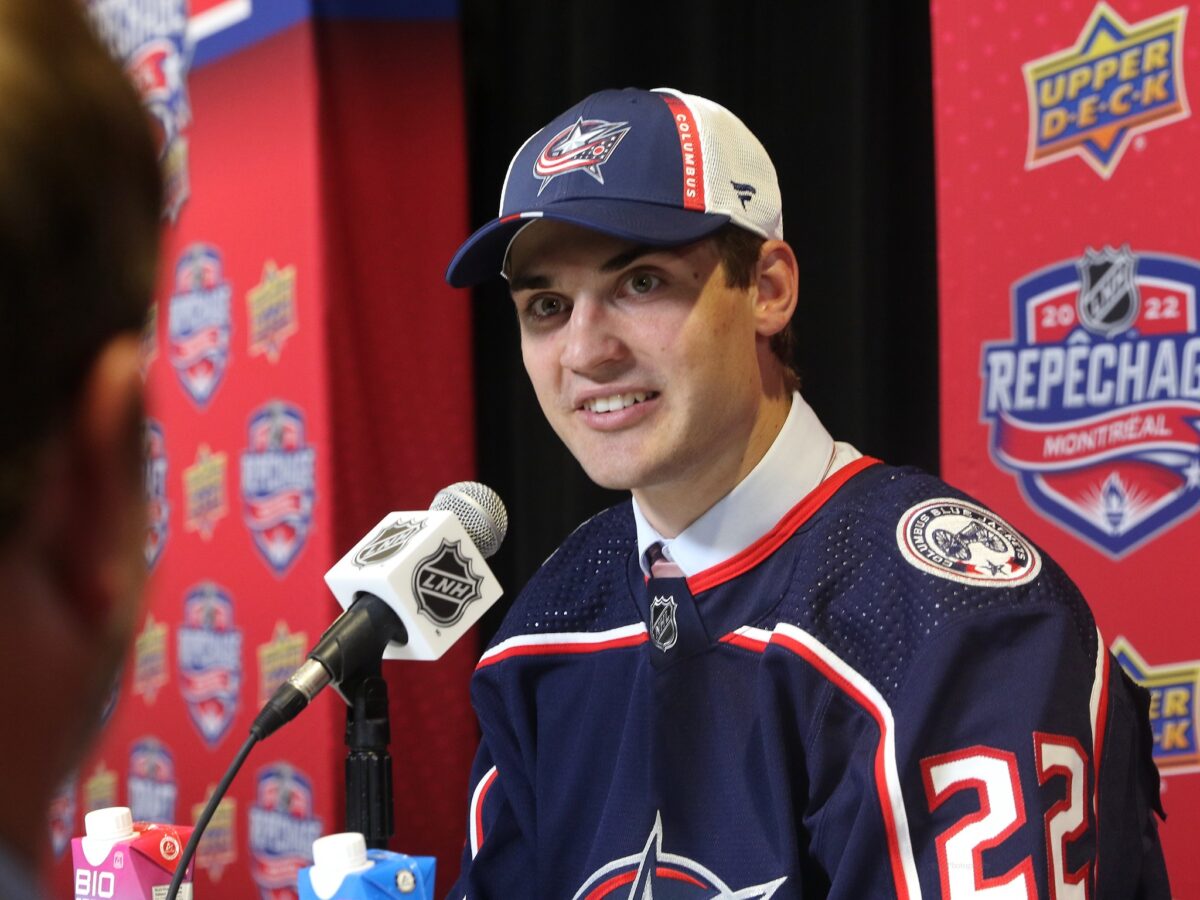 2023-24 Contract Status: Has three more seasons left on his current deal at $918,333 that was signed in July 2022. Mateychuk's contract has slid once since. Will become an RFA after the 2025-26 season. He also doesn't count toward the 50-contract limit since he is still 19.
Expected 2023-24 Teams: Moose Jaw Warriors. Mateychuk is not eligible for the AHL due to his age.
Expected Role in 2023-24: Top defenseman on Moose Jaw and could be a trade candidate in the WHL depending on their season. Mateychuk is also a candidate to play in the World Junior Championships for Team Canada.
2022-23 Season Recap
Mateychuk returned for his second full season with Moose Jaw after taking the WHL by storm as a draft-eligible defenseman. His 13 goals and 64 points helped him become a potential lottery pick in the 2022 NHL Draft. The Blue Jackets saw his potential and took him 12th overall.
Mateychuk returned to the Warriors and became their team captain after prospect Daemon Hunt made it to the AHL. Upon his return from Blue Jackets' training camp, he was named captain on Sept 30. It was easy to see why he was the choice.
Not only does Mateychuk lead on the ice, he's a natural leader off the ice. He's able to drag players into the fight. He leads by example no matter what's going on around him. He's also committed to helping the young players find their way.
On the ice, Mateychuk continued to lead the way offensively. He's averaged over a point per game for the last two seasons during the regular season (129 points in 128 games played.) He also has 18 points in 20 playoffs games in that stretch.
You Might Also Like
The Warriors swept the Lethbridge Hurricanes out of the first round of the playoffs. Then against the powerhouse Winnipeg Ice, Mateychuk and the Warriors found themselves up 2-1 in the series before the Ice rattled off three straight wins to end Moose Jaw's season. Game 4 went to overtime before Winnipeg's Zack Ostapchuk won it almost 12 minutes into the extra session. The Warriors were then outscored 13-4 in losing their last two games of that series.
Most agree that Mateychuk is either the third or fourth-best prospect on the Blue Jackets. His high-end offensive skill coupled with his skating makes him a player to watch in the coming seasons.
2023-24 Season Outlook
Because he is still 19, Mateychuk only has two options: Columbus or Moose Jaw. Since there are more than enough bodies available, the most likely outcome is back to the WHL. We can debate the merits of some 19-year olds being allowed an exception to go to the AHL later.
Mateychuk will at least start the season with the Warriors. Depending on how the season goes, he could find himself a prime trade candidate to go to a major WHL contender. For development sake, that would be for the best if he's able to play on a team that goes on a deep playoff run. That would also allow Moose Jaw to gain premium assets in a potential deal should it get there.
The key thing to watch for Mateychuk is his pursuit of a coveted spot on Team Canada at the World Junior Championships. He was invited to their Program of Excellence Summer Meetings. With Team Canada going through a lot of turnover after winning gold in 2023, he has a prime opportunity to make the squad.
A successful season for Mateychuk would see him make Team Canada and make an impact while going on a deep playoff run in the WHL. That would set him up for a role in Cleveland next season and we could see him in a Blue Jackets' uniform not long after.
Biggest Questions in 2023-24
Will Mateychuk make Team Canada? He will have every opportunity to make his case. To me, it would be a stunner if he didn't make the roster. He's certainly earned the chance.
Where will Mateychuk finish the season? We'll visit this question near the trade deadline. He would be a highly-sought after commodity and would instantly make a contender better.
What does Mateychuk have to prove? We know the talent is there. This season will provide an opportunity to show how much he has improved defensively. If he rounds out that part of his game, look out.
Final Thoughts
The 2023-24 season for Mateychuk will be one that could establish himself as one of the top prospects yet to play in an NHL game. He still draws comparisons to some of the premier offensive defensemen in the NHL. Cale Makar has been mentioned by some as a comparable style wise.
Mateychuk is still 2-3 years away from making an impact on the Blue Jackets. However his progression will be fascinating to watch.
This new season will be a chance for Mateychuk to dominate the league. He's done everything else asked of him to this point. Can he now handle the expectations that come with being a top player in the WHL? That's where his success will be measured in 2023-24.