The St. Louis Blues' 2022-23 season was a shocking disappointment for fans and management alike, leading to the team becoming sellers at the trade deadline and ultimately finishing in a draft lottery position outside the playoffs. So, who bears the blames for the team's failings? And who succeeded despite the team's struggles? That's what we'll look to identify in our 2022-23 Blues' Report Cards series.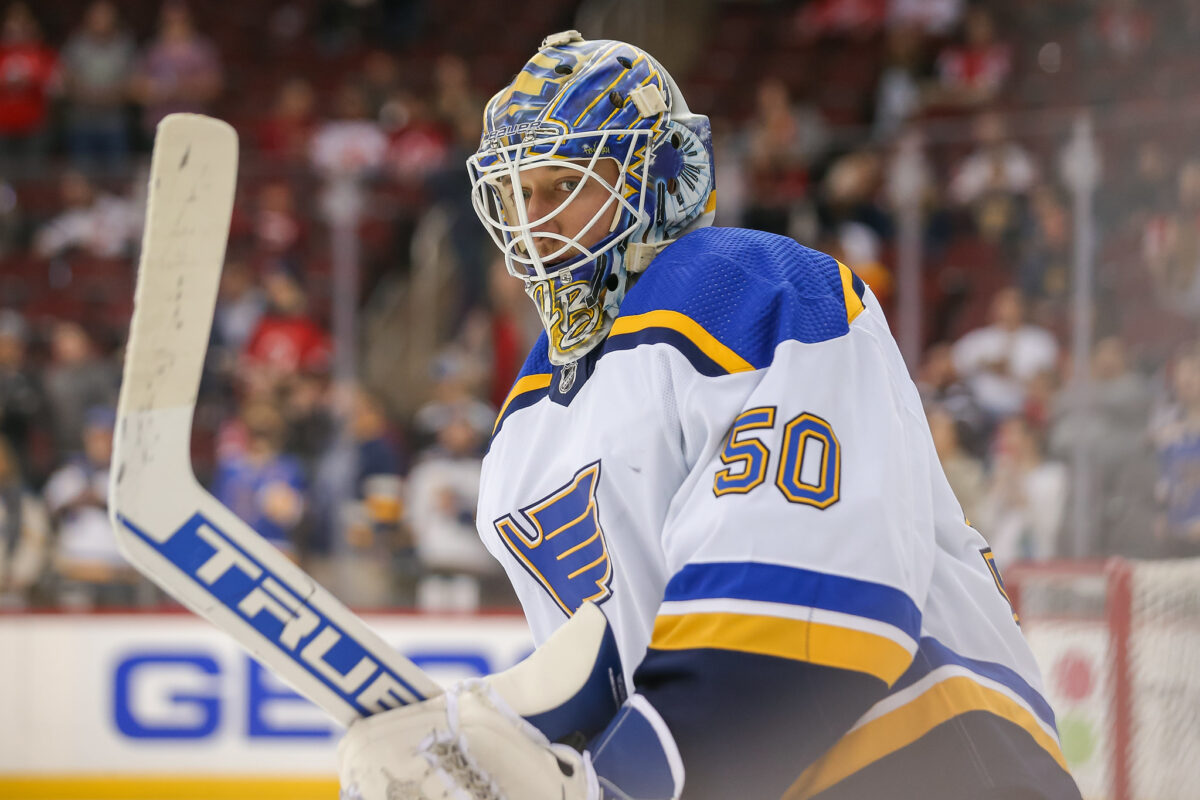 Quite possibly the most polarizing player in the NHL, Blues goaltender Jordan Binnington has been trending in the wrong direction after his historic Stanley Cup-winning season. Not only has the goaltender been inconsistent throughout the past few seasons, but his inconsistency has begun costing the team in many ways.
What Went Right: Kept His Team in Games
Finding something that went right for the Blues' starting goaltender, while not impossible, seems rather difficult at first glance. Simply glossing over the box scores and advanced statistics, it would appear that Binnington did nothing more to help his team than an average to below-average goaltender in the NHL. That being said, the fact an argument could be made that the goaltender was the team's MVP in the first half of the season seems even more impossible. With the record and poor performance that he and his teammates had this season, the final .894 save percentage (SV%) for his 2022-23 season seemed fortunate given the state of the performances in front of him throughout the 61 games he played in this season.
What Went Wrong: Inconsistency
From the start of the regular season through the end of January, Binnington faced the sixth-most shots against with 1,130 behind the likes of Connor Hellebuyck (WPG), Juuse Saros (NSH), John Gibson (ANA), Karel Vejmelka (AZ), and Carter Hart (PHI) while appearing in the second-highest number of games played (39), and time on ice played in the NHL with 2,237:48. Where this goes wrong for Binnington is not just about the number of games that he appeared in or the number of shots faced, but his effectiveness in this situation. With the understanding that a goaltender facing a large volume of shots each game, something is bound to go in. The unfortunate part for Binnington during that timeframe is that he finished dead last in SV% of all goaltenders who played in at least 30 games with a .892 SV%.
Not only was the team in front of him poor defensively, but Binnington was also not stopping shots that he needed to save to help give the team a fighting chance. That being said, his defense and teammates in front of him also did not help provide Binnington any additional defensive support, often leaving him on an island to face an onslaught of attacks on a nightly basis. The inconsistency in play from his teammates, losing streaks, and downward spiral ultimately led to another round of outbursts from the goaltender this season, one of which nearly lead to a fight with Minnesota Wild goaltender Marc-Andre Fleury. There should be no question that Binnington did what he could to do his job to the best of his ability. However, his unpredictable and erratic style of play and behavior has left many wondering if he will ever reclaim his status as a top-10 goaltender in the NHL.
Key Stats:
Led the NHL with the most penalty minutes by a goaltender this season with 29
Finished the season with a minus-19.12 goals saved above average (GSAA)
3,516 minutes played this season, the most of his career
Final Grade: D
This is the first season in his career that Binnington saw an increase in his quality start percentage (QS%). Throughout his career, he has seen a decrease from his Stanley Cup-winning season .667 QS% to his now-current .450 QS%, up .018% year over year. To make things worse, Binnington also saw his worst GSAA this past season at an alarming minus-19.2, the seventh-lowest among all goaltenders in the NHL last season. To date, the netminder has a career .514 QS% and a minus-23.0 GSAA.
Related: St. Louis Blues 2023 Offseason To-Do List
---
Latest News & Highlights
---
Binnington was hardly the problem when it came to the Blues' performance on a nightly basis. For the team to win any game, he would have been required to play otherworldly, knowing where each shot was going well ahead of time to correctly position himself and prevent the puck from going in. However, without insider information on the shot location, he was left to fend for himself and take plenty of heat for the team's performance in front of him. Binnington is not without fault here; there were multiple goals scored every week with the mentality of "he'll want that one back" attached to it. Until there is a statistical and noticeable progression in his play, he will continue to be behind the curve to justify the contract he currently earns and the overall performance that he contributes.
What's Next For Binnington?
While the Blues' defense was noticeably and statistically poor last season, often leaving Binnington to fend for himself on breakaways, odd-man rushes, and undefended backdoor passes, his overall play has been well below what the Blues had envisioned for him when he signed his six-year, $36 million contract in March 2021. With four years left on his contract, and a $1.5 million pay raise coming for the next two seasons, they will need their starting goaltender to reclaim his Stanley Cup-winning mindset, attitude, and performance. What's next for Binnington will come as a byproduct of the team in front of him. If the Blues can correctly address and fix the defensive scheme and roster in front of him, he should find a correction as well resulting in a positive change in his performance.
---
---