The St. Louis Blues' 2022-23 season was a shocking disappointment for fans and management alike, leading to the team becoming sellers at the trade deadline and ultimately finishing in a draft lottery position outside the playoffs. So, who bears the blames for the team's failings? And who succeeded despite the team's struggles? That's what we'll look to identify in our 2022-23 Blues' Report Cards series.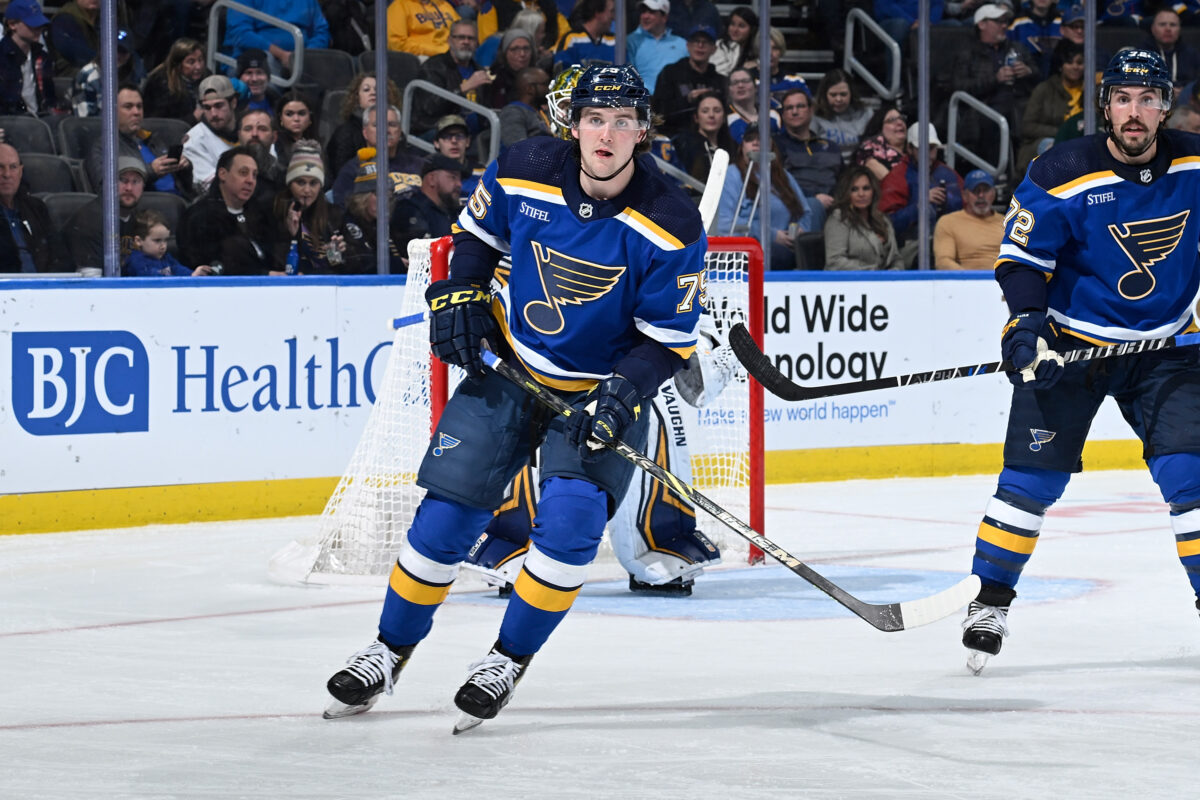 Blues defenseman Tyler Tucker came onto the scene this season with a heavy-hitting flurry ready to claim his spot in the lineup on a nightly basis. His old-school style of play had many loving him from his first NHL game and anticipating plenty of good things ahead for him.
What Went Right: Tucker Succeeded in the NHL
For 23-year-old Tucker, the 2022-23 season was the ultimate year of firsts in his professional career. Not only did the defensive defenseman make his NHL debut, but he also secured his first career point and goal in the league as well. He split his season shuttling between the Springfield Thunderbirds and the Blues appearing in 26 NHL games and 41 American Hockey League (AHL) games scoring a combined four goals and 25 points. Appearing in just over 31 percent of the games with the Blues this year, he earned praise from the coaching staff and his teammates as a player willing to step up and fill the role that is asked of him on a nightly basis. 
"He's a character guy, for sure," head coach Craig Berube said. "He went down to the minors and worked on his game. I think his composure out there is excellent; he sees the ice fairly well, he's physical, tough and he defends well" (from 'Blues Notebook: Rookie Defenseman Tyler Tucker has been a solid addition,' St. Louis Post-Dispatch, Jan 21, 2023).
Related: St. Louis Blues 2023 Offseason To-Do List
---
Latest News & Highlights
---
His physical style of play and hockey IQ made him a lineup regular for several weeks, starting after a late November recall due to an injury to fellow teammate Robert Bortuzzo. 
What Went Wrong: Not Ideal Season to Begin Career
Like the rest of his teammates, this was a rough season all around. While this may not be a complete passing situation for him, Tucker's experience and faults are likely all but forgiven and ones that he will look to build off of to improve his overall game next season. With more consistent playing time and hopefully a more permanent linemate, his transition to a full-time role in the NHL will offer noticeable growth next season.
Key Stats:
His first NHL point was recorded in his 10th career game, assisting on Brandon Saad's 14th goal of the season
His first NHL goal was scored on Feb. 23 against the Vancouver Canucks
Final Grade: B
As previously mentioned, while his limited time in the NHL gives him a bit of a pass, the young defenseman looked impressive and able to hold his own against some very tough matchups in his first season. His ability to recognize what needed to be worked on and adjusted throughout his multiple trips up and down from the AHL to the NHL proved his willingness to do whatever it took to remain with the Blues. Many things went wrong with the club this season, but Tucker was far and away one of the bright spots surrounding this club this season. He seemingly came from nowhere on the depth chart and became a difficult player to take out of the lineup. He is one of the players that will have the eye of fans in preseason training camp and throughout the 2023-24 season along with a higher sense of anticipation and excitement.
What's Next For Tucker?
With all eyes turned to the offseason and the 2023-24 campaign, Tucker will be among several defensemen eyeing a spot in the lineup on a regular basis. He is among several restricted free agents and will likely be one of the earlier defensemen to be offered a contract extension before the start of free agency. Looking ahead to next season, he will need to work through a crowded defensive core to earn himself regular playing time, including a healthy Bortuzzo, of which he plays a similar style.