The St. Louis Blues will meet their Central Division opponents 26 times in 2023-24, including four matchups against the Chicago Blackhawks. With a head-to-head season record of 3-1-0 in favor of St. Louis, the two Central Division rivals could see a repeat of their four-game series through the 2023-24 campaign.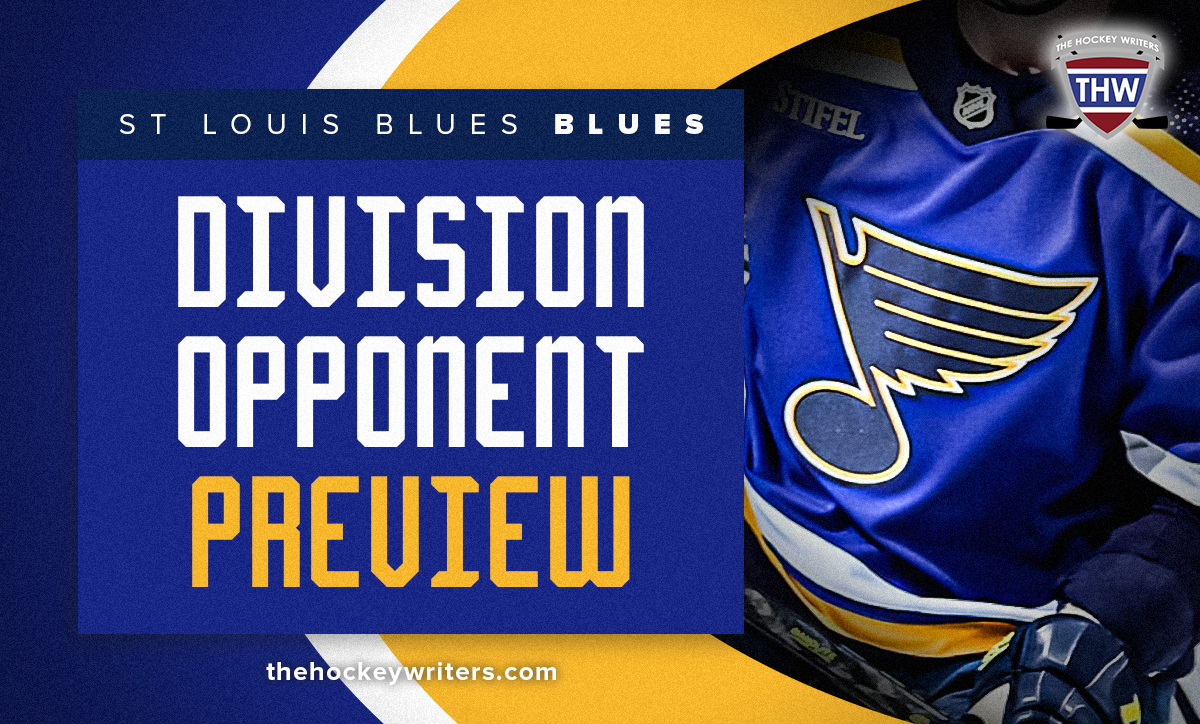 Here's a look at how the two division opponents stack up against each other heading into the 2023-24 season.
2022-23 Season Review
Season Record: 26-49-7 (59 points)
8th in the Central Division
Goals For: 204 (32nd of 32), Goals Against: 301 (27th of 32)
Season Series Against St. Louis: 1-3-0
Biggest Blues Killers
The Blackhawks' last-place offense did not pose much of a scoring threat against the Blues during the 2022-23 season being outscored 16-11 over the course of four games. Despite the rebuilding efforts and revamping of NHL rosters for both squads, the Blues still experienced their fair share of fits when it came to a small handful of players. Leading the way for Chicago, Andreas Athanasiou managed a point-per-game pace scoring four points (all goals) in four games. The offensive performance from the 29-year-old forward came as a bit of a surprise as he now has a career seven goals and nine points over 19 career games against the Blues.
RELATED: St. Louis Blues 2023-24 Division Preview: Arizona Coyotes
---
Latest News & Highlights
---
The Blackhawks had a multitude of players that each chipped in on offense in their own respective ways. Players like Jason Dickinson, Max Domi, Tyler Johnson, and Patrick Kane, all scored one goal and three points in four games against the Blues as well.
Key Arrivals For the Blackhawks
F Taylor Hall
F Nick Foligno
F Corey Perry
F Connor Bedard
F Ryan Donato
Blues fans will have plenty of new faces to adjust to this season after a flurry of offseason signings by Blackhawks general manager Kyle Davidson. In addition to the 2023 first-overall draft choice, Connor Bedard, veteran forwards like Perry and Foglino should add plenty of firepower and still offer a respectable amount of offensive potential to surround Bedard and the rebuilding Chicago squad. While the 38-year-old Perry may be nearing the end of his career, he is only one year removed from a 19-goal, 40-point season with the Tampa Bay Lightning. Additionally, Foglino, who has never been a high-offensive forward throughout his career, is still averaging just over 12 minutes of time on ice per night and nearly a half-point per game pace scoring 39 points (12 goals, 27 assists) through 124 games with the Boston Bruins.
In addition to Bedard, the most notable addition the Blackhawks made this offseason, the 31-year-old Hall can provide plenty of offensive firepower and frustrations through four matchups against the Blues. After scoring 111 points (44 goals, 67 assists) in 158 games for the Bruins over the past three seasons, he heads to Chicago to provide veteran leadership and a potent one-two punch alongside Bedard for the 2023-24 season.
Key Departures
F Jonathan Toews
F Patrick Kane
F Jujhar Khaira
G Alex Stalock
The Toews/Kane era has officially ended in Chicago and (as of this writing) they will not be returning to the Blackhawks organization. Though Toews is far removed from his Stanely Cup winning caliber at this point in his career, Kane was still producing at nearly a 70-point pace before being traded to the New York Rangers. These are two players who combined for 119 points against St. Louis and have long been a thorn in the side of Blues fans.
2023-24 Head-to-Head Projection
Bedard and the Blackhawks make for an interesting case when it comes to the chaos that they could have upon the NHL this season. While the organization is clearly in a rebuilding phase, they are a club that should have zero playoff expectations and will likely be near the bottom of the standings in both the Western Conference and the NHL. Despite a few high-profile names entering or at the end of their careers, the supporting cast in Chicago and their goaltending should lead to another losing season. With four meetings scheduled during the regular season for the two division rivals, it could be a season sweep in favor of the Blues when the horn sounds on their final game.
---

---