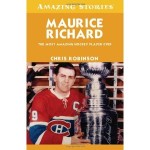 Maurice Richard: The Most Amazing Hockey Player Ever.  By Chris Robinson.  (2011, Toronto: James Lorimer & Company, Ltd. Softcover. Pp. 128.  $9.95. ISBN 978-1-55277-900-2.)
"Don't let anyone say that it's just a game…"  Eddie Vedder wrote those lyrics a few years ago for the song "All the Way," his ode to being a long-suffering Cubs fan and the wish for the ultimate pinnacle of watching from the bleachers "crying and covered in beer" as the team wins the World Series.  Those words, however, resonate for every fan regardless of the sport or team.
Sometimes those words mean even more.
In Chris Robinson's book, Maurice Richard: The Most Amazing Hockey Player Ever, the author delved into The Rocket's rise through the hockey ranks and his multiple-Cup-winning career.  He also told the story of how Richard became a symbol for a generation of French-Canadians who had become tired of the second-class treatment they received from Anglo-Canadians.
While Richard's hockey career, exploits, and scoring abilities are legendary, Robinson started the book out with a prologue that detailed an event long after the end of his playing career.  The text began with a story about the final farewell to the Montreal Forum.  As Robinson explained, many former Canadiens were on hand for the post-game ceremony:  Guy Lafleur, Frank Mahovlich, Ken Dryden, Jean Beliveau, Elmer Lach, Yvan Cournoyer, Gump Worsley, Henri Richard.  No one, however, was received by the crowd like Maurice Richard – a man who has gone from an inspiration for French-Canadians to an inspiration for all Canadians.
Robinson did well to place the Canadiens and Richard's history within the context of the political climate in twentieth century Canada.  The "Club de Hockey Canadien" was founded as an attraction for the French-Canadian population of Quebec.  Founder's Jimmy Gardner and Ambrose O'Brien felt the backlash in that most French-Canadians did not feel the team represented anyone's interests but the owners.  The team did not fare too well until the arrival of Howie Morenz.  After Morenz's death, the team slumped again until the "savior" of Canadiens hockey, Maurice Richard, took to the ice during the war.
It is books like this that remind us that sports are an integral part of life in North America – whether it is hockey in Canada, baseball in the US, or soccer/football in Mexico, sports are a major element of our cultural fabric.  Often sports and entertainment are the venues first racially and ethnically integrated in our society.  It may seem trivial now, especially since the name of first black (insert major sport here) player/coach, etc., has become more of a trivia question than a history or civics lesson.  At the time, athletes of both sexes and a wide range of ethnicities were trailblazers and symbols for those with little perceived power whether they wanted to be or not.  Much like Maurice Richard.
Rebecca Dobrinski