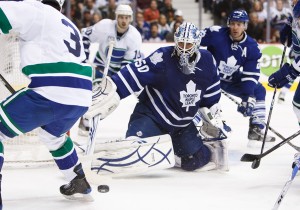 The Toronto Maple Leafs will enter tonight's game against the Detroit Red Wings in search of their third consecutive win, following victories over the Tampa Bay Lightning 7-3 and the Winnipeg Jets 4-0.
The Leafs' hot start to 2012 has many wondering if the Buds are going to repeat their success from last season, when they finished just eight points out of the playoffs despite sitting in 13th place, 14 points out of the final playoff spot on January 1, 2011.
It was on that day, January 1, when James Reimer made his first National Hockey League start. A no-name prospect at the time, Reimer walked into Ottawa with nerves and walked out with a 32 save performance in a 5-1 victory behind him. From that point on, it was Reimer's team.
Let's not give all of the credit to Reimer, though. Dion Phaneuf and Joffrey Lupul also had strong second halves, whether it be on the score sheet or in some other way. Confidence was another contributing factor; the Leafs really came together as a team and believed that they could, in fact, overcome the obstacles that were placed between them and the playoffs.
It just wasn't meant to be, though, and the Leafs ended up missing the playoffs for the sixth consecutive season.
Once again, just like in 2010-2011, the Leafs got off to a hot start in the regular season. This time, however, the Leafs carried it through the entire month of October and early November, eventually accumulating a record of 9-3-1, good for first in the entire league.
That all came to an end right around the time the Leafs fell 7-0 to the Boston Bruins at home. However, residents of Toronto still had reason to believe in their beloved Buds; Phil Kessel and Joffrey Lupul were tearing up the league offensively. Nothing has changed with those two, which is one reason why the Leafs have managed to contend for a playoff spot throughout the entire season.
Even though the Maple Leafs currently sit inside the top eight, we have seen some rough patches during the course of the season. From shaky goaltending to injury problems and their biggest kryptonite, the penalty kill, the Leafs aren't perfect, which is why people still need to be wary of the potential to miss the post-season yet again.
So, just how can the Maple Leafs make the playoffs this season? Simple: If the Leafs can manage to play half as good as they did during the latter half of last season from here on out, there is no doubt that they will be in the playoffs.
As mentioned above, Reimer, Phaneuf and Lupul were all major contributors to the Leafs' 24-15-7 record from January 1, 2011 to the final day of the 2010-2011 regular season. Most of them─Reimer being the lone exception─have been absolutely sensational this year.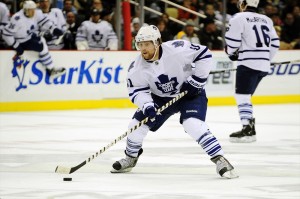 With goaltending beginning to pick up in the form of Jonas Gustavsson, there have really been no drop-offs in either of the three positions this season; only additions.
Like Lupul, Kessel is having a career season thus far. His 23 goals and 23 assists put him on pace for a 47-goal and 94-point season, while his improved defensive play has been a very positive factor to the Leafs' success. He has proven that he doesn't need a Brad Richards or Marc Savard to score plenty of goals and rack up points and Kessel has also emerged as the Leafs' true leader out of the forward group.
Despite having been named captain earlier, it wasn't until the Maple Leafs traded Tomas Kaberle to the Bruins when Phaneuf really took over this season. Since, he has shown that he can take this team by its horns and drive it into contention for a playoff spot, not only thanks to his leadership abilities, but also due to his tremendous shot, physical play and defensive awareness.
Other players who have come out on top this season include rookie Jake Gardiner, third-year centre Tyler Bozak, veteran John-Michael Liles and 21-year-old Nazem Kadri, granted Kadri has only played in 10 games.
With a somewhat new style of a lineup, different role players who appear to have done nothing but help improve this squad and the core of the Leafs still intact, this appears to be a team that has the ability to qualify for the playoffs. All they need to do is remember last season, especially if it gets to the point where they are as much as five points out of eighth.
Twitter: @LukasHardonk | Email: lukas.hardonk@gmail.com | Lukas' archive
For every Leafs article on THW, follow @THW_MapleLeafs on Twitter.