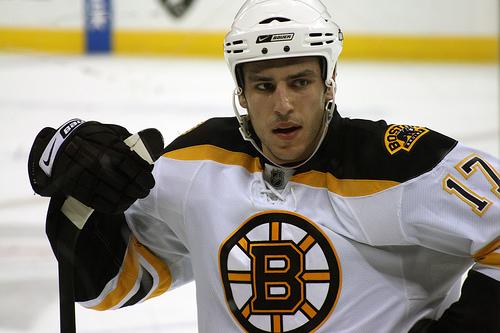 Who gets the B's "A"?
It's time to consider that most pivotal of positions within the Bruins' organization – that of the currently vacant second alternate captain.
All kidding aside, at some point over the next two months, B's coaching and management will need to come to a decision on exactly who will wear the "A" not taken by Patrice Bergeron. There are a good number of candidates for the job, so let's break down the situation and separate the contenders from the pretenders:
Andrew Ference
Pros:  One of the "Elder Statesmen" in Boston again this year, Ference is the oldest challenger for this honor not named Shawn Thornton. Entering his 12th season, with two Stanley Cup Finals under his belt, an excellent performance in the 2011 Stanley Cup Playoffs and a guy who demonstrates leadership in and out of the locker room, Ference has to be one of the best contenders for the job.
He did a spectacular job cultivating the team's chemistry with the acquisition of the now-infamous Bruins' Player-of-the-Game Jacket which was such a part of the locker-room culture that the Stanley Cup itself donned the majestic garment during their victory celebration. Ference's quick and incontestable willingness to come to the defense of teammates is hard to overlook.
Cons: Ference is, even at his best, not a "core" Bruin production-wise. He's not prone to even modest point totals (never once reaching even 20 points), is prone to injury, occasional extended periods of mediocre play and is frequently delegated third-pairing duties. He's not a flashy guy and besides his penchant for quotability, isn't a face-of-the-franchise type.
The Verdict: He's not a particularly exciting option, but with his experience, leadership and 2011 postseason performance – I can't help but declare him the frontrunner at this point. Odds: 2-to-1 (33.3%)
Dennis Seidenberg
Pros: When discussing the B's postseason heroes, the stout German blueliner is often erroneously overlooked. In fact, Seidenberg played more minutes and blocked more shots than any other player in the 2011 Stanley Cup Playoffs. His elevated performance established himself as solid #2 to Chara and the pair played some smothering shut-down defense on the way to the Cup. Of all the primary candidates, he's the only one locked up past the 2012-13 season, which might matter if the B's are looking for another ambassador.
Cons: Der Deutsche defender, Seids would be the third non-native English-speaker among the B's captains (not that there's anything remotely wrong with Bergeron or Chara's ability to communicate). Additionally, he seems like more of a lead-by-example guy, of which the B's already have two in their leadership group (Rex seemed by far the most demonstrably vocal).
The Verdict: Love the way he plays the game, but I'm not sure he's the ideal candidate for the "A". Odds: 14-1 (6.7%)
Milan Lucic
Pros: Where do I start with Looch? He's been a leader on many (wearing an "A" with the WHL's Vancouver Giants, and captaining Team Canada during the 2007 Super-Series), plays with an edge, finishes his hits, plays hurt (was in need of major nose surgery throughout the playoffs but played through the discomfort), defends his teammates and steps up when it matters most (as evinced by his excellent playoff stats, and 2007 Memorial Cup MVP).
Cons: Opinions of Lucic's playoff heroics (and leadership) soured a bit with somewhat lackluster 2011 postseason performance. Additionally, his overly-aggressive antics get himself and his team into hot water on occasion, and he'll take bad penalties. Still just 23 years of age, Milan may not have the experience Coach Julien and the B's Brass are looking for when handing out the "A".
The Verdict: His youth and recent playoff performance raise serious questions and may put the kibosh on his chances. Still, he's an intriguing option, and far from a dark horse. Odds: 4-1 (20%)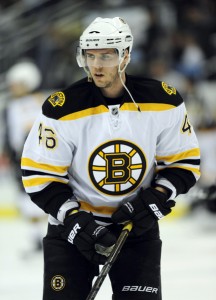 David Krejci
Pros: Krejci's candidacy may be gathering steam with the unsubstantiated rumors that the B's might be working on a contract extension with the young center from the Czech Republic. Only Thomas and Bergeron can count more years of being with the Bruins' organization – despite his youth. . Krejci is one of the more productive players on the B's, and has the most points on the team since the start of the 2008-09 season.  Even moreso, his consistently productive performance in the playoffs has earned him accolades from around the league and was the scoring leader in the 2011 Stanley Cup postseason – no small feat.
Cons: Krejci is another guy who doesn't seem like the most vocal leader on the team… If the contract situation isn't resolved relatively soon after the start of the season (particularly if negotiations are at a substantial impasse) there are concerns among the fanbase that he might not be around long enough to earn the "A".
The Verdict: DK's contract status will undoubtedly significantly impact his candidacy (one way or another), but I doubt they would give an "A" to a 25-year-old forward if they didn't expect him to stick around for a stretch. Odds: 9-1 (10%)
Nathan Horton
Pros: After his exit from the hockey purgatory that is this decade's Florida Panthers, Nathan Horton's name wasn't exactly mentioned in the same breath with hockey's leadership elite. In fact, many questioned the drive and work ethic of a former top-3 pick who never seemed to really get going. How quickly things change! One year later, Horton's heroic playoff performance (which included a NHL-first, two game-7 winners in one postseason), even playing through a separated shoulder has earned him the right to be considered for the B's "A". One could go so far as to even call him "gregarious" with the media during his 'rookie' playoff campaign, and his inspirational return to Vancouver with the team is the stuff you dream of.
Cons: Horty has only been with the team a year, and while he's beloved, there's a chance that his (relatively) limited time in Boston would dampen a bit his consideration for the alternate captaincy. Like Lucic, he's prone to taking some ill-advised liberties with opponents and penalties which detract a bit from his value. He's still relatively young at 26, but that puts him in the same boat as Krejci and Lucic.
The Verdict: Horton is another of those guys who earns some consideration, but with minimal time with the Bruins, and other candidates possessing perhaps more of the things Horty's value depends on, he's more of a dark-horse than frontrunner. Odds: 11-1 (8.3%)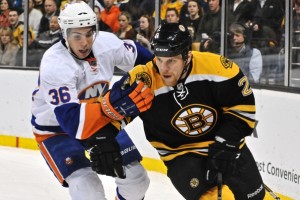 Shawn Thornton
Pros: The laughingly long-shot pugilist's candidacy is gaining momentum. He's one of the leaders of the Bruins' clubhouse: He defends his teammates, takes punishment for the good of the team, and is willing to take a back seat for its betterment/step up to the plate when his time comes. He's a favorite of fans and consistently reaches out to both the media (to hilarious ends sometimes) and Bruins' Nation. Thornton is a dyed-in-the-wool Bruin who should have been born with a spoked-B birthmark on his butt (and I have it on "good" authority that this might be the case!)
Cons: Teams are often loath to hand out leadership positions to dedicated fourth-liners from a P.R. standpoint: Thornton does it all – except produce. Thorny's contract status (one year left before UFA) might make the B's a little skittish about handing him the stitched-on "A".
The Verdict: I personally like the idea of Thornton getting the "A", because of his leadership (only Bruin with multiple Cups) and drive. Completely unselfish and unequivocally "Bruin", his experience and ability to influence players (including Seguin) was well noted throughout 2010-11. While he might not be the sexiest pick, there's a decent (and perhaps growing) chance he winds up with the "A" on his sweater in 2011-12. Odds 5-1 (16.7%)
….And all the rest:
Gregory Campbell would be an interesting selection, but he doesn't exceed Thornton or Ference in any category enough to overcome his single season with the franchise and fourth-line status. Dan Paille suffers in much the same way, but would an even less likely candidate than Soupy. Midseason acquisitions Chris Kelly and Rich Peverley have less than a season under their belts, and despite their contributions to the Cup, don't stand out from the pack nearly enough to warrant further discussion. Likewise, Joe Corvo and Benoit Pouliot can be removed from consideration on the basis of their only recent membership into the spoked-B club, even if the rumors of their work ethic/drive issues were completely without merit. Super sophomores Brad Marchand, Tyler Seguin, Adam McQuaid and Steven Kampfer have not done enough collectively or individually to garner serious discussion at this point in their careers.
The Verdict: Stranger things have happened… Odds: 19-1 (5%)
Bob is a Boston Bruins Correspondent for The Hockey Writers. He lives in the Boston Metro Area with his wife, Amanda and their five-year-old son, Cormac.