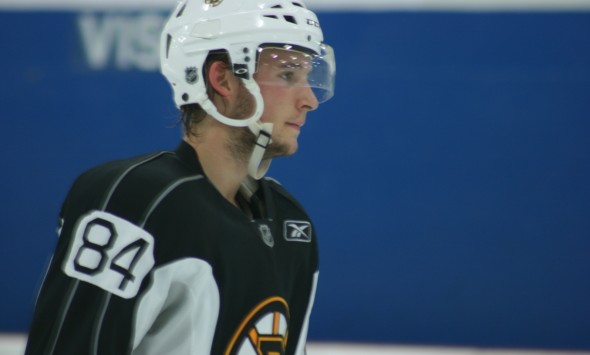 A quiet, wistful air hung about the final day of Development Camp Monday morning, as the Boston Bruins prospects took to the ice. Beyond the chill and strong smell of old sweat; the rink itself seemed to pulse with a somewhat sentimental acknowledgement of the end of something special.
If the players themselves reflected any of the subdued mood – it disappeared quickly into a combination of consternation and heavy breathing that inevitably follow Besa Tsintsadze's intense power-skating drills.
After a half hour or so, the squad retired briefly to the locker-room, retuning later to find the crowd energized as the final scrimmage of the week approached.
As usual, there were several standouts. Colin Campbell certainly left an impression as the Lake Superior State forward made several dazzling forays into the attacking zone, creating two of Team White's four tallies on the morning.
Campbell scored the first marker of the day on a sweet dangle – leading to a roofed backhander past Parker Milner early in the first 'frame' of action. The 6'1, 190 lbs. Campbell created another goal within minutes, drawing the string on a deke, pulling the defender in, creating more space and dishing it to Union's Wayne Simpson for the finish.
The undrafted invitee and soon-to-be junior for the Lakers had a great camp – and his efforts ought to have earned him a shot at a pro camp down the road…
Others impressed as well. Ryan Spooner scored Team Black's only goals. He snapped a short-side wrister past Lars Volden from below the hash-marks after a nice feed from Anthony Camara. Later, Spooner tied the game: Ripping a Brian Ferlin feed through Zane Gothberg's legs for his second of the afternoon.
Speaking of Ferlin – the kid possesses a 'separation gear' and is hungry for turnovers. I liked his shot – but he looks to pass (and pass well) off the rush, creating chances with his vision and patience.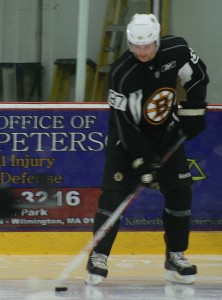 Colton Hargrove possesses some solid hockey-sense and he made some understated passes and plays to set up his teammates and break the puck out of the defensive zone. The big Texan seems to have a special affinity for timely drop-passes and still managed a hearty helping of grit and heavy-play down-low.
Jared Knight's consistent use of his shot has been a real improvement. The kid has one of the best in the camp – and has been firing whenever the opportunity presents itself. His vision and playmaking are still better than in the past – but his "plus" offensive skill is surely his shot and utilizing it is key.
Knight told me after the day had wrapped-up, "The one thing they [Bruins coaches and management] stressed with me is to really shoot the puck more… I have such a good shot; it's stupid if I don't use it… I try to use it as much as possible and I thought that in the scrimmage I had maybe five or six shots…"
Knight's defensive-game is very sound: He understands gap-control and his responsibilities on the backcheck. He doesn't over-commit to the puck-carrier and is a physical presence in all three zones.
Goalies
With so many goalies to watch, it's been tough evaluating the sextet in-net during Dev. Camp. Still, there have been some notable performances – and today was no different.
Malcolm Subban's glove has looked solid – in direct contrast to many analysis that you'll find of his game. He robbed multiple players with the glove-hand – including a hard-snapped attempt by Colton Hargrove in the slot.
Parker Milner battles for everything. He's got a real high compete-level and some quickness to boot.
Adam Morrison had his best day of Development Camp on Monday. He made several good, borderline outrageous saves – and denied Justin Florek repeatedly on an attempt from point-blank range (only to see Florek eventually put it in on the fourth opportunity… not big rebounds, but he kept driving it off the pads/etc.)
Niklas Svedberg plays very close-to-the-net but came up with several big saves during the scrimmage.
Volden might have a weak-spot low, glove-side (he got beat more than a few times there) and he gave up some juicy rebounds. However, he's a battler, he challenges shooters and he made a real aggressive move to come way out of the crease to smother a puck and deny Ferlin a walk-in opportunity.
Gothberg was arguably the most consistently solid goalie of the day. His top-highlight was a big save on Knight and a sprawling rebound-save on Ben Sexton.
Best of the Rest
This was one of the best days (if not the best day) by dint of the effort and play from the skaters.
Torey Krug plays a professional game. His distribution skills are a major plus on both the breakout and set-up in the offensive zone. He anticipates the play wonderfully and picked off a few passes, creating several near-miss opportunities.
Justin Florek scored a goal from the dirty area, stuffing it past Morrison for the eventual final marker of the morning. If he plays with grit and adds even more strength he'll be a force in his rookie AHL season.
Cody Payne set-up Florek's opportunity and he seems to be constantly buzzing around the action, creating trouble for the opposition. His hands are solid and if he improves his stride further and gains some strength and a step or two – he could really be a late-round steal.
Seth Griffith protected the puck well on the afternoon, handling some physical pressure and keeping his head up to look for opportunities. His hands are lightning-quick and he can roof the puck as easily as look at it from in-close.
Dougie Hamilton needs to work on his positioning – that much is certain. Claude Julien won't take kindly to his 'rover' sensibilities. Still – his skillset is elite, he reads the developing play well, and has the wheels and size to become an All-Star. He's developing a solid physical game and hammered Griffith in open-ice today.
Zach Trotman utilizes his potent wrister consistently (even from the point) and gets it on-net even through big crowds.
Ben Sexton's offensive game is fairly well-developed and he even threw an unexpectedly solid hit on the forecheck.
Anthony Camara lined-up Chris Casto again and showed improved instincts in the offensive zone.
Minnesota-Duluth's Casto is a big, mobile defenseman with solid edgework. The puck exploded on him a few times, but in the defensive-zone he did his job effectively.
Rob O'Gara's physical game is more developed and he used his size and strength to dispossess several opponents in the D-zone and his puck-moving game has shown similar enhancement.
Tommy Cross looks far superior in the flow of the game than in the drills. He plays a down-low, no-nonsense game below the blue line and makes sure passes and poised zone-exits. His checking-game has taken major steps in the past season, as he seems to 'finish-off' his hits with more exuberance. He crushed Sexton and hammered Justin Courtnall so hard his glove came off. He also scored the 'game-winning' goal on a screened point-shot.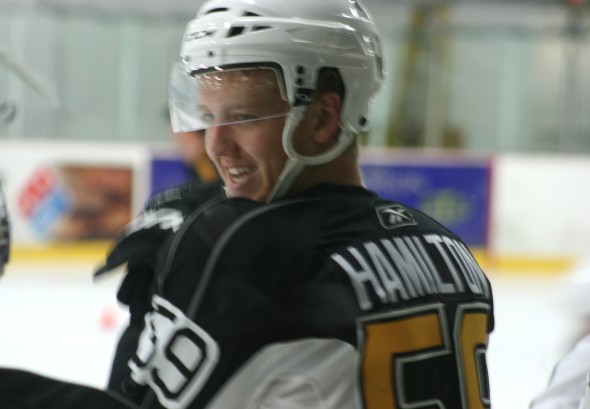 The Boston Bruins 2012 Development Camp ended on a classy note, as the players skated to center-ice and – to the loud cheers of all in attendance – gave the fans a stick-salute.
It was an outstanding and enlightening week at Ristuccia – perhaps the last time Development Camp will be held in that venerable old rink and those who took the time to step out of the heat and into the fridge were rewarded with a look at the Boston Bruins' hockey future.
Follow me on Twitter for even more info. Be sure to check-out my wrap-ups of each day of camp so-far (Day 1, Day 2, Day 3 and Day 4), check out my interviews with Union College's Camp attendees (Wayne Simpson and Dan Carr), 2012 Draft Pick, Matt Benning, the former Fargo Force duo Zane Gothberg and Colton Hargrove, and  2012 fifth-rounder and Plymouth Whaler – Cody Payne.
I'll be back with a final wrap-up later this week. Thanks again for reading!