It didn't take long for the Bruins to return to their winning ways after suffering their first regulation loss in 19 games against the Anaheim Ducks. Despite the team still missing Brad Marchand, Charlie McAvoy, Noel Acciari and now Anders Bjork, the Bruins showed no signs of slowing down Thursday night in a 3-1 victory over the St. Louis Blues.
While the score may not indicate it, the Bruins were dominant for most of the game. If it weren't for stellar goaltending from Jake Allen, a player who has struggled mightily this season, the Bruins could have easily scored at least another two or three goals. Allen made 43 saves on 45 shots, good for a .956 save percentage, but his efforts weren't enough to stall the Bruins. It was a game that featured dominant zone time for the Bruins who had no problem matching the physicality of the Blues all night long.
It was much of what Bruins' fans have gotten used to from this Bruins team after their dominant 18-game point streak that catapulted the Bruins to fourth overall in the NHL standings. The Blues didn't look bad in the game, but the Bruins were simply the better team in a game that had a definite playoff feel to it. While it may be too soon to start talking about another streak for the Bruins, this team still looks poised to play tremendous hockey for long stretches due to their strong depth.
Bruins Next Man Up Mentality
For many teams in the NHL, playing games without Marchand, McAvoy, Acciari and Bjork all at one time could be devastating. After all, we're talking about the team's top scoring option, a 20-year-old top-pairing defenseman, an effective fourth liner and a rookie forward who was recalled from Providence due to all the absences in the lineup. The Bruins played a poor first period against the Anaheim Ducks on Tuesday, but their ability to rebound so quickly and figure things out cannot be overstated.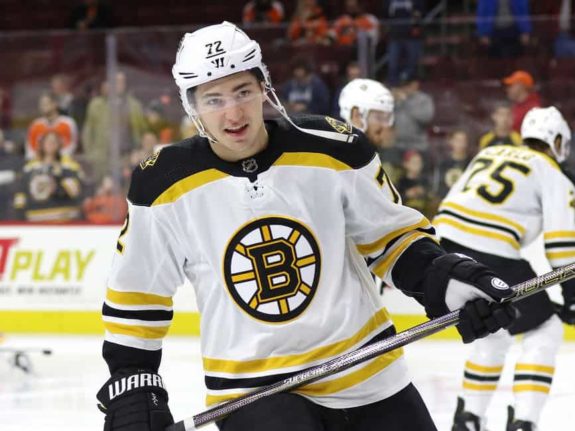 With Frank Vatrano still trying to figure things out and Peter Cehlarik getting his first taste of NHL action since Nov. 24, the Bruins worked the "next-man-up" mentality to perfection. This team has so many capable NHL options that it's been impossible to determine who will get a spot in the lineup on anything more than a game-by-game basis. Ideally, the Bruins know who their players are and where they line up. Unfortunately, injuries and suspensions happen, forcing teams to group and replan.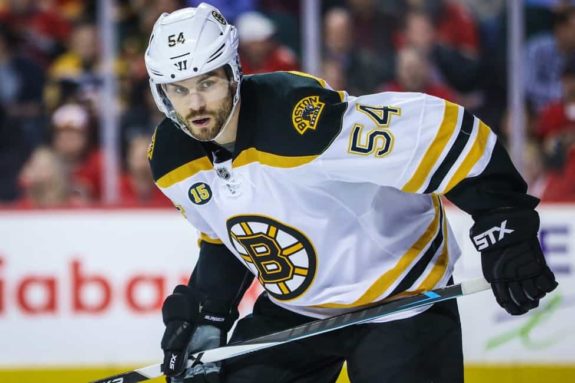 An example of this occurred when Adam McQuaid was cleared to return to action but was still sat as a healthy scratch due to the Bruins excellent blue-line. It was an enviable situation for the Bruins who had a capable top-six blueliner just sitting and waiting for an opportunity. He eventually got that opportunity when Kevan Miller went down with an injury; McQuaid returned and the Bruins kept rolling. When McAvoy was forced to undergo surgery, Miller returned to the lineup and the Bruins still didn't bat an eye.
It's not every day a team can ice such a good lineup with so many capable bodies waiting for ice time, but it's been the big story for the Bruins this season. If the Bruins are going to start a new streak and legitimately compete for the Stanley Cup this season, they'll need to continue playing with this mentality until the very last day of their season. When that day comes is anybody's guess at this point.
Backes Scoring Against His Former Team
Everyone loves a feel-good story. For David Backes, that feel good start came Thursday when he scored an empty-net goal with 0.4 seconds remaining in the game against his former club. The Blues drafted Backes in 2003 and he went on to captain their team from 2011 until 2016 when he signed his long-term contract in Boston. This goal is even more special when considering all that went into making it possible.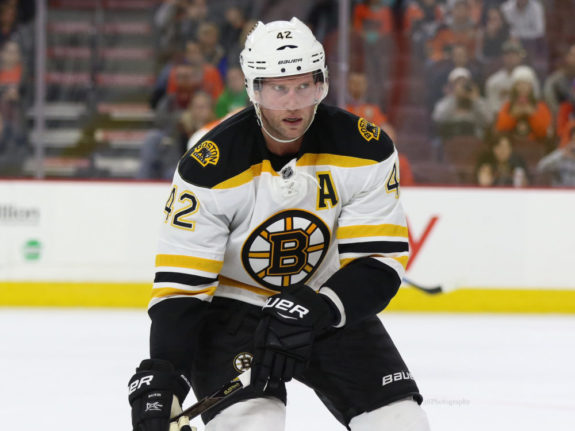 In the third period of the Bruins loss to the Anaheim Ducks on Tuesday, Backes suffered a hit to the head from Ducks' forward Nick Ritchie. While the hit wasn't anything egregious, it still knocked Backes out of the game and caused some legitimate concern for fans and media alike. Fortunately, the team never seemed to feel like Backes would be in danger of missing time and he managed to suit up just two days later. Beyond that, Backes also had 10 inches of his colon removed in early November, expected to miss eight weeks of NHL action at the time.
As advertised, Backes is a warrior. He fought back from that injury in just one months time and has looked excellent ever since. It's been a feel-good story all around for Backes who has been a mainstay on the Bruins third-line. Whether it's been on the scoreboard, through his physicality or through his leadership, Backes has done his part to help this Bruins team overcome a lot this season. While the contract will never look good due to its term, there's no denying how big of a role Backes has on this very good Bruins team that looks ready to take the next step.
Rask Was Stellar
While Allen played an excellent game in net for the Blues, Tuukka Rask deserves just as much credit for the Bruins. Saving 32 of 33 shots with the only goal he allowed coming when the Blues had a man-advantage due to an empty net, Rask was lights out all game. With Allen standing tall in his crease, the Bruins needed Rask to do the same for them. Finishing the game with a .970 save percentage is exactly what the team was looking for from their franchise netminder, but that's just been par for the course for Rask at home this season.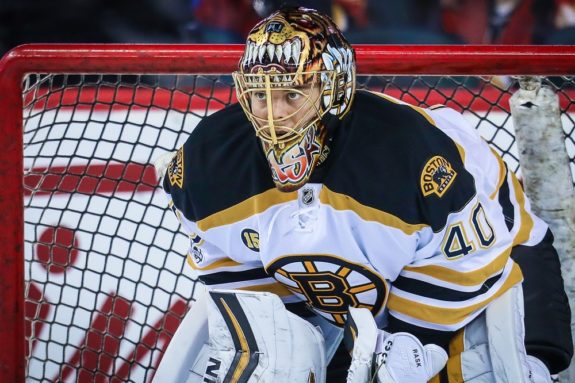 While his start to the year may have been less-than-ideal, Rask has securely entrenched himself as one of the very best goalies in the entire league this season. Right in the thick of the Vezina Trophy race, Rask has been just as important to the Bruins success as any other player in the lineup. Struggling for a few seasons behind some shaky defense, Rask is back to elite form and it looks like he's here to stay. With McAvoy looking like he's close to a return, the Bruins look to be in good shape as their new "streak" stands at one game without a regulation loss.
Brandon Share-Cohen has covered the NHL and various professional sports for seven years. Working with The Hockey Writers, Brandon works extensively on covering the Boston Bruins in addition to his role as the News Team Lead.