The NWHL announced word on Mar. 1 2018 that the Boston Pride had signed one of their most heralded prospects. Mallory Souliotis, the eighth overall selection of 2017 NWHL Draft, joins the team and will presumably be playing in the Pride's two remaining regular season games and in the playoffs. A defender of her caliber immediately bolsters Boston's blueline.
Upon the signing, Souliotis stated through a league press release:
"I'm extremely excited and honored to join the Boston Pride. I'm grateful for the opportunity to continue to play the sport I love and become a part of the NWHL family."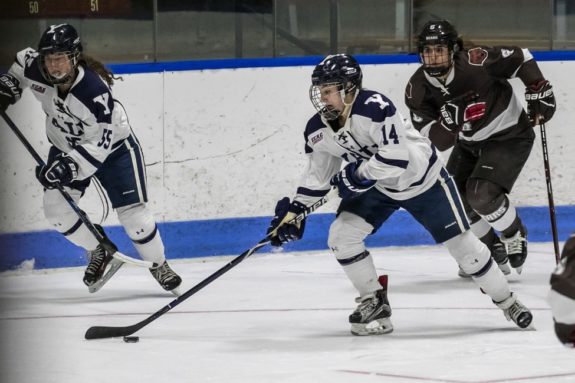 Souliotis comes to the team after four successful seasons at Yale University. The Pride hope that by adding this offensive defender for the homestretch that they can generate both additional offense, and strength at keeping the puck out of their net.
What Souliotis Can Bring to the Pride Lineup
Being able to bring Souliotis to their defense corps at this time of year is a bit of a dream come true for the Pride. At this point they are in the bottom half of the NWHL standings. A slot position that until this season was unfathomable for the Boston team of the league's first two seasons. This is where Souliotis can be most integral to their lineup.
Right now the Pride have allowed the second most amount of goals of the four teams. 42 times they have been scored against in 14 games. Doing simple math they are giving up an average of three goals per game. Though allowing three goals is certainly less than ideal, it is not entirely halting in keeping teams from winning hockey games. The problem comes in with the fact that Boston has also scored the second least amount of goals. Just 29 of them in said 14 games. That is just slightly more than two goals per game. Based on averages alone, it is no wonder that the team has a less than desirable record of 3-7-4.
Souliotis can be ever so important to this hockey club. As a defender, she put forth 12 goals in 117 NCAA games. No big deal, right? Well, she also generated 58 assists in that same span to give herself 70 career points. Those are the type of numbers that Boston will be looking from a blueliner.
Souliotis' Success as a Yale Bulldog
Souliotis knows that this is what the Pride want and need for her to help with. The current 2017-18 season was her senior year at Yale, and she led all Ivy League defenders in scoring with four goals and 20 assists in 31 games. Seeing that, it is important to note that Souliotis also upholds a great sense of responsibility in her own end and isn't just about offense.
"I like to create offensive opportunities, but I also work hard to play a strong defensive game," she said via the same NWHL press release. "I hope to bring energy and offense to the Pride while playing shut-down defense for the final stretch of the season. My time at Yale has been incredible. My teammates and coaches really pushed me the past four years to improve and help me become the player I am now. I'm thankful for my teammates, family, and coaches for everything they have done for me, I look forward to playing in my hometown of Boston, and I can't wait to see what lies ahead. Go Pride".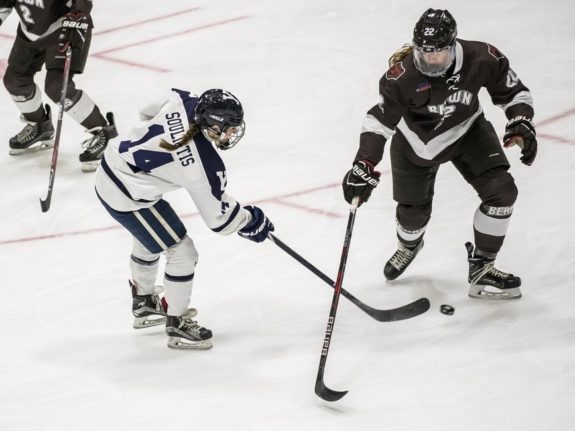 Souliotis had a slightly better season offensively during her sophomore year at Yale. Playing in two less games (29), she had four goals and set career highs in assists (21) and points (25). Souliotis was also a plus-three that year too.
Souliotis Has a Cannon of a Shot
While 12 goals may not seem to be much in a four year career, it is the way that Souliotis has helped generate opportunities for her team. She possesses a cannon of a shot and has no hesitation in using it. In those same 117 career games, she blasted 206 shots on net. One of them was enough of a rocket that it broke a pane of glass. So do not let the 12 goals fool you. This young defender wires shots like there is no tomorrow, and with shots come goals, deflections for goals, and plenty of rebound attempts for goals.
Anyone have an extra pane of glass? Thanks to Mallory Souliotis we need one at Ingalls Rink. #IvyTop5 #SCTop10 @IvyLeagueNet @ESPN3 pic.twitter.com/k792oXFuBU

— Yale Athletics Video (@YaleILN) January 28, 2017
Again, this is what the Pride and head coach Thomas Poeck will be looking for. It is big part of why the team has added her into the fold this late in the season. Poeck stated the following in the same press release:
"We're really happy to add such an outstanding player like Mallory for the final games of the regular season and for the Isobel Cup Playoffs," he said. "We have followed her collegiate career closely and were glad to be able to draft her last summer. With her two-way play, we believe she's a perfect fit for our team. We look forward to Mallory making her debut in her hometown on Saturday."
Interesting Combinations Abound
While Souliotis could seemingly be used in any sort of situation, it becomes interesting to fathom how Poeck might insert her into the lineup. It would certainly make sense – a giant likelihood, even – that she will be given plenty of power play opportunities at the point. That is where Souliotis' giant shot will truly pay dividends.
It may be ideal to partner her with Alyssa Gagliardi. The 25-year-old Gagliardi presently leads the Pride in shots by a defender (31) and is tied for the team lead in goals from a D (two). Affixing Souliotis and Gagliardi at the point and letting them pepper opposing teams with shots would not be a bad idea.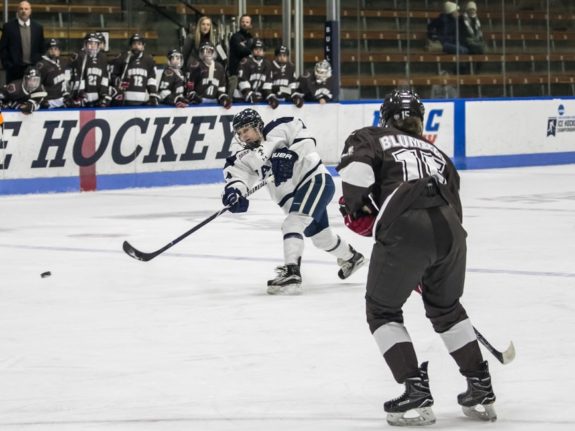 Separately, get ready to see some additional scoring from the defense as a whole. Right now, the only Pride defenders to have scored a goal are Gagliardi and Meagan Mangene. No other blueliners have scored a goal as of yet. With Souliotis helping to cycle the puck around and feed plays, look for more offensive output from the Boston D.
Only good things will come from this signing. The playoffs are just about here, and Souliotis could be the first step in rounding the corner of Boston's betterment.