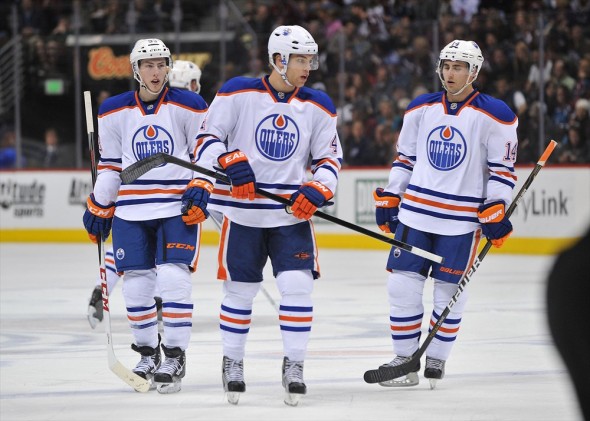 Over the past few years there has been little to cheer about in terms of on-ice success if you're an Edmonton Oilers fan.  With the team firmly entrenched in re-build mold, Oiler fans have consoled themselves with the fact that within a (hopefully short) period of time there would be a stable of young, exciting, blue chip talent that could bring the once dominant franchise back to prominence.
After finishes of 29th, 30th, 30th over the past three seasons, part of that hope has been realized.  The Oilers roster boasts some of the most exciting young talent, specifically forwards, in the league, and with contract extensions to Taylor Hall and Jordan Eberle it will be for the forseeable future.
The question now is, with much of that talent largely unproven, how will they gel with the group of veteran forwards already on the roster  in order to realize their vaunted potential and translate to team success?
The Oilers forward group has certainly not been the reason for the Oilers being residents in the bottom of the league's standings, however, there are many question marks and intriguing storylines surrounding them going into this season.
Here's what the Oilers depth chart looks like going into the 2012-13 season.
Centre
1. Ryan Nugent-Hopkins 2. Sam Gagner 3. Shawn Horcoff 4. Eric Belanger 5. Anton Lander 6. Chris VandeVelde  
Left Wing
1. Taylor Hall 2. Ryan Smyth 3. Ryan Jones 4. Ben Eager 5. Magnus Paajarvi 6. Teemu Hartikainen  
Right Wing
1. Jordan Eberle 2. Nail Yakupov 3. Ales Hemsky 4. Lennart Petrell 5. Darcy Hordichuk 6. Linus Omark   
These are of course not line combinations or set in stone but just a preliminary depth chart.  One has to think that either Eberle, Yakupov or Hemsky will be moved to the left side in order for all three to play a top six role.  Also last years third line of Ryan Smyth, Shawn Horcoff and Ryan Jones were effective when put together and could possibly start the season again in the role.
Most of the hype last year surrounded the top trio of Hall, Nugent-Hopkins and Eberle, and rightly so.  They put up impressive offensive numbers for a group with so little combined experience.  They also provided magic on the powerplay, making the Oilers unit one of the best in the league.  Add to the mix a dynamic Nail Yakupov and a (hopefully) healthy, re-signed Ales Hemsky and there appears to be no reason to expect anything less from the offence.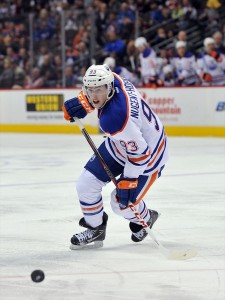 The numbers don't tell the whole story for the young trio however, and it will be interesting to see how newly promoted head coach Ralph Krueger manages their ice time.  Last year they were very sheltered by Tom Renney and were very much put in a position not to be exposed defensively.  That, however, came at the expense of their ice time.  Jordan Eberle, for example was the league's 15th leading scorer with 76 points, and yet he averaged 17:35 ice time per game, which put him well outside the top 30 in terms of league forwards.  With an extra year of experience and a new heach coach there's a good chance that all three youngers will be given more ice time and responsibility.  If all three, specfically Hall and RNH can stay healthy, Oiler fans could be witness to something special.There are other big question marks with the group as well, as even with production from some of the top forwards, the group struggled with five on five production finishing 22nd in the league in even strength goals.  There are a couple of reasons for this, one being a lack of puck movers and production from the defence and also a lack of depth scoring and production from someone other than the top line.
Players such as Shawn Horcoff and Ales Hemsky had poor seasons and finished with a combined 23 goals and a -36 rating between the two of them.  Veterans such as Horcoff, Hemsky and Smyth will have to chip in with secondary offence as well as leadership for the Oilers to be successful.
As with every year it seems, Sam Gagner also comes in as a question mark.  Penciled in as the #2 centre, he of the historic 8 point game, Gagner will have to continue to be the player that the Oilers saw in the second half of the season and not the ineffective player of the first half.  With a new offseason regime, he has stated he is stronger and faster this year.  Gagner has been working out this summer with Sidney Crosby's long time trainer, Andy O'Brien, and believes he is much stronger entering this season especially in terms of his core strength.
The other much publicized issue that has plagued the Oilers is the lack of toughness.  They brought in Ben Eager and Darcy Hordichuk last year with the hopes they would make the group harder to play against, but the fact was, as a whole the Oilers forwards were just not gritty enough and did not have enough push back on most nights.  They will need all of their forwards to pick up that part of their game.
The real improvement could come in the form of Ralph Krueger.  A master motivator, many of the young stars have been quoted as excited to play under Krueger.  He was also one of the main reasons Justin Schultz was convinced to play for the Oilers.  Krueger will push the Oilers and accept nothing less than full effort from his squad.
The Oilers have potentially the most optimism and anticipation surrounding them entering the new season, with hope aplenty.  With the amount of emergining young talent on the roster, Edmonton fans are eagerly anticipating a break out season.
Carl covers the Edmonton Oilers for THW as well as providing additional prospect coverage. Follow him on twitter @carlTHW, connect on Facebook or contact at carl.maloney@hotmail.com for questions, comments or if you're interested in him writing for you.