He may not be a candidate for Team Canada at the upcoming Olympic Winter Games but at the quarter mark of the season Brendan Gallagher is the Montreal Canadiens' MVP.
In what has been a season of highs and lows – a successful west coast road trip followed a series of losses at home – the Habs are still trying to find their footing this season, whereas, since game one, Gallagher's skates have been firmly planted where they are most effective: in the opposition's crease.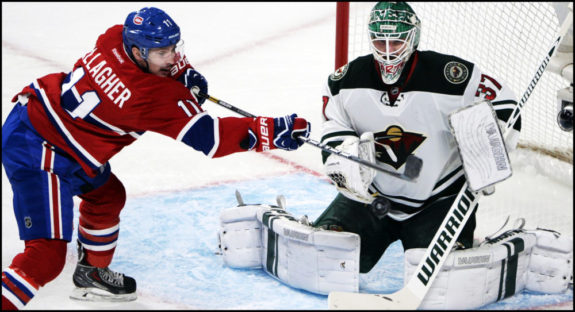 The choice, admittedly, is debatable.  Once again, PK Subban ranks among the league's best defensemen with 19 points in 22 games. Starting goalie Carey Price is playing lights out.  His 2.05 GAA and .935 SV% are ranked 7th in the league, mainly thanks to his recent starts against the Tampa Bay Lightning, New York Rangers and Minnesota Wild.  Gallagher certainly has competition for the Habs' Hart Trophy but he has my vote for a few reasons: His stats, his work ethic and those ever-elusive intangibles that I like to call "The Emelin Factor".
The Numbers Game
The stats are there:  He's 2nd on the team in shots behind PK Subban. His plus/minus is best on the team among forwards (tied with Michael Bournival). His 8 goals lead the team as well as 2nd year players, despite a four game goal scoring drought.  His 3 power play goals have him tied for first.   His goals might not be the prettiest, many the result of a goalmouth scramble, but sometimes they are a thing of beauty:
The biggest knock against the young winger at this point is his tendency (and I use the term lightly) to take offensive zone penalties.  More specifically, he's received three goalie interference penalties because of his willingness to drive to the net at all costs.  Hardly a strike but something he acknowledges nonetheless:
"I'm still not very good at it," Gallagher said "But it's tough when you're going there you have to know where the goalie is and what he's trying to do. You're trying to score a goal first and foremost, so you're not thinking about it too much, but it is important to avoid the goalie and take a path that you're not going to take a penalty and hurt the team."
It's hard to criticize the kid for trying but 14 penalty minutes is 6th worst on the team.  Figuring out the 'path' will come with experience and he will be considerably more dangerous once he figures out how to draw penalties instead of take them.  Although, the sly smile he wears as guys cross-check him to the ice is a good start.
Stats aside, Gallagher's willingness to tread where others prefer not to is the main reason he has my vote for MVP.
Work Ethic, Speed and Skill
Much has been said about Gallagher's work ethic, speed and skill.  It's why commentators love singling him out during games and why fans love to watch him.
the little engine thatt could…#Gally #gohabsgo

— Sonny G🍁 (@A_Laboo) November 23, 2013
Gallagher was a beast tonight ! // #habs #leafs #gallagher #brendangallagher #montreal #nhl #toronto… http://t.co/69Qa6OqEJm

— 25stanley (@25stanley) April 28, 2013
It's also why head coach Michel Therrien will use him to get a struggling line going: "It's not a coincidence that everywhere we put him he's got success. He works so hard, so you have no choice (but) to follow that work ethic."  Therrien is right.
When the surging Minnesota Wild visited the Bell Centre last Tuesday, Therrien put Gallagher on Max Pacioretty and David Desharnais' line in the second period to try to get something going after a scoreless first.  The result was a natural hat trick for Pacioretty and a 6-2 win for the Habs, with Gallagher taking home 2 assists.  Gallagher, as Pacioretty put it postgame, "gets everyone going. He's an energetic player. With him getting into the forecheck and disrupting the defence a little, all it takes is a split second. He's a hound on the puck and he got us going."
The fact that a 21 year old kid can inspire a mostly veteran team speaks volumes.  Much of it comes from that tireless work ethic that was instilled in him as a ten year old boy trying to keep up with kids 8 years older so he could train with his father.   That training not only enabled Gallagher to hold his own against guys twice his size but also to properly take a hit and avoid injury.  He can be fearless because he knows how to position himself.  Something many guys on the Canadiens roster could learn and what makes him a much needed asset on the ice.  It's also part of what I like to refer to as "The Emelin Factor"
The Emelin Factor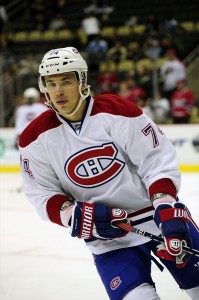 Heaven help the team should Gallagher miss any time due to injury or illness (knock wood).  Last year when punishing defenseman Alexei Emelin went down with torn ligaments in his knee the Habs mustered only 5 wins in 15 games including a devastating 4-1 first round loss to the Ottawa Senators in the playoffs.  No one expected the team to fare that poorly without him, mainly because his breakout season was overshadowed by Subban's Norris trophy campaign and Price's stellar play which led to the team's best finish in seven years.  With Emelin in the lineup the team played with confidence.
This season, Gallagher is that guy.  Emelin only has two games under his belt while Gallagher is playing with fearless abandon night in and night out.  He makes the team better.  That much was clear in a recent game against the New York Rangers when Gallagher, playing through the flu, was not at his best.   Commentators only mentioned him to say they were surprised they hadn't mentioned him.  His night was played out on the periphery and he spent little time in the blue paint.  Naturally, the team struggled.  The outcome was a rare 1-0 victory for the Rangers at the Bell Centre, and one of the most boring games of the season.
Gallagher is as exciting as they come and it's hard not to love a kid who mucks it up in the corners getting the better of players twice his size or planting himself in the opposition's crease with a mischievous smile that  lets everyone know he's about to pick their pocket.  He is a rising star who doesn't take a second for granted.
So much for the dreaded sophomore slump.  At the quarter mark, I'm proud to call him MVP.
Contributing writer and editor for the Montreal Canadiens at TheHockeyWriters.com. Head writer for Hockeytickets.ca. Ball hockey champion.