After a weekend of speculation, Blues GM Doug Armstrong made it official on Monday when he signed former Dallas Stars captain Brenden Morrow to a one-year, $1.5 million contract.
Morrow sat on the open market all summer, but word spread that he had received "a few offers" recently from other teams. It was confirmed over the weekend that the Blues were the top suitor for Morrow's services.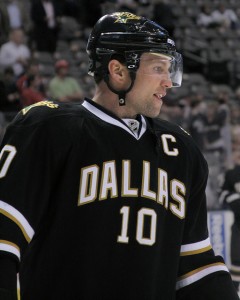 Morrow, the Stars' captain from the 2006-07 season until the time he was traded to the Pittsburgh Penguins last March, joins a long line of Blues property that have either played or worked for the Stars, which includes Armstrong, head coach Ken Hitchcock, hockey operations consultant Sergei Zubov and newly appointed executive vice president Brett Hull.
The Blues have added veteran depth as of late. The club brought in defensemen Jordan Leopold and Jay Bouwmeester toward the end of last season and center Derek Roy was signed to a one-year contract over the summer. Morrow, 34, has appeared in 92 playoff games, recording 19 goals and 46 points with 108 penalty minutes. He is one goal away from 250 goals during the regular season.
The Blues' roster looked to be complete after the club agreed on a seven-year extension with No. 1 defenseman Alex Pietrangelo earlier this month. But the team's coach expressed dissatisfaction with the role players on the club recently.
"I would like to see more competition for role-playing spots and that's what we're going to find out," Hitchcock told Jeremy Rutherford of the St. Louis Post-Dispatch last week. "I feel like there's a little bit of separation here and I'd like to see more competition. So we're going to see in the next couple of games what that competition gets to."
This could likely stem from an incident that occurred in the Blues' second preseason game. Facing the Tampa Bay Lightning on Wednesday, Sept. 18, the Blues lost clubhouse-favorite Vladimir Sobotka for the game after a check to the head from 18-year old Adam Erne. The Blues did not deliver a response to the hit, which was deemed illegal by the NHL. Erne was administered a three-game suspension for the hit.
Andy Strickland of TrueHockey.com expressed his feelings on the nonresponse from Sobotka's teammates:
Was I surprised to see a lack of response by the players on the ice or the bench? Sure I was, only because like skating, shooting, and passing, responding when your teammate is taken advantage of is a part of the game. Not to mention Sobotka would be there for one of his teammates should this happen to one of them.

With this being said it isn't one player's responsibility. It's a team thing and part of being a team is defending your brother.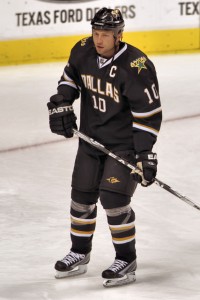 Morrow is the type of player that will stand up for his teammates. While the Blues have plenty of bruisers (Adam Cracknell, Chris Porter and Ryan Reaves), the veteran presence of Morrow may force a response from the still-young Blues team.
Morrow's days as a top-six forward are likely over. However, he will add competition to the third and fourth line wingers. This is exactly what Hitchcock was searching for in training camp.
Morrow is still capable of adding some offensive firepower if placed on a line that allows him to play his game. In 15 regular season games with Pittsburgh to close out the season, the veteran added 14 points (six goals, eight assists) to an already powerful Penguins offense. He added just four points (two goals, two assists) in 14 playoff games, but admits that he was battling a kneecap injury.
Morrow's signing, along with the Maxim Lapierre signing in July, likely breaks up the Blues "CPR Line" of Cracknell, Porter and Reaves, but Morrow sees his new team as a Cup contender for their depth.
"The Blues have been a team knocking on the door the last few years," Morrow said on a conference call with Blues media. "I think they're going to push through it and I want to be a part of that."