There are some teams that are already out of playoff contention for the 2022-23 season. Most of those teams will be sellers at the March 3 trade deadline, mostly moving players who are going to be free agents following the season, or some young talent in a big deal to get a good haul back. One of those teams is the Arizona Coyotes.
When thinking of Arizona, the name that comes up the most is Jakob Chychrun. The left-shot defenseman has been on most teams' radar for the last couple of trade deadlines and this season will be no different. Will they get a package they like and move him? If they do, the asking price for the Boston Bruins might be too much to compete with other teams. The Coyotes do have other pieces that could be available and some smaller depth players for the Black and Gold. Here are three players that general manager (GM) Don Sweeney should inquire about that are not named Jakob Chychrun.
Shayne Gostisbehere
One area of Bruins needs is an addition is on defense. Enter Shayne Gostisbehere. The former Philadelphia Flyers defenseman can play both sides and offers flexibility and experience on defense. He carries an expensive cap hit of $4.5 million and will be an unrestricted free agent this summer after being acquired in a trade in 2021.
Related: Boston Bruins 2022-23 Trade Targets: Ottawa Senators
---
Latest News & Highlights
---
He spent the first seven seasons with the Flyers and was a staple of their defense before being a cap casuality which forced the trade to Arizona. He is averaging 22:38 a night in time on ice and is a consistent penalty-killer. He is producing this season with nine goals and 20 assists on a Coyotes team that is once again near the bottom of the Western Conference standings.
The asking price for Gostisbehere would be a draft pick and in a perfect world, Sweeney could work Craig Smith or Mike Reilly in the trade to even out the salary to fit him under the cap. Getting the Coyotes to retain some money would also be key, but he would be a welcomed bottom-three blueliner to a group that has an injury history that Boston should be concerned about heading down the stretch of the regular season and in the playoffs.
Troy Stecher
If the Bruins are in the market for a cheap seventh defenseman, Troy Stecher fits the mold. The right-shot is well-traveled playing for the Vancouver Canucks, Detroit Red Wings, and Los Angeles Kings before the Coyotes. He's not a big point producer with three assists this season in 48 games and averages just over 16 minutes a night and like Gostisbehere, he's another penalty-killing option.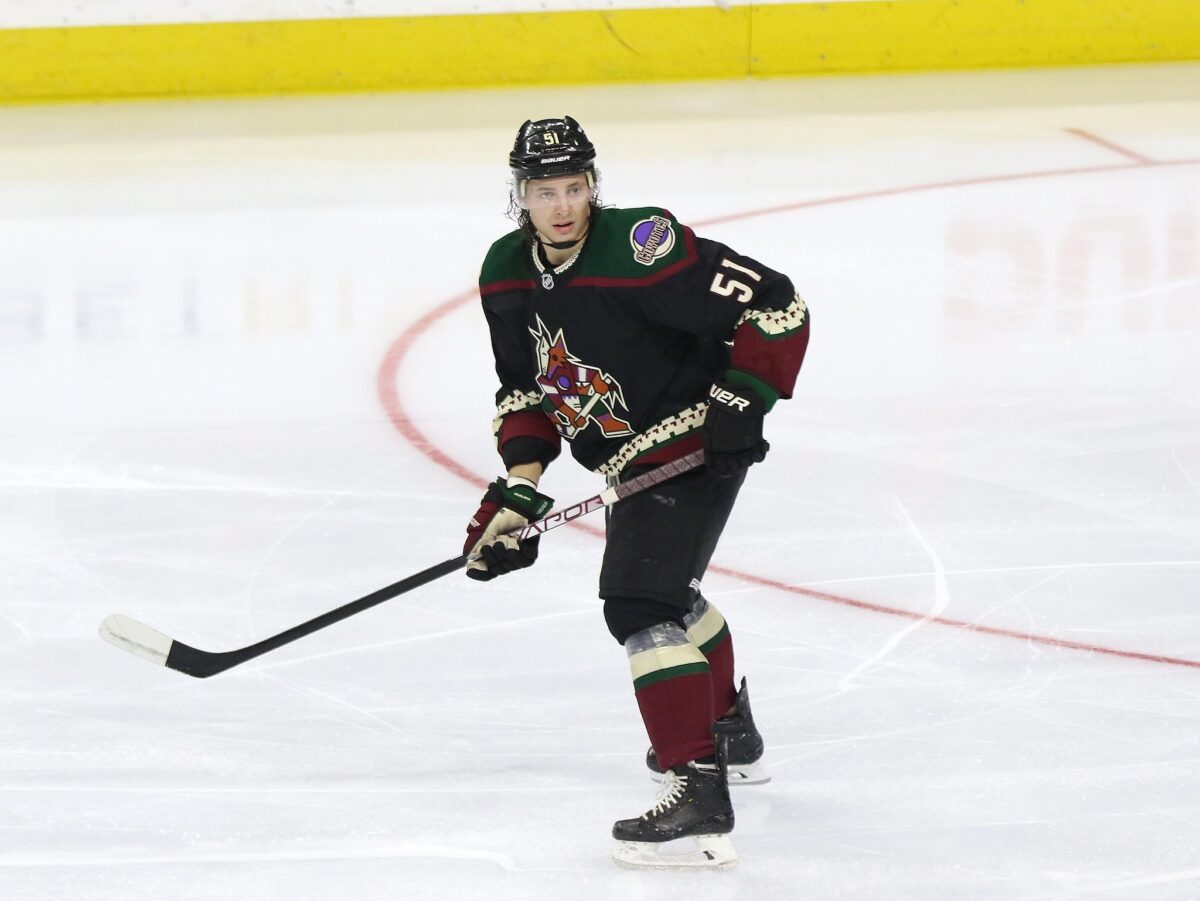 He has a very reasonable $1.25 million cap hit and would be brought in as a seventh defenseman and get some time at the end of the season as it is expected the Bruins will give their top guys some time off before the playoffs. He would be like Josh Brown was last season and most likely would just require a prospect and a mid-to-low draft pick to get a deal done.
Nick Ritchie
You might be saying not Nick Ritchie, but yes, bringing him back is not the worst idea. The Bruins saw firsthand what he can add after acquiring him from the Anaheim Ducks at the trade deadline in 2020 right before the COVID-19 shutdown in March. This season, he has been producing with eight goals and 10 assists, and just past the midway point of the season, he's seven goals away from reaching a new career high.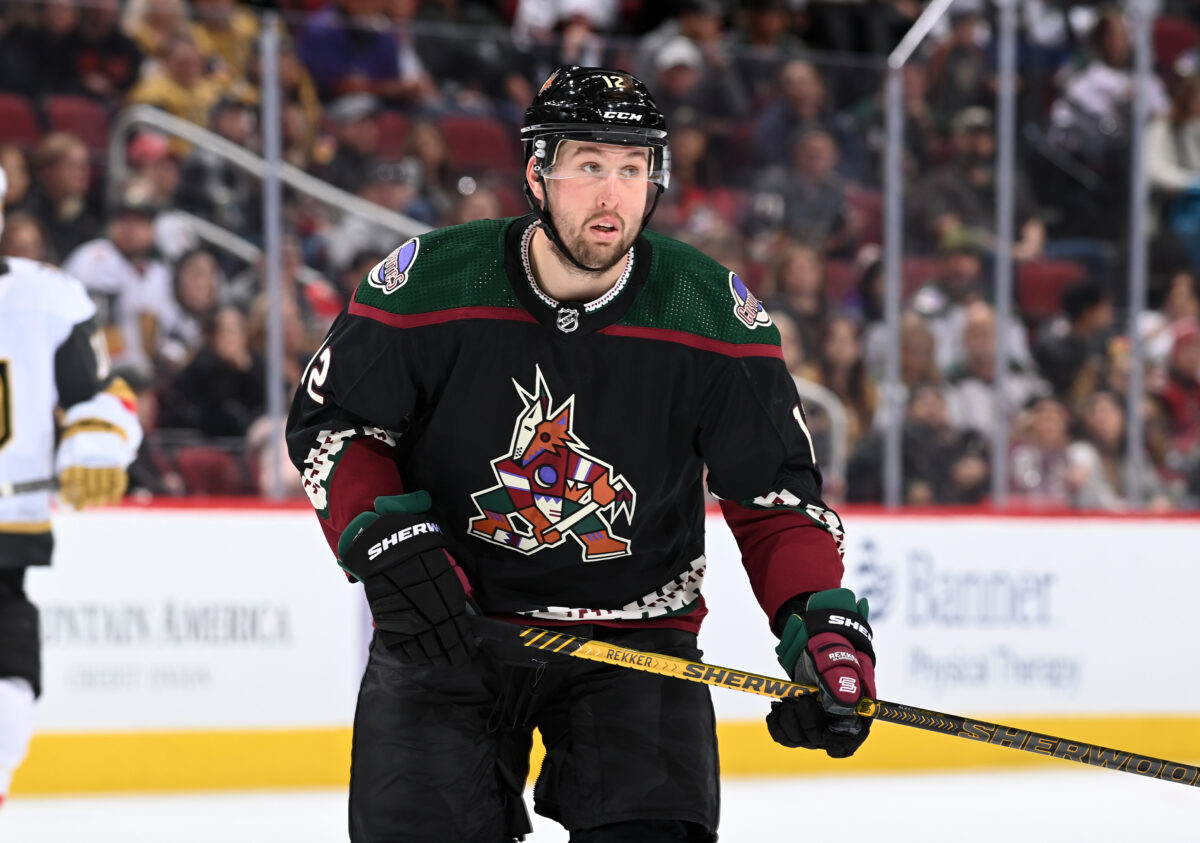 The 6-foot-3, 230-pound left wing is still playing a physical game in 45 games this season and offers an interesting bottom-six addition with his $2.5 million cap hit. Things did not end well for Ritchie and the Bruins in the summer of 2021 when he was not given a qualifying offer from Sweeney, which allowed him to become an unrestricted free agent and he signed with the Toronto Maple Leafs. With the offensive season he's having for Arizona, reuniting with him for one more run could bring out the best in him with this core that has been rolling all season long. The asking price should be like Stretcher, a low to mid draft pick or a low-level prospect, like last season when Zach Senysyhn was part of the Brown trade with Ottawa.
Related: 4 Bruins Who Could Be Traded at the 2023 Deadline
Of course, the Bruins would love to get their hands on Chychrun, but it's highly unlikely they'll be able to pull that off. A blockbuster like that could be saved for Bo Horvat from the Canucks or Timo Meier from the San Jose Sharks. Arizona, however, offers some veteran depth pieces on defense and in the bottom six should the Bruins look to go that route.
---
---