Things are not only coming down the stretch in the NHL with the Boston Bruins, but it is also getting to be crunch time for some of their prospects. The Bruins' college prospects are getting ready for their conference tournaments while others are gearing up for the stretch run with their teams.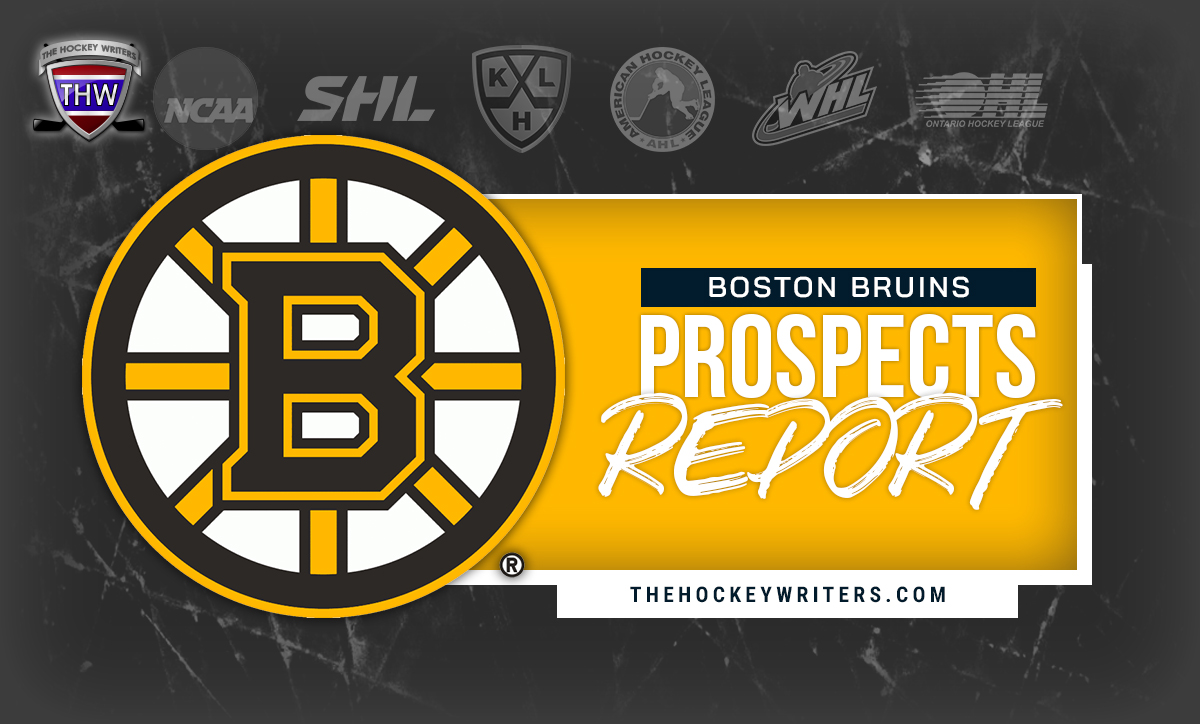 In this edition of the Bruins Prospects Report, we'll take a look at how some prospects 2022-23 seasons are going in college, the Ontario Hockey (OHL), and the American Hockey League (AHL).
Poitras Continues to Thrive in 2022-23
Without a doubt, Matthew Poitras is having as good of a season than any other Bruins prospect. In 55 OHL games for the Guelph Storm, the 54th pick of the 2022 Entry Draft has 15 goals and 63 assists and he has won 56% of his face-offs, an area the Boston scouts were impressed with him in.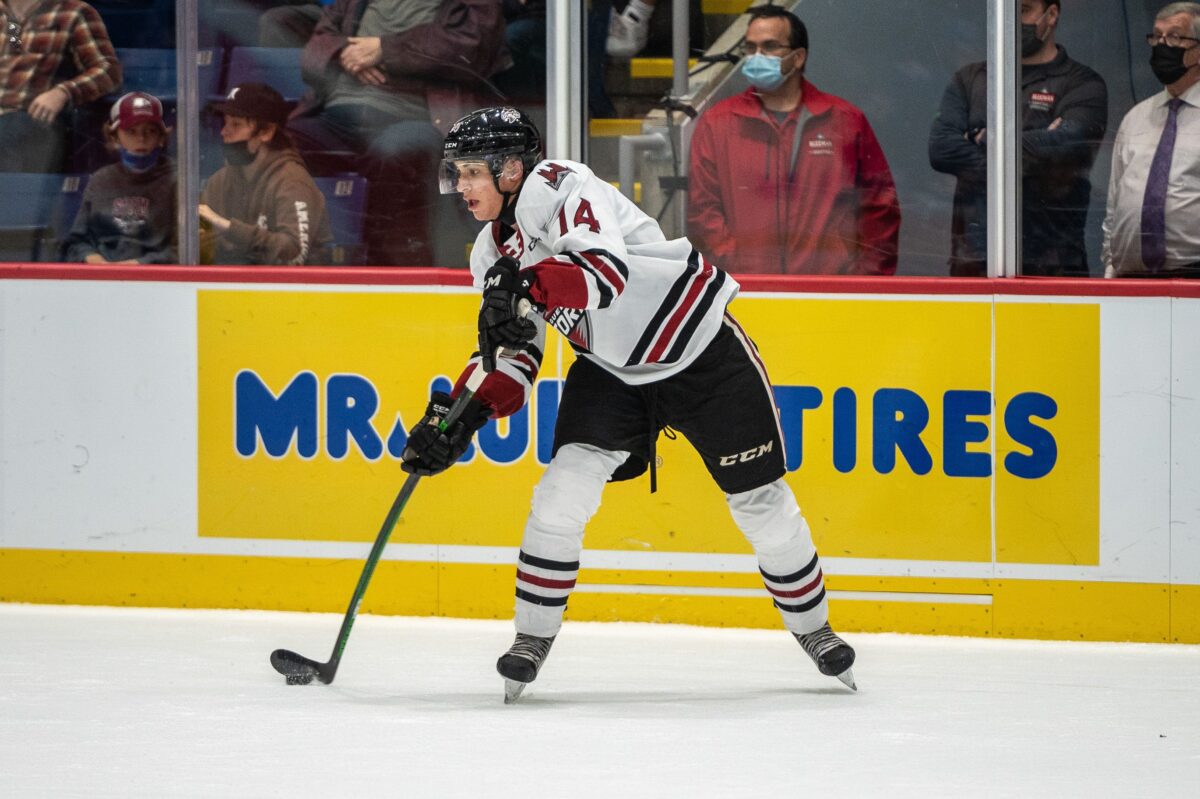 Poitras is on a 13-game point streak, three goals, and 19 assists, and had a hand in all three Storm goals in a 10-3 loss to the Flint Firebirds on March 3 with a goal and two assists. In February, he had points in 12 of Guelph's 13 games. There is no doubt that Poitras has a very good offensive game, something that stuck out to the Bruins ahead of the draft, but he has taken it to another level this season. He is working his way up the ranks to her the top of the Bruins' prospects list this season.
Locmelis Continues to Impress In Sweden
Another forward the Black and Gold selected in 2022, Dans Locmeils continues to build off of his play at the last World Junior Championship (WJC) with Lulea in the J20 Nationell. In 40 games, he has 23 goals and 33 assists and has recently been scoring big goals in bunches.
Related: Bruins' 3 Up, 3 Down: Trade Deadline, Sweeney, Orlov & More
---
Latest News & Highlights
---
After helping Latvia achieve success at the last two WJCs, Locmeils has picked up his all-around game, more importantly, his offensive game. He has a good skill set, sees the ice very well, and is not afraid to get to the front of the net where he gets a lot of his goals as he looks to translate his game to the NCAA next season at UMass-Amherst.
Merkulov & Bussi Playing Well in Providence
When it comes to the Providence Bruins, the first name that people think of is Fabian Lysell, and rightfully so. The 21st overall pick of the 2021 Entry Draft has 11 goals and 18 assists this season in 39 AHL games, but he has cooled off as of late with just two assists in his last five games, including one in a 3-1 loss to the Leigh Valley Phantoms on March 5. Another forward who is continuing to make a name for himself this season in his first full pro season is Georgii Merkulov.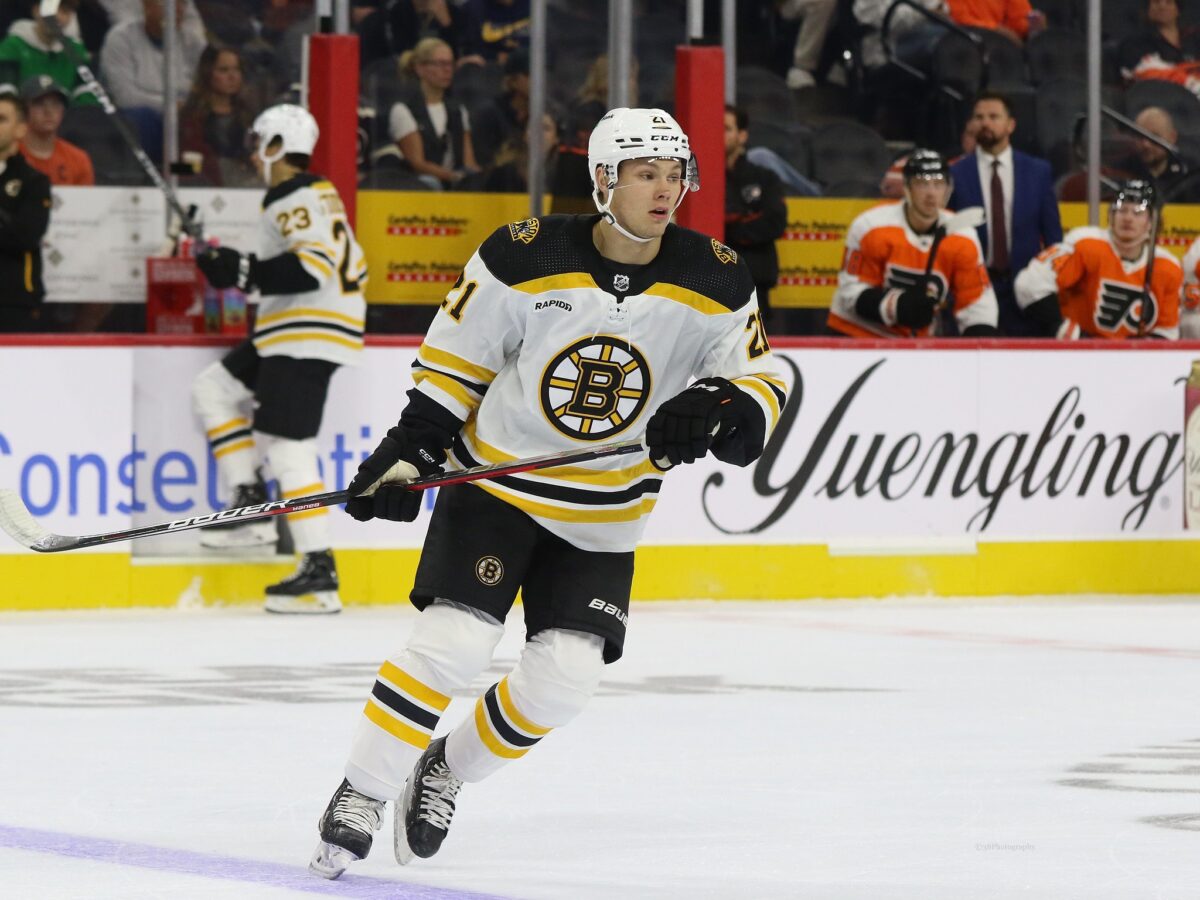 Signed as an undrafted free agent out of Ohio State following his freshman season in 2021-22, the 22-year-old leads the P-Bruins in scoring with 18 goals and 24 assists in 51 games. He has a good skill set with a very good shot and he also sees the ice very well. He is one player that has drawn a lot of attention this year and under different circumstances, he might find himself getting bottom-six NHL minutes.
In a surprise move at the trade deadline, general manager (GM) Don Sweeney traded veteran goalie Keith Kinkaid to the Colorado Avalanche (from 'Avs acquire goalie Keith Kinkaid in trade, sending Shane Bowers to Boston Bruins,' Denver Post, Feb. 25, 2023). The move was made because Colorado needed more goaltending, but Kinkaid became available because of the play of Brandon Bussi and Kyle Keyser. Bussi, like Merkulov, he signed as an undrafted free agent out of Western Michigan University last March, has been very impressive with a 16-4-4 record with a .243 goals against average (GAA) and a .925 save percentage (SV%). He was selected for the 2023 AHL All-Star Game.
In 15 games, Keyser has gone 8-2-2 in Providence with a 2.24 GAA and a .918 SV%. He had 22 saves in a 1-0 shutout of the Hershey Bears on March 4. Marc McLaughlin scored the only goal of the game with 6:03 left in the third period. Between Bussi and Keyser, the Bruins have enough goaltending depth should something happen to Linus Ullmark or Jeremy Swayman.
Kuntar, Gasseau & Jellvik Soaring at Boston College
The 2022-23 season has not been what Boston College has been used to in Hockey East, but it's certainly not for the effort of the three Bruins prospects on Greg Brown's roster in his first full season behind the bench after replacing Jerry York. Junior Trevor Kuntar, selected 89th overall in the 2020 Draft, is third on the Eagles in scoring with 13 goals and 16 assists.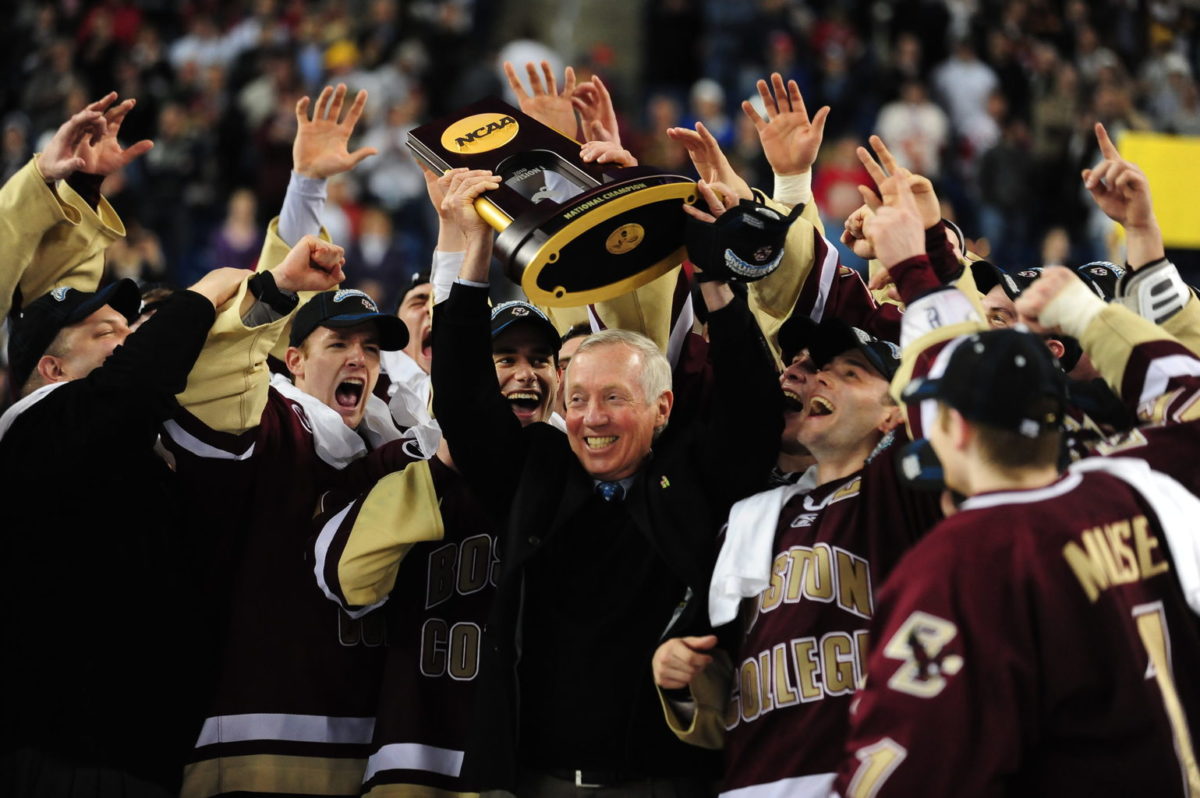 Two freshmen are making an impact this season at BC and the most impressive one is Andre Gasseau. Picked 213th overall and in the seventh round in 2021, is right behind Kuntar for fourth on the team in scoring with nine goals and 17 assists. He finished the regular-season strong with a goal in a split with the University of Connecticut on March 3 and 4. The 6-foot-4, 209-pound left wing has played most of the season with Kuntar and they have formed a very good connection.
Oskar Jellvik, picked 149th overall in the fifth round in 2021, has four goals and 13 assists in his first season for the Eagles after finishing with 26 goals and 29 assists for Djurgardens in the J20 Nationell last season. The 5-foot-11 and 181-pound left wing and center has come on as of late after adjusting to the college game. BC, which finished 13-15-6, will host UMass-Amherst Wednesday night (March 8) in the first round of the single-elimination Hockey East Conference tournament.
Bruins Prospects Quick Hitters
Like BC, the University of Minnesota-Duluth (15-18-1) has struggled this season, but it's not because of Quinn Olson, who the Bruins selected 93rd overall in the third round in 2019. In 34 games, he has seven goals and 15 assists, which includes two goals in a 4-3 win over St. Cloud St. on March 3. He is a senior and it will be interesting to see if he signs following the National Collegiate Hockey Conference (NCHC) tournament.
Mason Lohrei and Ohio State advanced to the B1G Ten Conference semifinals this upcoming weekend after beating Penn State in a quarterfinal-round series where he had two assists. In 36 games, the Bruins' top defensive prospect has three goals and 24 assists.
Boston University (24-10-0) sophomore Ty Gallagher, picked up a pair of assists in a sweep of Providence College on March 3 and 4. In 34 games, the offensive defenseman has three goals and 17 assists for the Terriers who won the Hockey East regular season championship and will head to the NCAA tournament later this month after the Hockey East tournament.
March is a grind of a month in the hockey world and for some of the Bruins prospects, some are playing to get into the NCAA tournament, while some are looking to get their teams to the OHL or AHL playoffs. March may be a long month, but there's plenty of hockey left for some of the Black and Gold's prospects.
---
---