The Ottawa Senators didn't make a lot of moves at the 2023 NHL Trade Deadline, but it was clear that they had their intentions on making this team better as they push for the playoffs this season. I will be grading each individual trade, as well as the deadline as a whole, and talking about the things they didn't end up doing.
Headed into the deadline, the Senators were coming off of a back-to-back pair of wins against the Detroit Red Wings, who they were battling for a spot in the wild-card race. This gave general manager Pierre Dorion enough faith in the team to establish themselves as buyers to bolster the roster for the possibility of playoffs.
Trading Tyler Motte for Julien Gauthier and Pick – B
Tyler Motte, traded to the New York Rangers, was a quality fourth-line player for the Senators, but didn't have much going for him in terms of production. After signing a one-year deal with the Senators in the offseason, he started the year out with a hot stretch of games, earning seven points in his first eight games. Since then, Motte has only scored three points, and is up to 10 points in 44 games this season. He is not an offensive player, but he needed to be contributing more than he was.
Julien Gauthier was acquired by the Senators, and while not quite being considered a reclamation project, he may have a better opportunity to reach his potential. Gauthier, like Motte, had been going through a tough point-less drought. Gauthier is a big body, has lots of skill, and is only 25 years old, but hasn't been able to put it all together in the NHL since being drafted 21st overall in 2016. He has good defensive and penalty-kill numbers, and will be a restricted free agent (RFA) after this season.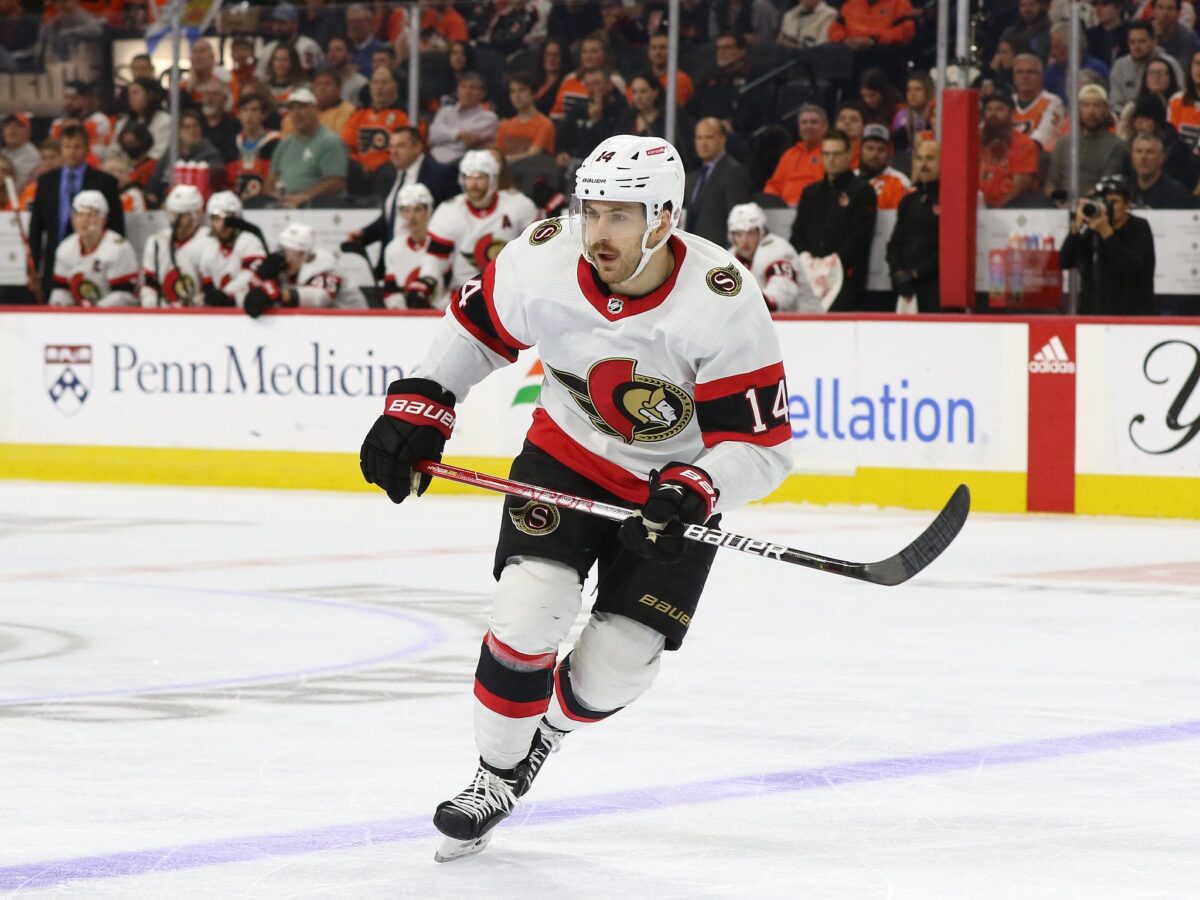 The draft pick Ottawa received was a conditional 2023 seventh-round pick that will upgrade to a sixth-round pick provided the Rangers make it to the second round of this years' playoffs.
This kind of trade isn't going to move the needle for either team, but the Senators came out with what will likely be a sixth-round pick, and an RFA that may still have a sliver of potential. Moving Motte wasn't a hard decision. His game was appreciated, but it was unlikely that the Senators would bring him back in the offseason. This trade receives a B- and was a tidy piece of work for Dorion.
Zaitsev Dumped Along With Second-, Fourth-Round Picks – C+
This needed to happen. I am not going to dive too deep into this one, as the conversation has come up a bazillion times, but the Senators needed to get the Nikita Zaitsev contract off the books before next season, and they finally found a team that would bite, trading him to the Chicago Blackhawks.
Paying a second- and fourth-round pick to move this contract was a hard pill to swallow for Dorion, but it had to be done, and it cleared up almost the exact amount of money for the Senators' biggest acquisition at the deadline. I will give this a C+; it could have been a lot worse, and while it couldn't have been much better, again, it had to happen.
Acquiring Patrick Brown for 6th-Round Pick – C
Dorion mentioned a few times that he would like to upgrade the center position. In the final minutes before the trade deadline, the Senators announced they had traded a 2023 sixth-round pick to the Philadelphia Flyers for Patrick Brown. The addition of Brown was a minor move, but it gave the Senators some more options down the middle, and Brown has some pretty good defensive numbers, too.
Related: Senators Will Get Instant Value With Chychrun Trade
---
Latest News & Highlights
---
To pay a late draft pick for an NHL-calibre center as you push to the playoffs is a good sign for the team. They are not ready to go down with injuries and need to call-up a non-NHL-calibre player as they hunt for a playoff spot. I like what Brown can bring to the bottom six, as he is a reliable shut-down option, and while he doesn't bring much offense, deployment will determine how successful his tenure in Ottawa will be.
This was a small trade, adding some depth to the team, so it deserves an average grade, C.
Acquiring Chychrun for Three Draft Picks – A+
After all of the talk about Jakob Chychrun over the past 18 months, it finally happened. The Los Angeles Kings seemed to have acquired him a few weeks ago, but that deal fell through, and after sitting out for two weeks worth of games, Chychrun was finally ready to hit the ice in his home away from home, Ottawa.
It always made sense for the Senators to acquire Chychrun; they had a team ready to compete, but missing one big piece on the back end. Chychrun fills everything the Senators needed. He is big, strong and physical. He has a rocket of a shot, great offensive instincts, and plays excellent defense. I use the word "issue" very loosely here, but the only issue with the acquisition is that he, like Thomas Chabot, Jake Sanderson and Erik Brannstrom, is a natural left-shot defenseman. I have no doubt that he can make the transition seamlessly, and it will not be an issue for one of them to move over.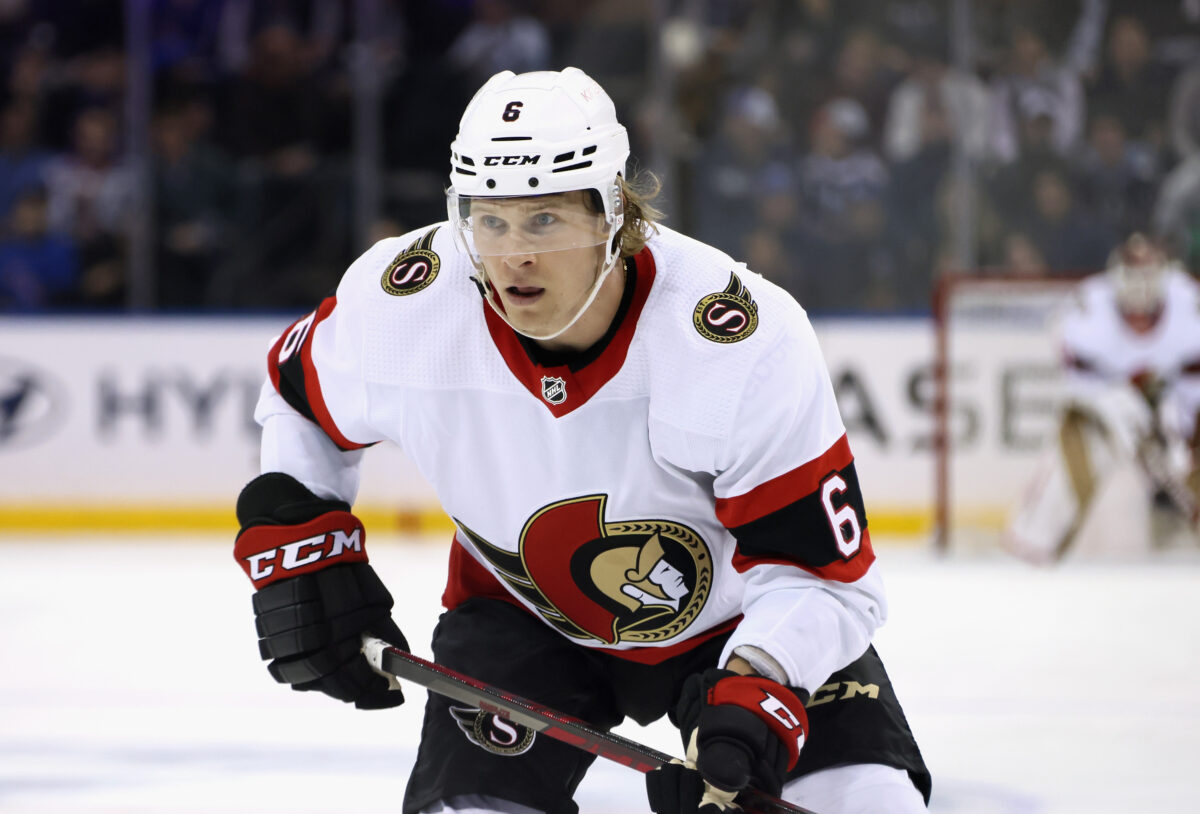 I expect the long-term play is to have a top-four defensive group of Chabot and Zub together, and then have Sanderson on the left and Chychrun on the right. Those are two elite pairings, and most teams are lucky to have one of that calibre.
The cost for Chychrun was significantly lower than anticipated. Only giving up a 2023 first-round pick (top-five protected, moves to 2024 if conditions are met), a 2024 second-round pick (upgrades to 2024 first-round pick, top-10 protected, if the Senators reach the 2023 Eastern Conference Final) and a 2026 second-round pick.
Draft picks are always a hot commodity, especially as high as these ones, but the rumor was that the price would have to include a combination of draft picks, Shane Pinto, Ridly Greig or Mads Søgaard. This was not going to happen with any of those players involved, and somehow Dorion got Arizona Coyotes general manager Bill Armstrong to bite on this deal.
It is worth noting that while it was good value for Dorion to acquire Chychrun, those draft picks coughed up are not insignificant. In a deep first round in the 2023 Draft, it could pan out to be a very good player, but if you are lucky with that draft pick, you may get a player as good as Chychrun. The two second-round picks are likely to stay that way, which is fine. The 2024 pick was from the Washington Capitals, which was acquired for Connor Brown.
This trade is a home-run. Easily an A+, not only just based on the value the Senators got Chychrun for, but the fact that is solves so many issues the team had on the blue line.
Deadline As a Whole – A-
The Senators made three moves that had to happen. Center depth, dumping Zaitsev and acquiring a defenseman. The Motte deal didn't have to happen, but it makes sense why it did. The Senators didn't lose a single trade, and the amazing deal Dorion pulled with the Coyotes acquiring Chychrun gives a huge bump to this letter grade.
It is clear that the team is eyeing the playoffs, and they have made the right moves to get there.
---
---