Playoffs have begun and the Boston Bruins have certainly found ways to make things interesting and keep everyone on their toes. After a resounding victory in Game 1 and a disappointing effort in Game 2, they came back with a vengeance in Game 3, showing that they can find ways to win even with their top two centers, Patrice Bergeron and David Krejci, sidelined.
Related: Bruins: Top 5 Moments From the 2022-23 Season
---
Latest News & Highlights
---
As a whole, the Bruins roster has certainly shown that they've come to the postseason ready to play. Thirteen players have registered at least one point through the first three games and the depth of the team has really shone through, particularly in Game 3. But while the team effort has certainly been present during the series against the Florida Panthers so far, three guys have stood out the most.
Tyler Bertuzzi
It is obvious that Tyler Bertuzzi has been waiting for the opportunity to play in the postseason. Since becoming a full-time NHLer in the 2018-19 season with the Detroit Red Wings, he has not had the opportunity to participate in playoff hockey. But given his success in the postseason during his junior career, it's clear he's the type of player that thrives when the pressure is on and the game gets a bit nastier.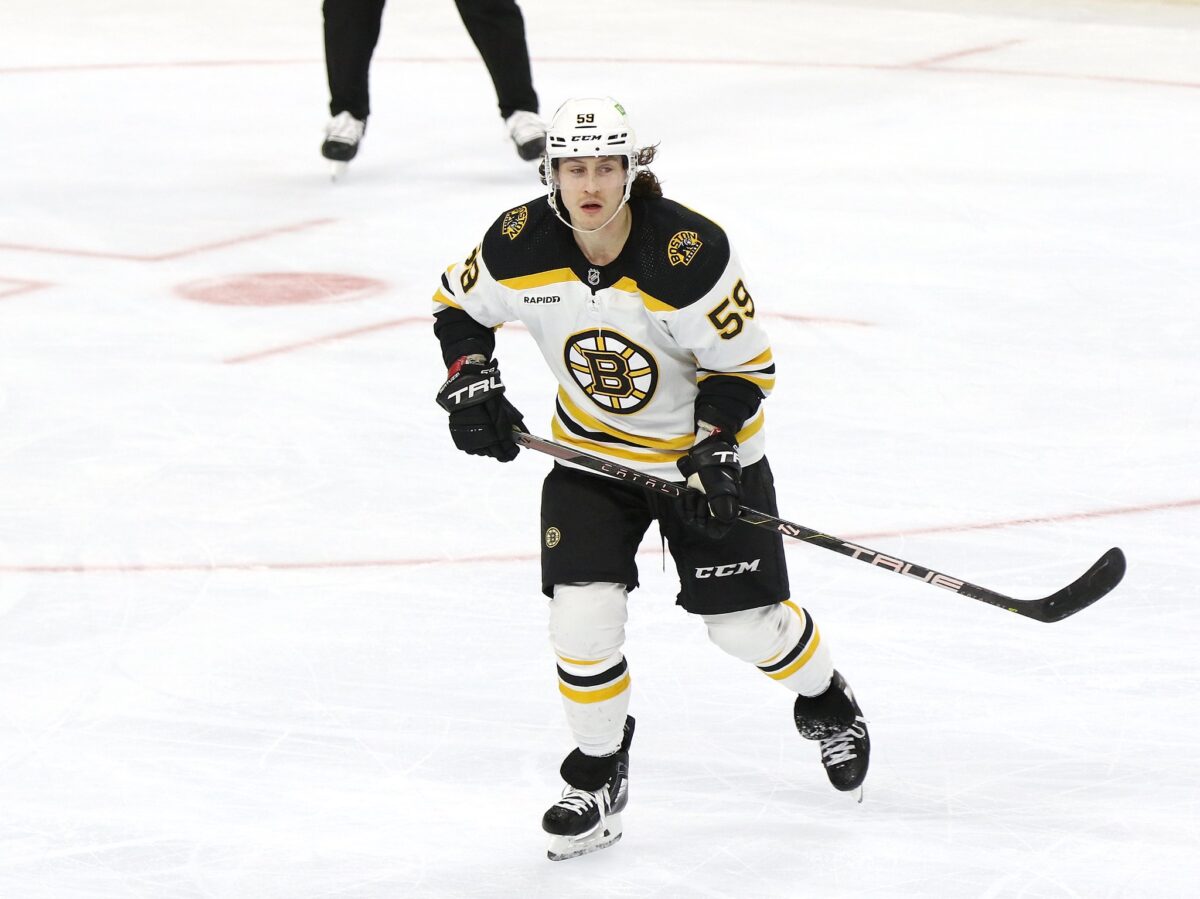 He is currently tied for the team lead in points with four, including one goal, in the first three games. Every time he's on the ice, you can't help but pay attention to him. He's found some great chemistry on the ice with David Pastrnak and Pavel Zacha. Additionally, he's been getting some power play time, which continues to be a source of struggle for the offense. 
Besides the great play on the ice, he's also shown to be a disciple of the Brad Marchand school of causing a ruckus during the playoffs after taking Nick Cousins' stick with him to the Bruins' bench during the third period. It's a move that Marchand himself has commented on, calling him a "greaseball."
Dmitry Orlov
At the time of the trade deadline, many gave general manager Don Sweeney a winning grade for his acquisitions of Dmitry Orlov, Garnet Hathaway, and Bertuzzi. The winning grades are holding up so far as his acquisitions have certainly made their presence known early in the playoffs. 
Orlov is tied with Bertuzzi for the team lead in points so far in the postseason with four assists. He was one of the few defensemen that really seemed to show up to play in the disastrous Game 2 and has shown that he's not afraid to play physically, which is needed this time of year. In Game 3, he had two great outlet passes that were instrumental in becoming goals.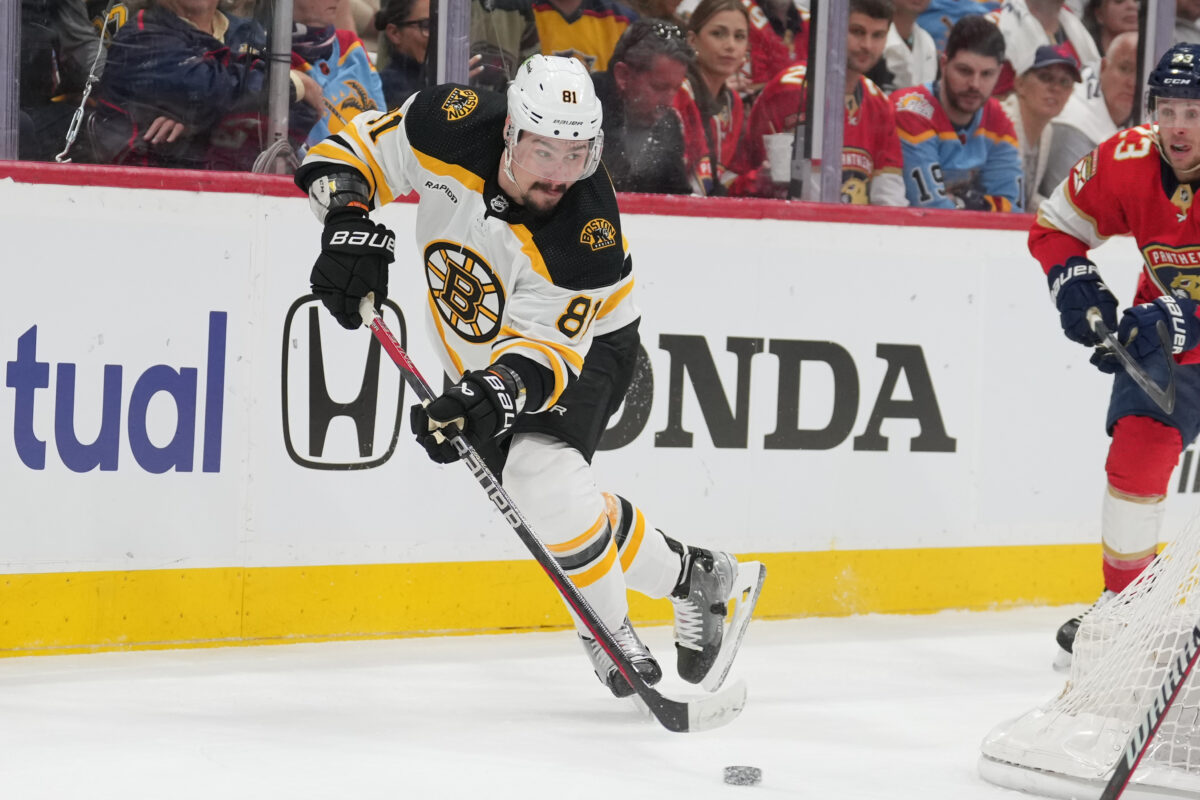 But you don't need stats and points to tell that Orlov has been playing well. Just from the eye test, he has clearly been one of the best guys on the ice through the first three games. From his very first game in the Black and Gold until now, he has been ready to play. His recent performances showcase why the team valued him so highly at the deadline.
Charlie Coyle
Charlie Coyle earns himself a spot on this list purely for his incredible performance in Game 3. With the Bruins down Bergeron and Krejci, it was clear that someone was going to have to step up. But Coyle did more than just step up, he completely took control of the game. He was the best player on the ice amongst both teams on Friday night and deserves the accolades he is receiving for the performance.
He may only have one goal so far in the series, but he registered five shots in Game 3 that were all really good looks. In addition, while he didn't register a point in Game 1, he also had some good shots on goal there too. Like most of the team, he did not have a great Game 2, but he more than made up for it in Game 3. It was probably one of the top three performances I've ever seen from him on the ice, even if he did only register one point on the stats sheet.
Bruins' Depth is Showing Up
I've said it all season, but the Bruins are different this season, despite a pretty similar roster, because of the depth they've shown. The return of Krejci, and the addition of Zacha were the only two real big changes to the roster when the season started. But, they helped solidify the forward lines and allow guys to be in spots where they can truly succeed, and when necessary, these guys have been ready to step up. 
Related: Bruins' Depth Tested and Prevailed in Game 3
Take Coyle for example. He is not a number one center on a nightly basis but was able to step into the role and put together a monstrous performance. In the past, guys haven't been able to do that. If Pastrnak, Bergeron, and Marchand weren't on the top of their games, the forwards struggled to generate offense. 
None of this is to say that the top guys have not been great so far, they have. Marchand, Pastrnak, DeBrusk, and McAvoy have all demonstrated so far why they are core pieces to this team. But their play has not stuck out as much as Bertuzzi and Orlov have all series or like Coyle's Game 3. With Game 4 upon us, it'll be interesting to see if the same guys will step up again, or if someone else is gearing up for a great performance. 
---
---