The Boston Bruins rounded out their strong showing at this year's trade deadline with the acquisition of Tyler Bertuzzi from the Detroit Red Wings. The addition came on the heels of injuries to Taylor Hall and Nick Foligno. Hall was moved to long-term injured reserve (LTIR) with a lower-body injury, but all signs are still pointing to him returning for the playoffs.
Related: Bruins' Already Reaping Benefits from Orlov Addition
---
Latest News & Highlights
---
In the meantime, the Bruins acquired an interesting forward in Bertuzzi who scored 30 goals last season. He's in the final year of a two-year deal that carries an average annual value of $4.75 million. Most likely he will just be a rental and will depart this summer, but in the meantime, he has the potential to be an incredibly impactful player for the team down this final stretch and into the postseason.
Road to the NHL
Bertuzzi was born in Sudbury, Ontario on Feb. 24, 1995. The left wing comes from an NHL family as his uncle is Todd Bertuzzi, who had a long NHL career spanning from the 1995-96 season through 2013-14, ending his career where Tyler's began in Detroit. 
Bertuzzi played his junior hockey career in the Ontario Hockey League (OHL) for the Guelph Storm. In four seasons in Guelph, he played 201 games and registered 71 goals and 172 total points. In the two seasons leading up to his draft year, he was mostly known for his physical playing style. He had 117 penalty minutes in 2011-12 and 68 minutes in 2012-13. He wasn't afraid to fight and make the big hits. 
Leading into the 2013 NHL Entry Level Draft, he was considered to be very much a grinder of a player. He was ranked 207th overall for North American skaters by NHL Central Scouting. Bertuzzi was not turning heads leading up to his draft year, which was why it was puzzling to many when then-Red Wings general manager, Ken Holland, selected him in the second round at pick number 58. He was the team's third selection of that draft, taken behind Anthony Mantha and Zach Nastasiuk.
---
---
There were many questions about what Bertuzzi's future in the NHL would look like if he ever got there. The season following his draft in the OHL saw him miss 25 games due to head and neck injuries that stemmed from fights. At the 2014 Red Wings development camp, he got in an on-ice fight with Nick Jensen that led to Jensen missing four months for shoulder surgery. Given that so much of his game was based on fighting and playing physical, with his injuries and fighting on the way out, it wasn't clear if he would become an impactful player or not.
Luckily for Bertuzzi, he had a breakthrough in his final season in the OHL and found his offensive game. He scored 43 goals and 98 points in 68 games while also serving the Storm as an alternate captain. When the team was eliminated from the playoffs, he made his professional hockey debut, joining the Red Wings' American Hockey League (AHL) affiliate, the Grand Rapids Griffins, for the playoffs. His offensive game continued to improve at the professional level. In 14 playoff games, he had 12 points and seven goals.
Growing His Game in Detroit
After spending the entirety of the 2015-16 season playing in the AHL, Bertuzzi made his NHL debut during the 2016-17 season. He played in seven games that season and didn't register any points. He spent the majority of it playing in the AHL for the Griffins, helping them win the Calder Cup that year. During the 2017 AHL Playoffs, he had 19 points in 19 games. The following season he played in 16 NHL games. He scored his first NHL goal on Jan. 14, 2018, against the Chicago Blackhawks.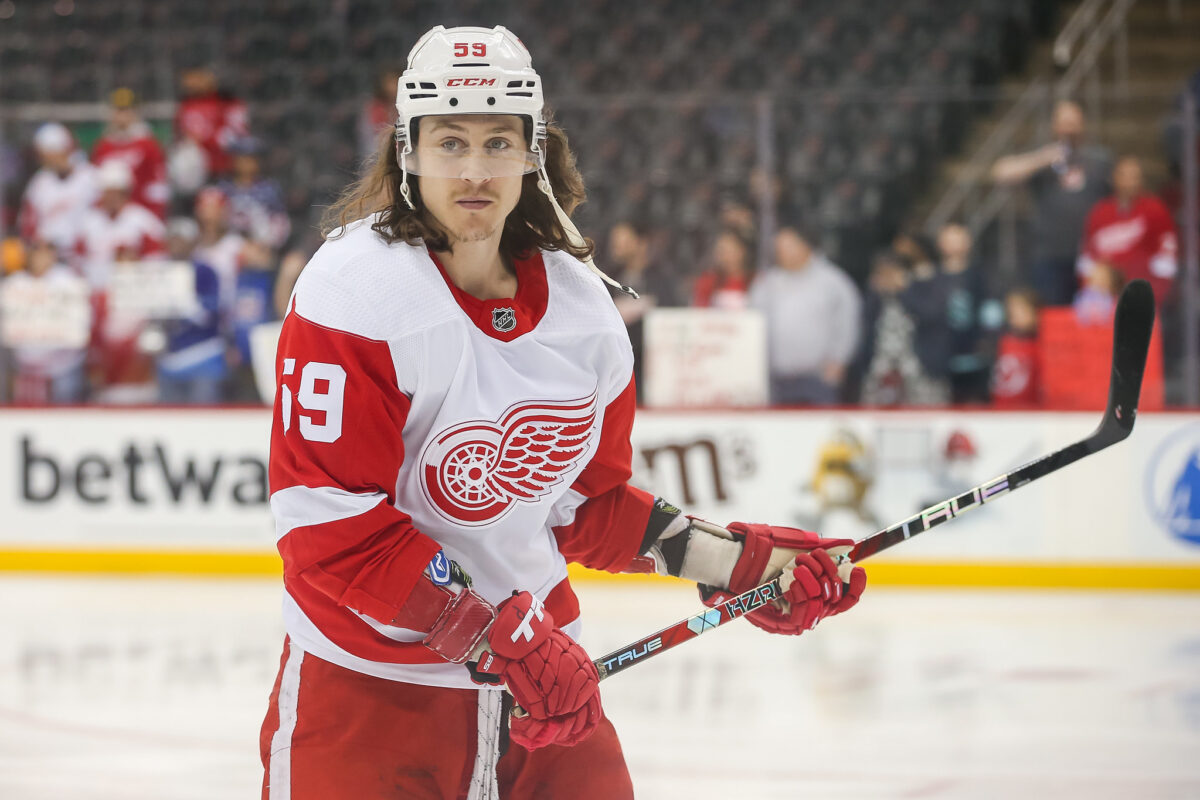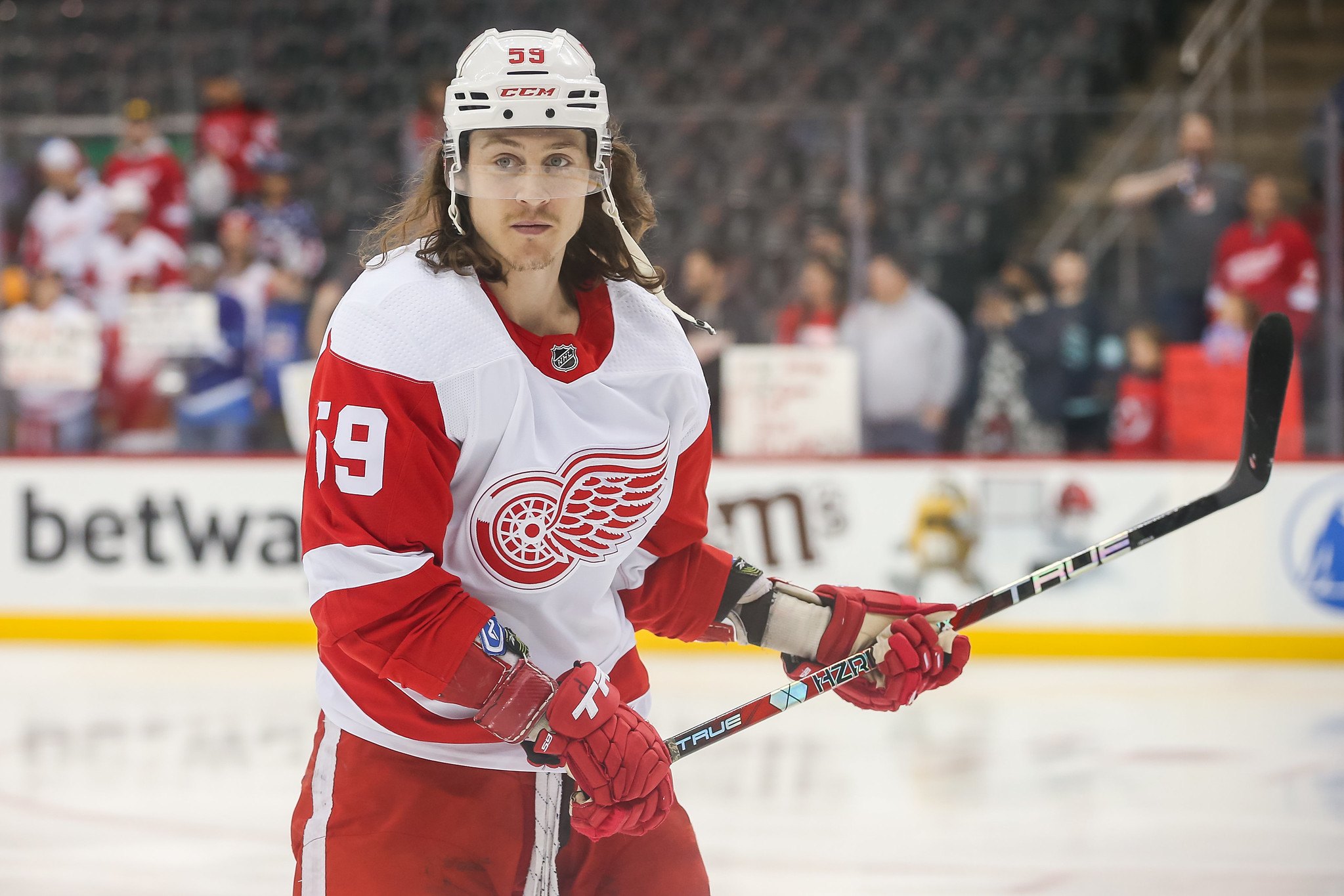 He continued to show flashes of potential, but did not become a full-time NHL player until the 2018-19 season. Still, he started to earn a reputation as a streaky player. He could go on a tear for a stretch of games and then disappear from the scoresheet for the next month. There was always a sense that he was on the edge of finally putting it together, but couldn't quite reach that point. He was also hampered by injuries, playing only nine games in 2020-21 after dealing with back issues. 
Finally in 2021-22, he was able to put it together and have his best season yet. He had 30 goals and 62 points in 68 games, missing a number of games that season due to him being unable to play in Canada because he was not vaccinated for COVID-19. So far in 2022-23, he has been limited to only 35 games, 29 in Detroit and six in Boston, due to hand injuries. Back in December, he had surgery on his left hand.
What Bertuzzi Brings to the Bruins
As mentioned, Bertuzzi is coming off of a career-high in 2021-22, but has been hampered by injuries so far this season. In 35 games, he has only four goals and 17 total points. While this has not been the greatest of seasons for him, he is someone to keep an eye on in the playoffs. Throughout his career, he has had some of his best stretches of games when the postseason hits. He had 17 points in 18 games for the Storm in the OHL during the 2013-14 season. That performance came after a regular season where he had been hampered by injuries as well.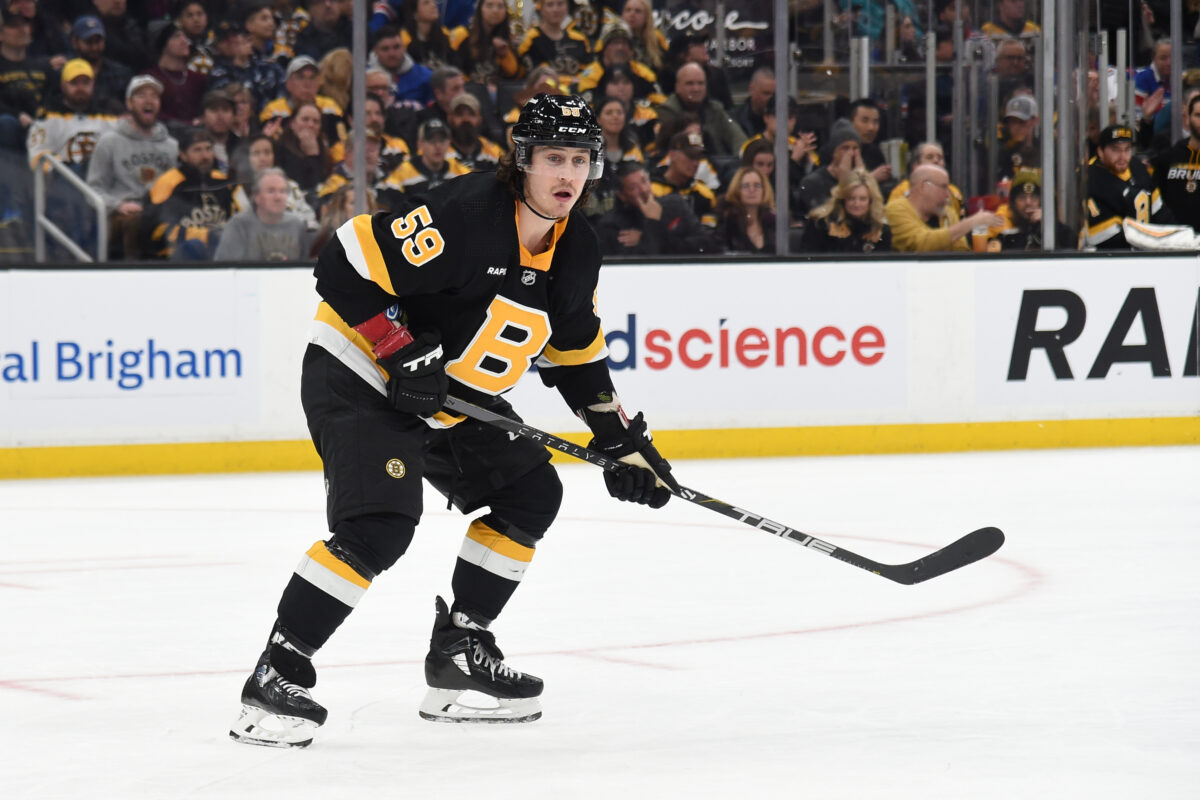 Bertuzzi has not had the opportunity to play in the postseason in the NHL yet in his career. But given his history, the Bruins should have high hopes for him when the calendar flips to April. In his first six games in Boston, he's already found comfort on the third line, scoring three assists in those games. When Hall and Foligno return, this team's offense is truly going to be something to reckon with. 
In addition to contributing points during the postseason, the Bertuzzi signing is another signal that the Bruins are ready to bring some heat to the postseason. He's a player that's unafraid to make a big hit. Along with the signings of Garnet Hathaway and Dmitry Orlov, and the presence of Trent Frederic already on the roster, this is a team that is ready for the physical style of play that accompanies the NHL playoffs. 
Related: Diving Deep: Bruins' Matt Grzelcyk, the Hometown Kid
Again, given the tight cap space for the Bruins and his injury history, I would not expect Bertuzzi to stay beyond this season. But he has the potential to be the perfect rental player – a guy who can contribute in the postseason and be the extra push for the team to get through the tough opponents ahead.
---
---