Through five games of their first-round series against the Florida Panthers, the Boston Bruins have been led offensively by a surprising forward. While many expected David Pastrnak to follow up his outstanding regular season with an equally impressive playoff performance, that hasn't happened in the series. Instead, the former Hart Trophy winner, Taylor Hall, has elevated his game to the highest level since being acquired at the 2021 NHL Trade Deadline. The Bruins gifted forward leads the series with five goals and three assists while remaining in more of a depth role for the club. While Hall has produced at an elite level earlier in his career, should we be surprised by his start to the 2023 Stanley Cup Playoffs?
---
---
Bruins' Hall Provided Clutch Performances Early in the Season
Hall was placed on the Bruins' long-term injured reserve after sustaining a lower-body injury on Feb. 25 in a game against the Vancouver Canucks. The injury caused Hall to miss 20 games before he could get back into the lineup on April 8 against the New Jersey Devils. Before suffering the injury setback, Hall had 16 goals and 20 assists for 36 points in 58 games. However, his point total is somewhat deceiving to the role he played for the Bruins in the season's early stages. Following the Christmas break, Hall had struggled offensively, scoring three goals and six assists for nine points in the 25 games leading up to his injury. This leads us to wonder if he hadn't been plagued by the lower-body injury for some time before coming out of the lineup in February.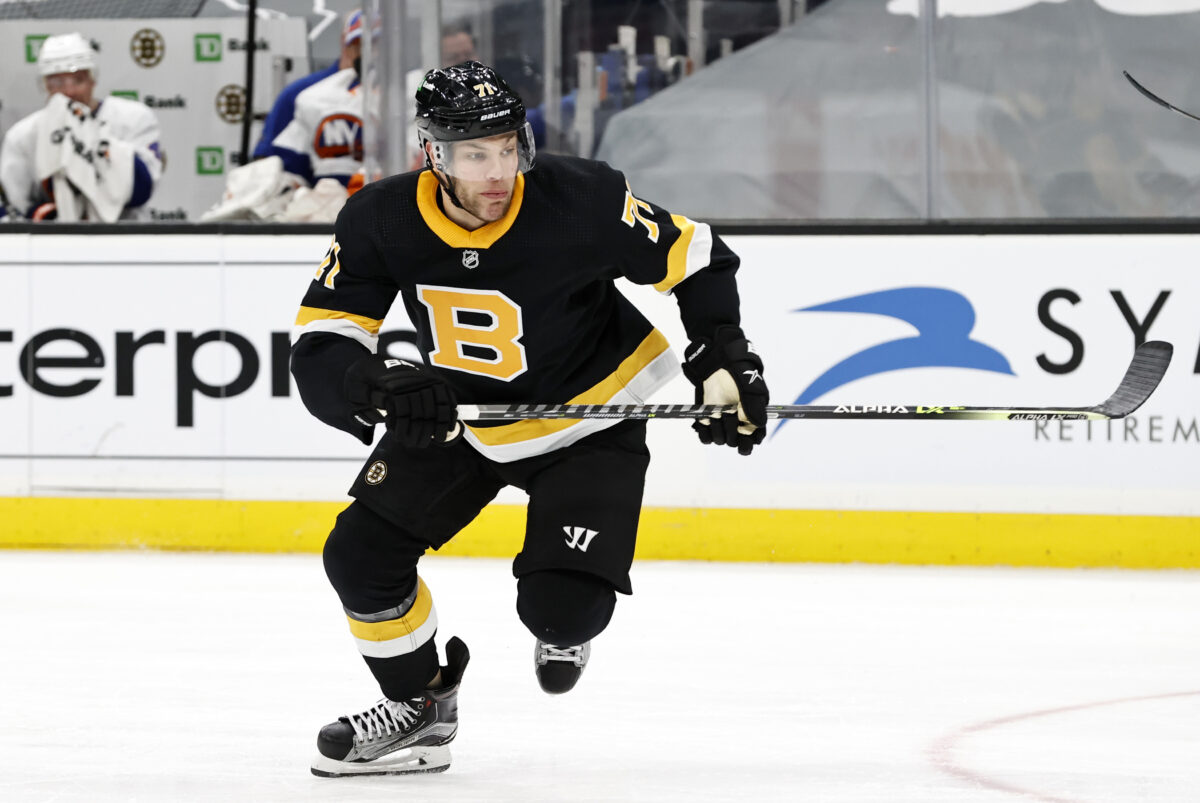 Before the Bruins' Christmas break, Hall enjoyed a productive season while playing on the third line. He had 13 goals and 14 assists for 27 points in 33 games, putting him on pace for 32 goals and 67 points over an entire 82-game season. Those totals would've been the highest goal and point total going back to his 2017-18 season with the New Jersey Devils when he was named the Hart Trophy winner as the NHL's most valuable player. To top it off, five of his 16 goals were game-winners as he developed a knack for providing some clutch performances in the season's early stages.
Hall Enjoying Most Productive Postseason of His Career
Although we are only five games into the opening round of the 2023 Stanley Cup Playoffs, Hall has already surpassed his previous career highs in the postseason. He scored just three goals for the Bruins through 11 games played in the 2021 Playoffs and posted six points in 2018 with the Devils and 2020 with the Arizona Coyotes. After being selected 1st overall by the Edmonton Oilers in the 2010 NHL Entry Draft, he spent six tumultuous seasons with the Oilers, failing to make an appearance in the Stanley Cup playoffs with the club. In fact, Hall had to wait eight long NHL seasons and 529 games before even getting a sniff of playoff action.
Related: Bruins' Depth Creates Healthy Internal Competition
---
Latest News & Highlights
---
After returning from the knee injury, one had to wonder how his explosive speed would be affected, and up to this point, Hall definitely has his skating legs back. He has used his speed to gain entries into the offensive zone and has created many odd-man rushes through the series. Hall displayed his wheels and elite finish in Game 4 with this breakaway beauty. He finished the game with two goals and two assists, leading the Bruins to a 6-3 victory.
Although his total playoff experience is quite limited clearly, we see an elevated level of play from Hall this far into the series. While the production rate is just a short sample and highly unsustainable throughout an entire regular season, his eight points in five games would put him on pace for a 131-point season. This point only highlights how valuable he has been to the club, and the Bruins will be looking for him to continue his stellar play as they attempt to close out the series in Florida tonight. Whether it may be that he needed time to learn what playoff hockey is all about or that he knows this may be his best shot at winning a Stanley Cup, his performance has been huge for the Bruins.