It's a bit strange to say about a player who is only 26 and has been in the NHL for less than 10 years, but Pavel Zacha has had a resurgence to his career since his trade to the Boston Bruins from the New Jersey Devils during the 2022 offseason. The sixth overall pick in the 2015 NHL Entry Draft, he did not have a smooth transition to the NHL and struggled to live up to expectations and his potential. 
Related: Bruins Shouldn't Trade Linus Ullmark This Season
---
Latest News & Highlights
---
Last season though turned into a breakout performance from him. He was moved out to the wing and got valuable minutes and experience playing with both Patrice Bergeron and David Krejci. With the retirement of the two centers this past offseason, Zacha returned to the center spot, taking over for Bergeron on the first line.

There were of course concerns about whether or not he was up for the task, and whether or not he could match his terrific 2022-23 season. But so far in 2023-24, he's been putting those doubts to sleep. While he may not be the next Bergeron (not that anyone was ever really going to be able to completely replicate his elite play), Zacha has shown that he is capable of playing in the first-line center role and that last season was not a fluke.
Stepping Up in 2023-24
It's been said many times, but the center position was quite a concern for the Bruins coming into this season. With Bergeron and Krejci's retirements and seemingly no prospects ready to make the leap to the NHL at the center position, Zacha and Charlie Coyle were the guys that were to presumingly take over the first and second line center positions, though it was uncertain who would play where.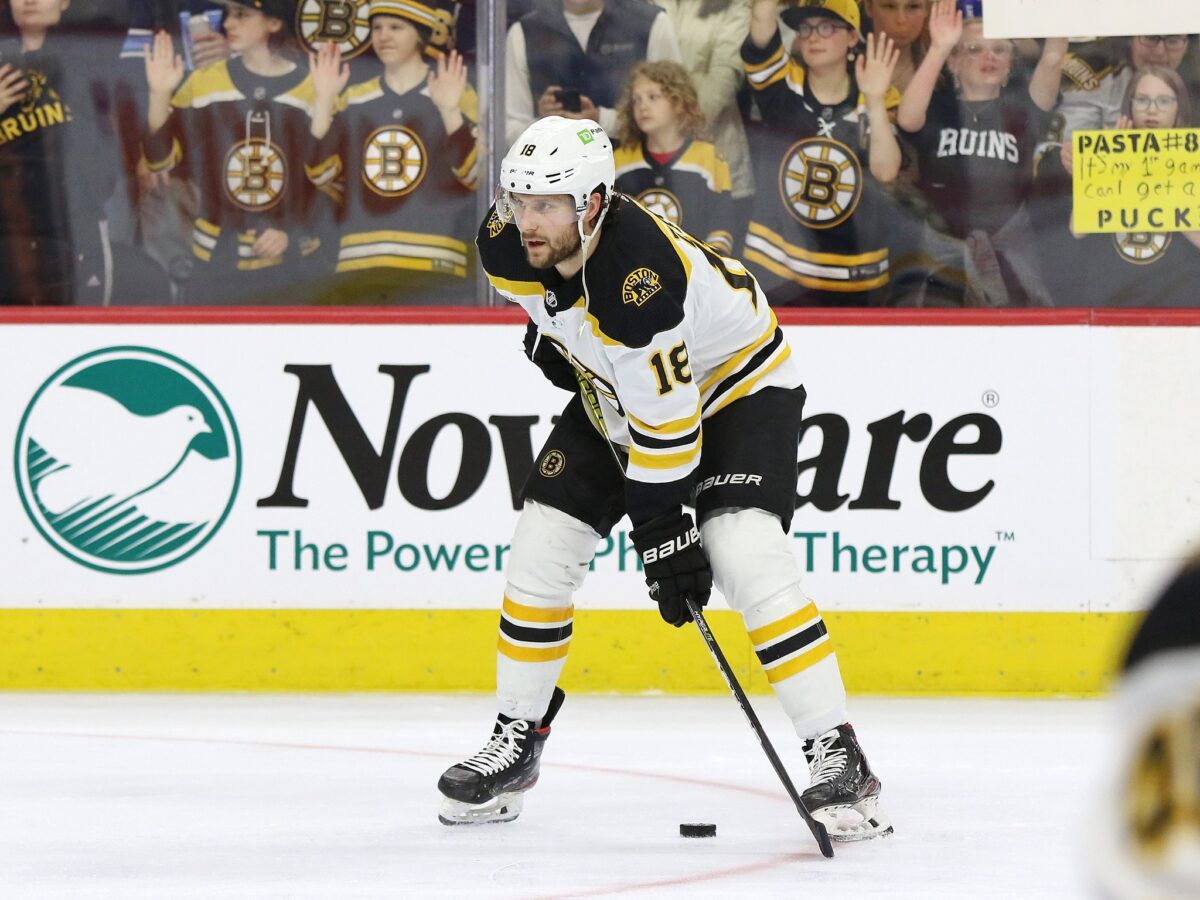 As mentioned above, Zacha spent the majority of last season playing on the wing, and back in the 2021-22 season when Krejci played in Czechia, Coyle was the guy that was expected to step into his second-line center position, but didn't find much success there. But while there were reasons to be concerned about center depth, so far in 2023-24, guys have stepped up and exceeded expectations through the first few weeks of the season. Matthew Poitras, the Bruins' 2022 second-round pick, has obviously been a pleasant surprise making the roster as a 19-year-old and being impactful as the second-line center. Coyle has remained on the third line and continues to perform very well there. 
But out of all the centers, Zacha has been the one to step up the most in 2023-24. The first line of him, David Pastrnak, and Brad Marchand has been excellent all season. They have been momentum changers, and even when they are not in top form, which is bound to happen over the course of an 82-game season, they still find ways to be impactful players. 
Bergeron's shoes are not an easy thing to fill, but Zacha is becoming a legitimate first-line center in his own way. He has stepped up into the role, helping to solidify and create consistency amongst the forward lines.
Zacha Number Comparisons
Through 16 games in 2023-24, Zacha has six goals and 13 points. This puts him on pace to finish the season with 60-plus points for the first time in his career. In addition, he's a plus-8 and has seen his faceoff win percentage rise to 51.3%, well above his career average of 46.4%, and his shooting percentage is at a career-high 18.8%.
In comparison to other centers around the league, he has the same amount of points as Roope Hintz (13 points, 15 games, Dallas Stars) and Ryan Nugent-Hopkins (13 points, 16 games, Edmonton Oilers). He's above Elias Lindholm (12 points, 17 games, Calgary Flames), who has been tossed around as a guy the Bruins may want to acquire. He's also above Tage Thompson (12 points, 16 games, Buffalo Sabres), and Pierre-Luc Dubois (nine points, 16 games, Los Angeles Kings). In addition, he's not far behind centers like Bo Horvat (14 points, 16 games, New York Islanders) and Sebastian Aho (15 points, 14 games, Carolina Hurricanes).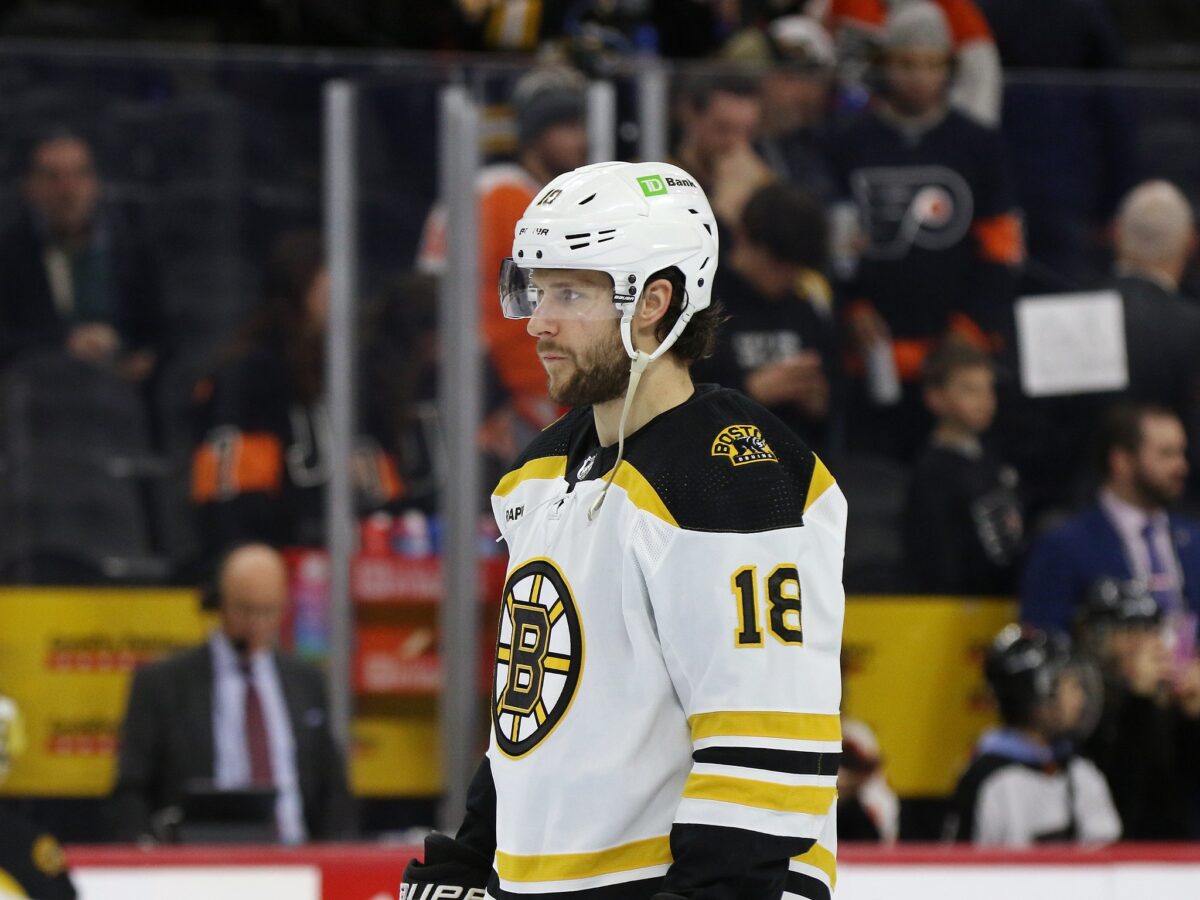 Zacha's faceoff win percentage is right on par with Mark Scheifele (Winnipeg Jets) and Evgeni Malkin (Pittsburgh Penguins), two talented centers in this league.
Zacha might not have the most exciting numbers as some of the top centers like Elias Pettersson, Leon Draisaitl, or Mikko Rantanen, but his numbers are solid through his first 16 games. He's right on par with many of the centers that play in a top-six spot throughout the league. By the eye test, he seems to be getting more comfortable in the position. Barring any injury, I think it is perfectly reasonable to expect 60-plus points from him when the regular season is over and done, which would be a phenomenal showing from a guy who had never surpassed 40 points in a season prior to his arrival in Boston.
The First Line Center
The Bruins also don't need him to be the guy who's in the top ten for points in the league, they already have that in David Pastrnak. It would be nice, sure. But, most importantly, they need a guy with a solid two-way game who can bring consistency and play well with Pastrnak and Marchand. Zacha has proven that through the start of the 2023-24 season. 
Related: Bruins' Pastrnak Chasing Historic Goal-Scoring Company
He may not be the biggest, most exciting name at the center position in the NHL, but he's solid. The Bruins offense, while not flawless, has been pretty great so far this season. Zacha has risen to the challenge of being the first-line center and is playing more and more every day like what one would expect from a former top-ten draft pick. 
He may never be one of the best centers in the league, but he's a good hockey player who has really carved out a comfortable spot on this Bruins' roster.