For Buffalo fans hoping to see the Sabres bolster their offense, that finished 22nd in 2013 in goals for per game with just 2.46, it was a disappointment at the 2013 NHL Entry Draft on June 30 in New Jersey.  There were no big splashes, yet the team tipped their hand that they believe in the motto that "defense wins championship." Yet after the attention to defense, the Sabres started to address another need down the middle. By the end of the draft they had selected five centres, three defensemen, two right-wingers, and a goalie. Here is a rundown of what the Sabres did on draft day and what fans can expect out of these picks in the future.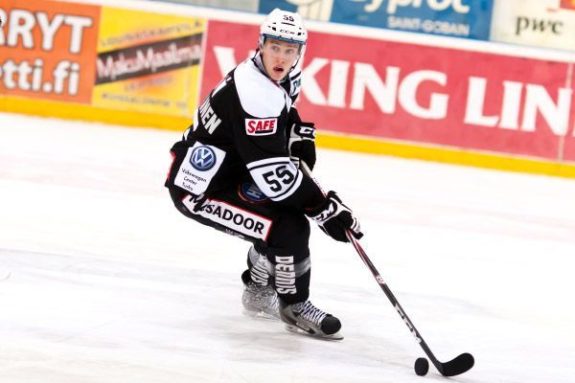 Rasmus Ristolainen
With their first pick, eighth overall, the Sabres went with 6'3, 201lbs, Finnish defenseman Rasmus Ristolainen. One of the key's to this pick is that Ristolainen has been playing in the in the Finnish Elite League for the past two seasons for TPS Turku. His size makes him NHL ready, as does the fact he has already competed with men. Elite Prospects says, "He is a calm player with good two-way ability and a mature style of play. He moves the puck with confidence, has a good shot from the point and has displayed ability to work the power play." Where he needs to improve is his defensive awareness.
Ristolainen seems to be a well-rounded prospect as scouts have also touted the physical component of his game and discipline. TSN's Craig Button, in TSN's final draft rankings, believes Ristolainen is more than capable of being a top four in the NHL.
Nikita Zadorov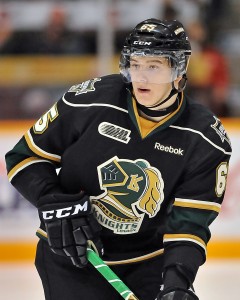 With their second first round draft pick (16th overall), which the Sabres acquired from Minnesota in the Jason Pominville trade, the Sabres again went to bolster their defense by selecting Russian Nikita Zadorov. Zadorov spent last season with the Ontario Hockey League's London Knights. TSN actually had him ranked 11th in their June rankings, so if this was a player that the Sabres were high on, having him available must have seemed like a steal. Much like Ristolainen, Zadorov is a big blue liner at 6'4, 200 lbs. For a big player, Zadorov gets credit for his skating, which allows him to be able to jump into the rush but also keep control in his own zone. He also has a good physical presence and heavy shot.
Hockey's Future points to his physical play and ability to clear out his crease as a strength, but notes that his willingness to land the big hit can be a weakness and take him out of the play.
McBain/Sekera Trade
After making their first two picks, the Sabres traded defender Andrej Sekera to Carolina for defenseman Jamie McBain and a second round pick, which the Sabres used on J.T. Compher. In addition to the draft pick, the deal does give the Sabres some flexibility after next season. McBain has just one year left on his contract as opposed to Sekera who has two. In the short-term, the deal is almost even money, with McBain making slightly more with a cap hit of $1.8-million compared to Sekera's $1.75-million. At the conclusion of McBain's contract, he will be a restricted free agent, Sekera will be unrestricted.  The two players have very similar career stats, Sekera has played in slightly more games, 339 to 206, yet has fewer goals, 17 to McBain's 19, but does get the edge in points 92 to 75.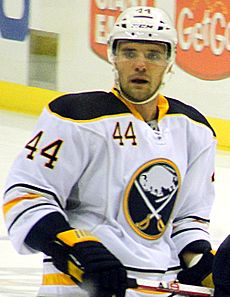 Overall, this deal gives the Sabres a similar asset, plus the draft pick, along with flexibility.  With their organizational depth continuing to build on defense, they can open up a spot for the young blue liners to step in.  Not only can they build their back end from within, but with so much strength at that position, the Sabres will be able to use some of their defenders to facilitate deals for offense.
The Rest Of The Sabres' Picks
With the Carolina pick, 35th overall the Sabres get Compher, a 6', 165lbs centre out of the U.S. National Development Program. He has shown the ability to put up points at whatever level he plays.
Also in the second round, 38th overall, the Sabres took 6'1, 172, American centre Connor Hurley, who appears to be more of a playmaker.
With their third pick in the second round, 52nd, the Sabres went local drafting Buffalo native and another centre, Justin Bailey. Bailey posses great size at 6'3, 186lbs. His main attribute, other than size, according to Hockey's Future, are his hands. He still needs to fill out and use his size, but could be a good player for the organization moving forward.
With their only third round pick, 69th overall, the Sabres went with right winger, Nicholas Baptiste from the Sudbury Wolves. He too possesses good size at 6'1, 189lbs and is a solid two-way forward who has improved his defensive game to compliment his offensive.
In the fifth round, 129th, the Sabres added American goaltender in Calvin Petersen. Scouts says Petersen possess good size and uses it to make him an effective butterfly goalie. He still needs to develop and he will get that chance as he moves on to play college hockey at Norte Dame next season.
Also in the fifth round, the Sabres took Swedish right-winger Gustav Possler. Possler spent time last season in the Swedish Elite League, the second division and junior division. He is a smaller winger at 5'11, 167lbs, but he is gifted offensively with a quick release and finishing ability, according to Elite Prospects.
With their final fifth round pick, 143rd, the Sabres took defenseman Anthony Florentino who played high school hockey last season. He has shown that he can be an offensive defenseman at the levels he has played.
It was back to centres in the sixth round, 159th overall, with the selection of Buffalo native Sean Malone. Malone is currently with the U.S. National Development Program and has committed to Harvard for the 2014-15 season.
Finally, with their final pick in the seventh round 189th overall, the Sabres selected centre Eric Locke from the Saginaw Spirit. Locke is on the smaller side at 5'10, 183lbs, but he did put up 97 points in the OHL last season.