While the immediate on-ice future of the Calgary Flames is anything but predictable, one constant that will remain part of the organization going forward is the continuation of the Forever a Flame program.  The controversial honorary process was first implemented this past winter when former Flame defenseman great Al MacInnis saw his number "honored " before a game against the St. Louis Blues on February 27th.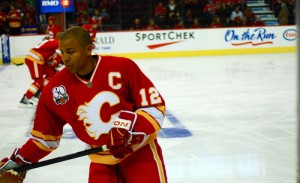 While MacInnis being honored is certainly an obvious move by the franchise, that fact in which he was honored is unfortunate and the Forever a Flame program will most certainly serve as a major player in granting future honorees such as Joe Nieuwendyk, Theoren Fleury, and Jarome Iginla underwhelming recognition as the program chooses to honor rather than permanently retire the jersey numbers of those selected.  As such, Al MacInnis' #2 would be available for a future player as may Jarome Iginla's #12 and/or Theoren Fleury's #14.
This new lethargic honoring system is also done by the Toronto Maple Leafs although they carry it out understandably as their franchise was founded in 1917 and the sheer magnitude of players deserving of a number retirement over that span would leave the current number rotation too limited.  For the Flames to operate in a similar manner is outlandish by comparison, having been in Calgary since only 1980 and only having retired two numbers prior to enacting the Forever a Flame initiative- Lanny MacDonald's #9 and Mike Vernon's #30.  While both were heavily influential during the Flames formative decade and members of the team's only championship club in 1989, it was Al MacInnis who received the Conn Smythe trophy that season as the playoff MVP and still holds the all-time assist record for the franchise.  Additionally, Miikka Kiprusoff has supplanted Mike Vernon as the best Flames goaltender of all time as he holds the franchise records for wins and shutouts.
Despite this, MacInnis and likely Kiprusoff and Iginla will receive an honor unbecoming of their contributions to the franchise and unequal to that of MacDonald and Vernon.  Flames President Ken King begs to differ, as he believes the Forever a Flame program "is a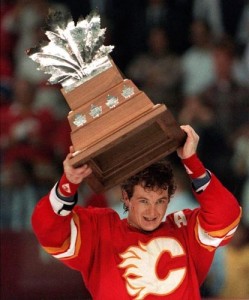 high, high honor not second to anything.  We will have many more facets than this.  It's the beginning of a new tradition, and we need to be bold and brave enough to do it for all of the good reasons we have."  While the facets to which President King referred to include a $25,000 charitable donation to charity of choice and a "wall of fame" implemented in the Saddledome concourse, King has failed to clarify all, or any, of the good reasons for doing this.  He may claim that it is second to none and he may sincerely mean that, but in actuality the Forever a Flame program does not permanently retire the number of the player in question and as such does not hold as much significance as a jersey retirement no matter how flowery the descriptive prose is.
Going forward with this initiative will unfortunately give the impression of second-tier status, as it is a pedestrian way of honoring true all-time greats.  It is simply not feasible for a franchise such as the Flames to honour the great players in their limited history in such a cautious fashion.  The St. Louis Blues, a team with a longer history, certainly made no hesitation when they chose to retire MacInnis' #2 a few years ago.  While MacInnis did capture a Norris trophy there in 1999, he still spent 3 more seasons in Calgary and captured a Stanley Cup and Conn Smythe trophy.  MacInnis was a champion in Calgary, and it is truly unfortunate that the Forever a Flame program is inherently unable to honor a champion appropriately.
While inaugurating the program with MacInnis is controversial, it is tolerable given the amount of time that had passed since he had last donned a Flames jersey.  It would be heavily surprising if the honouring, not retiring, of Iginla's #12 and Kipprusoff's #34 were conducted without much public outcry calling for a more permanent and ironically, honorable, way of paying tribute to these current franchise greats.