Everyone knows, you can never be too sure of anything. This statement holds true for most things. However, if one thing is for sure, it's that the Detroit Red Wings have gotten in the heads of their Original Six rivals, the Chicago Blackhawks.
How It's Played Out Thus Far
After a horrendous game 1 in which the Wings were outshot, out-played, and dominated en route to a 4-1 loss, Detroit quickly turned it around in games 2 and 3.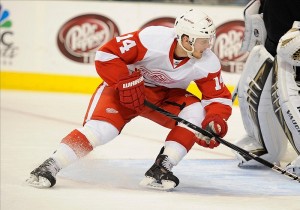 In game 2 they cleaned up their turnovers, limited the shots at goaltender Jimmy Howard (only 20 compared to 41 in game 1), and created more opportunities for themselves with their speed and physicality. Justin Abdelkader had 4 shots and 5 hits despite having no points; he's been a game changer for Detroit ever since he returned from suspension in the first round against Anaheim.
Game 3 was slightly a different story. The Blackhawks threw 40 shots at Howard who was equal to the task, only surrendering one goal to Patrick Kane (which should have been disallowed given this hit from behind on Johan Franzen by Niklas Hjalmarsson).
However, Mike Babcock's squad dominated the face-off dot, and played a lot more physical than Chicago. Toews, Kane, Hossa, and Sharp were shutdown for most of both game, thanks to Howard's stellar play and the much-improved defensive game from Detroit (15 blocked shots to the Wings' credit in game 3).
This series has not started off the way Joel Quenneville and the Blackhawks would have liked. They lost a game at home. They lost game 3, giving much of the momentum and control to the Red Wings. Aside from game 1, his big-4 only have 3 points combined in two games (and two of those are from Patrick Kane). With a crucial game 4 set to go on Thursday night, coupled with the Red Wings' ability to really shut down any offensive threat from Chicago the past two games, Detroit's chances of taking a commanding 3-1 series lead and possibly upsetting the President Trophy winners is more than possible.
Blackhawks Have Been Stumped
Chicago's best players need to be their best players if they are to win this series. So far, they haven't been. The lack of point production from their stars has really hurt their chances in this series, and it's showing. When Toews doesn't score a point for Chicago, they are 2-3 in the playoffs so far. Two of those losses have come in this series. No offence to Minnesota, but Detroit has a lot more depth and provides a much stiffer challenge to Chicago, and Chicago can live with Toews maybe not performing for a game or two against the Wild. However, in this series, Toews and Hossa have gone absolutely cold. Against a better team in Detroit, you cannot afford for your stars to not contribute. With no signs of the Wings' terrific defensive play stopping after 2 solid games, the Red Wings look like they are in good shape to pull off an unbelievable upset.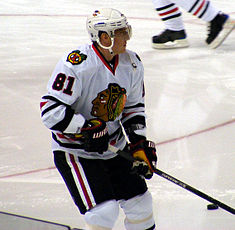 Detroit's all-around defensive game has improved by leaps and bounds since game 1. Niklas Kronwall has really lead this team, and Babcock has seen some better play from Kyle Quincey and Carlo Colaiacovo. The improved team defence has really stymied Chicago's breakouts and offensive zone penetration. The Chicago defence has given up the puck many a times leaving their zone. They've been disorganized and messy with their first pass as well. Attribute this to Detroit's constant pressure on the man with the puck, Mike Babcock has placed one man high, fore-checking and badgering the Chicago defence with the puck. The Blackhawks have been stumped and are having difficulty leaving their zone. Not being able to leave your zone equals ineffective offensive zone penetration and less quality chances to score.
The real story has been Detroit's goaltending. Jimmy Howard has been the main reason why the Red Wings are in the playoffs. Ever since he signed his contract extension with the organization, he has been rock solid for the Wings. A few bad games so far in the playoffs is normal (he's only really been bad in 2 or 3 games), but the rest of the way, he's stumped the Ducks and Blackhawks. He's made big saves time and time again, and last night, showed again why he was signed to the 6-year extension, robbing Patrick Sharp on this breakaway.
Jimmy's on a great roll, and he's really showed the consistency that has made him the number-1 guy between the pipes in the Motor City. The Blackhawks have 101 shots combined over the first three games, and Howard has only let in 6; if that's not frustrating, I don't know what is. Jimmy Howard's play alone is a reason to believe that the Detroit Red Wings can upset the Chicago Blackhawks in this series.
Chicago is in big trouble. Their play the past 2 games has been poor, their big stars haven't showed up, and they are being physically outmatched by the Red Wings. Detroit needs to continue what they've been doing (i.e. continue to shut down the stars, create opportunities and limit the Blackhawks', solid team defence)(look back to my article on what Detroit needed to fix after game 1; https://thehockeywriters.com/blackhawks-exploit-red-wings-errors-in-dominant-game-1/) to really take a strangle-hold on this series. There may not be such thing as a sure thing, but what is for sure, is that the Detroit Red Wings can upset the Chicago Blackhawks.
I am a fourth year student at the University of Toronto studying Physical Education/Concurrent Teacher Education. I have been a hockey fan all my life and play in a men's league during the winter. My favourite leagues are the NHL first and foremost, the MLB, and the NFL. I also work at the hockey megastore Pro Hockey Life. Follow me on twitter @rob_ruscitti and check out my sports blog on twitter as well @EhSport360