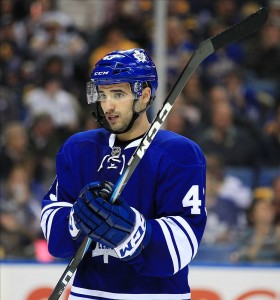 It's now been a week since the lockout shortened 2013 season ended in heartbreaking fashion for the Toronto Maple Leafs.
For a club that was among the youngest in the National Hockey League, the season can best be summed up as one big learning process. From a shortened training camp, right down to game seven of the first round, the Blue and White encountered a number of unique experiences for much of the squad.
Shortly following the lockout, a weeklong camp was thrown together. It was there that both Morgan Rielly and Leo Komarov made their first true appearance in a Maple Leafs sweater. It also marked the first time that centre Nazem Kadri impressed management enough to give him a full-time shot, no strings attached.
It was a make or break year for Kadri, and perhaps his last chance in Blue and White. Leafs Nation collectively held their breath.
From there, it was time for the first NHL games of both Mike Kostka and Komarov in Montreal. Both rookies acquitted themselves very well in a Leafs victory, along with Kadri, who notched his first of many goals on the year.
As the season wore on, in the absence of assistant captain and offensive spark plug Joffrey Lupul, the young Leafs got contributions from all over the lineup. Nazem Kadri seemed to finally find some consistency in the NHL, and Phil Kessel displayed a more matured, dynamic game.
James Reimer was also beginning to round into form, following an injury midway through the season, and had claimed the number one job in Leaf Land.
The team was excelling at playing a rough and rugged style implemented by coach Randy Carlyle. It was a much different team than years past. They were both learning how to hold leads and their penalty kill improved dramatically.
All of this culminated in a chance to clinch a playoff spot with several games remaining in the season. After failing to do so on a couple of occasions, the Leafs finally got it right in Ottawa, of all places.
The youngest group in the NHL had finally done something that no Leafs club had done in the previous seven seasons. For all the learning and growing during the regular season, it was only the tip of the iceburg.
It was during the seven game series with the Boston Bruins that the Leafs gained quick experience for their young core. The majority of them played their first playoff game, which wasn't pretty. Then they recorded their first playoff win with a much better effort in game two.
There is likely nothing that could prepare the young squad for what awaited them as they returned home for game three. They experienced what nine years of pent up frustration and excitement looked like, and lore gave way to the reality of what the playoffs are all about in Toronto.
The Buds stumbled through game three, dominated game four in a losing effort, and it was back to Boston with their backs against the wall.
For all the rookie playoff Leafs, this was also the first time they faced a win or go golfing situation and they all rose to the challenge, twice. The way they battled and won both elimination games showed a type of heart and character unseen around Toronto for the better part of a decade.
Perhaps the biggest learning experience of the entire year was the last game of the season. The stakes were, of course, sky high and for 58 minutes the young Leafs looked poised to take full advantage of their opportunity.
However, as has been lamented for a week, it was not to be. A two goal lead evaporated and a loss in overtime ended the season prematurely for a squad seemingly destined for bigger and better things.
While there is likely more heartbreak than learning to be done in the final 10 minutes of the season, it should seem to even the most dejected of fans that the season was a reasonable success.
No, they didn't win their last game of the year, but they encountered numerous unique circumstances and seemed to grow through each of them, enough to surprise all the pundits who had them pegged as a lottery team, and a club with no shot to beat the Bruins.
From first training camps, to first games, to first playoff appearances and first game sevens, the Leafs gained an amount of experience that takes some teams two or three years to find.
That can only spell good things to come for the young core of this Toronto Maple Leafs club.
A graduate of Wilfrid Laurier University, Kevin is the Senior Editor of Maple Leafs Central and has previously worked as a Toronto Maple Leafs contributor for The Hockey Writers. Kevin can be contacted at k.am.pentz (at) gmail (dot) com.