Like it or not, Dale Weise is about all that's different about the Montreal Canadiens this season.
Unsung Heroes
Yes, Weise was with the Canadiens all throughout 2014-15 (having been traded to Montreal from the Vancouver Canucks the previous season), even winning the Jacques Beauchamp-Molson Trophy as the team's most unsung hero.
However, the point is he won that award largely for his contributions, hitting a career-high 10 goals and 29 points, while playing with Max Pacioretty on the team's first line (playing on it for over 280 minutes over the course of the season).
After his first career hat trick against the Calgary Flames on Friday, he's over halfway to that goal total just 12 games into this season, but he's scored his six markers while playing on the team's third line with David Desharnais and Tomas Fleischmann.
It's that level of bottom-six scoring—along with that provided by Torrey Mitchell (five markers)—that has separated this year's 10-2 incarnation of the team from last year's and has the Habs scoring a second-place 3.75 goals per game (Boston Bruins; 4.00). Last season, they scored 2.61 per game to place 20th.
Canadiens Course Correction?
Granted, it's still early and things can still fall by the wayside in the offensive department. In many ways, the team's impressive start already has, not just with the two straight humbling defeats at the hands of the Canucks and Edmonton Oilers.
Their style of play since beating the Detroit Red Wings in game No. 6 has shifted drastically from dictating the tempo to being pinned down in their own zone and overly relying on Carey Price. In that win over the Red Wings, the Habs owned 60.4 percent of all score-adjusted Corsi events, according to hockeystats.ca.
Since then, in order of the game played, they've had ratings of 48.8 (Saint Louis Blues), 51.2 (Buffalo Sabres), 40.0 (Toronto Maple Leafs), 44.3 (Canucks), 47.7 (Oilers) and 54.4 (Flames).
While the showing against Calgary was an invited course correction, up until five minutes into the third period, the Flames, who have worse possession metrics than the Canadiens, were winning that battle. That's when Paul Byron scored his shorty to put the game out of reach at 5-2 and burn out whatever life the Flames had left.
The reason possession is preached as being an indicator of long-term success is because the alternative is generally considered unsustainable, i.e., regularly being at a disadvantage and pinned down in your own zone to the point that a given team has to rely consistently on above-average goaltending.
Winning By Committee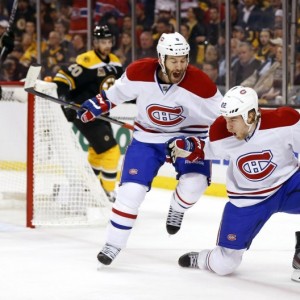 The reason the Canadiens got away with it last year is obviously because of Carey Price, who won the Vezina and Hart Memorial trophies as the league's best goalie and most valuable player. One need only look back to the 5-1 and 4-3 losses to the Canucks and Oilers to realize he won't always be there. Coincidentally, back-up Mike Condon was playing against Calgary.
For now, though, the Habs at least have the offensive finishing power to cover up their defensive deficiencies. So, in spite of the similarities to last year's system, which the Habs have seemingly and ill advisedly reverted to—whether on purpose or inadvertently—it's still an undeniable improvement.
Considering the team's insanely high 12.1 shooting percentage, it probably isn't sustainable either. However, the Canadiens are at least winning by committee now instead of thanks largely to one player.
In spite of his Jacques Beauchamp-Molson trophy, that one player obviously isn't Weise. His hat trick wasn't even technically the difference in the four-goal win over Calgary. But his output sure is helping in general. Right now everyone is.
Weise may not win the award again. If he keeps it up, he may not even be eligible anymore. If the team as a whole keeps it up, no one will be.