The Montreal Canadiens are headed into this year's trade deadline as sure-fire sellers, with a bevy of possible players they could move. They also have injury issues and tradable players that are not producing. However, trade rumours have been running rampant all season — it's almost crunch time, and the Habs need to make moves if they want to acquire that first-overall pick or the young goalie they have hinted about wanting. Here is a list of three Canadiens that could be on the move for Montreal general manager (GM) Kent Hughes to get what he wants.
Joel Edmundson
I might as well start with the apparent player involved in most of the latest rumours, Joel Edmundson. Edmundson is a big defensive defenceman who was instrumental in the Canadiens making it to the Stanley Cup Final two seasons ago. He was part of the core four of defencemen that was almost unbeatable through the first three rounds of the playoffs in 2020. He is also a key leader in Montreal who cares for the young players and ensures they have a good transition into the NHL. On top of that, he is a Cup winner with the St. Louis Blues, making his leadership and experience almost as valuable as his on-ice presence.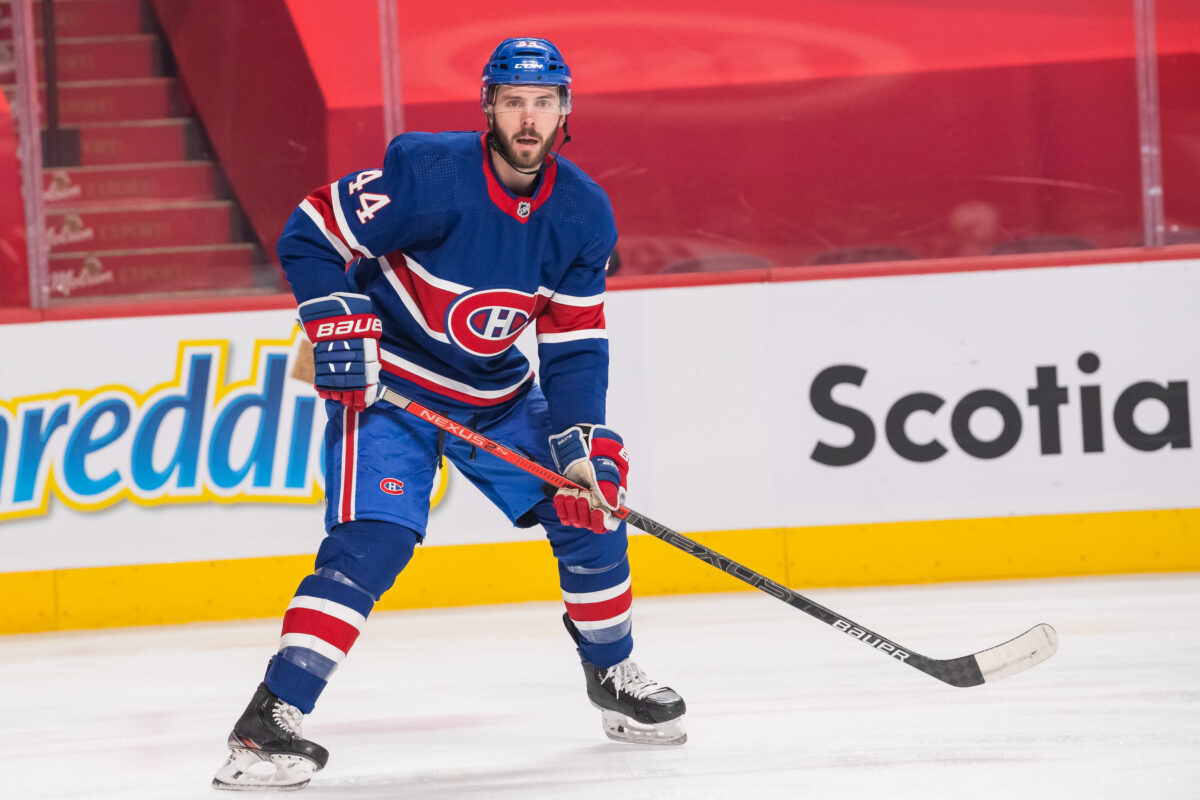 The Edmonton Oilers have been heavily linked to Edmundson for some time as they need a strong defenceman. They also have pieces that the Canadiens might want, like a first-round pick or a young prospect: Xavier Bourgault has been rumoured to be the return from Edmonton if a trade were to happen. Recently the Los Angeles Kings have been reportedly knocking on Hughes's door asking about Edmundson, which sort of makes sense when you realize former Montreal GM Marc Bergevin is an advisor to the GM Rob Blake in Los Angeles. Edmundson still will have a year left on his contract, which is appealing to some teams because he could be helpful for their playoff run this season and, if things don't work out, a trading chip for next season at the trade deadline. If anything, Edmundson is the best bet to be moved at this season's deadline.
Mike Hoffman
The recent uptick in scoring for Mike Hoffman has opened the door for the possibility of him being moved at the trade deadline. He has had a rough season offensively, scoring only nine goals and 18 points in 37 games this season, a far cry from his usual 20-25 goal production. He is also known to be a power-play specialist, yet has been anything but since joining the Canadiens last season. He has recently been more consistent in his production, scoring seven of his 18 points in his previous 10 games, almost half his point total for the season. If he can keep up his current pace, teams will be more willing to try to make a move for the scoring winger.
Related: 3 Goalie Prospects Canadiens Should Target at Deadline
---
Latest News & Highlights
---
When it comes to Hoffman, who, like Edmundson, has term left on his contract, but at a higher annual average value (AVV) — $4.5 million, the cap hit alone could scare teams off, especially with the low production by Hoffman this season. If Hughes wants to move him out, he may not get much of a return or might have to add something to the deal to get it done. Teams could still want a player like him to give more secondary scoring for a playoff run, making Hoffman an exciting trade piece. The Montreal GM would probably be better off waiting for next season when Hoffman is on an expiring contract than moving him this at this year's trade deadline.
Josh Anderson
Finally, Josh Anderson is the most intriguing player the Canadiens could move at the trad deadline. Hughes has supposedly turned down a first-round pick for Anderson and seems to hint that he doesn't want to move him unless the right price comes. He is a very polarizing player this season for the Habs, some fans think he is overrated and awful at hockey, and others believe he will elicit a first-round pick and prospect at the trade deadline. Hughes is constantly getting calls about Anderson, and many teams, including the New Jersey Devils and Calgary Flames, have shown heavy interest in him.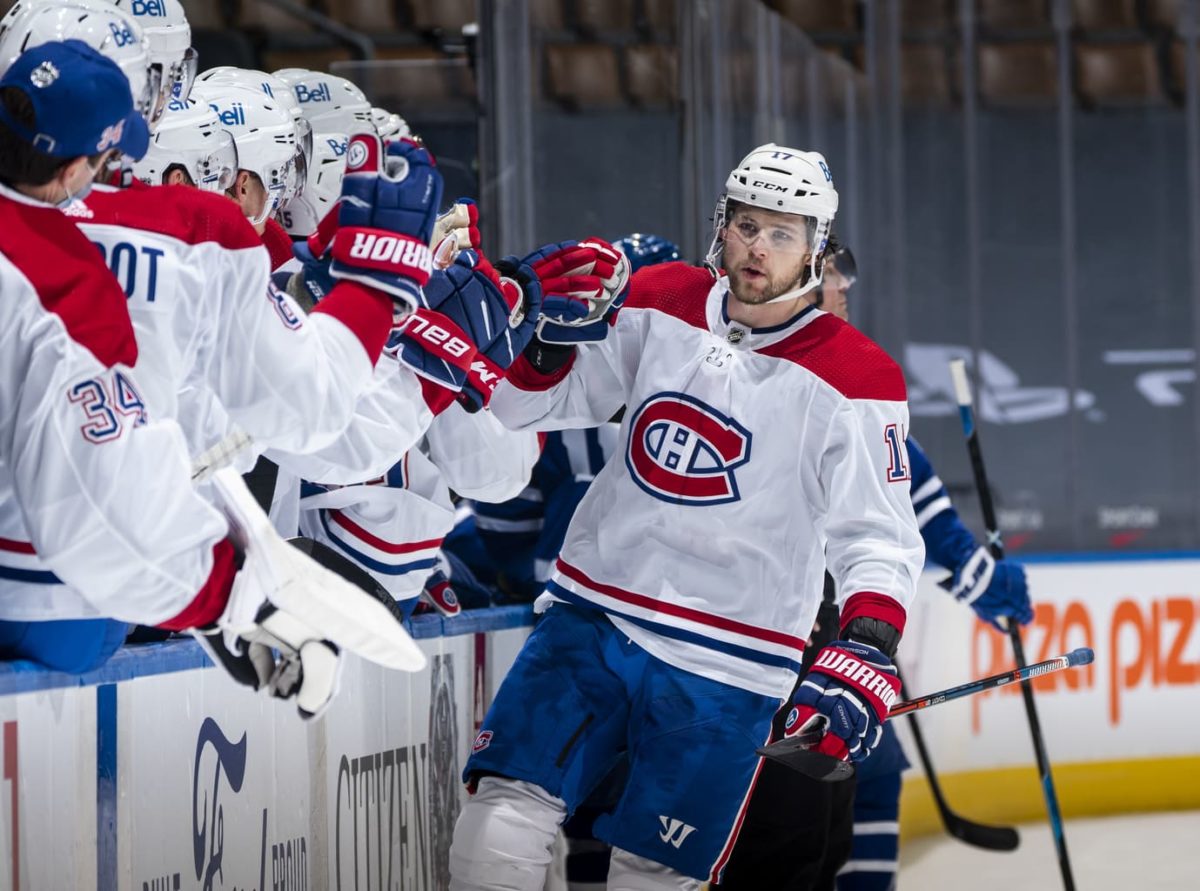 Anderson has a heavy AAV of $5.5 million, and his contract is until 2027; although he averages over 20 goals a season, he has only scored over 20 goals once in his career. He does have the distinction of being a power forward, which is rare in today's NHL and highly coveted by many NHL GMs. He has been inconsistent with the Canadiens, but is a robust and fast skating forward who can score if anything. His issue is he needs to play with high-level players to succeed.
In Montreal, he doesn't play with linemates that can lead the offence, so if he can get on a team where he can line-up with a talented player, he could become a top scorer in the NHL. Anderson is more of a Zach Hyman or Micheal Bunting-type player. He will have great success when on a line with highly talented players, but he is average when playing with mid-range players.
Hughes wants a lot for Anderson and won't move him unless he gets it, which could scare other GMs away. Hughes could also be using a bargaining ploy to get the best value out of Anderson and his contract; if the interest is that high for the player, why not ask for the most you think you can get?
You might have noticed Sean Monahan was not mentioned as one of the players being dealt at the trade deadline. The simple reason is that at the time this was written, no one knew his injury status or if he was even tradable. If he is good to go within the next three weeks, he will be moved; if not, Hughes has some work to do to get what he wants at the trade deadline.
---
---