In this edition of the Montreal Canadiens News & Rumors, the injury bug has bitten the Habs hard, causing general manager (GM) Kent Hughes to make plans on the fly and maybe even entertain possibilities that he had not before. We'll look at some rumors that are swirling ahead of the trade deadline, the waiver wire, and some confusion on the reporting of injuries.
Canadiens' Matheson on the Move? 
George Laraque on BPM Sports states that defenseman Mike Matheson will be traded by the March 3 trade deadline. He makes a solid argument for why it would happen. There are several teams that are searching for defensive help, even some specifically looking for puck-moving defenders.
Related: Canadiens Mock Trade Deadline: The Results
---
Latest News & Highlights
---
With Joel Edmundson's health in question, Matheson may be Hughes' best hope of getting a valuable return if he trades a defender. His salary cap hit of $4.875 million until 2026 and proven puck-moving abilities make him a desirable target to add to a Stanley Cup-hopeful team.
But everything that makes him valuable to a contender is why the Canadiens need him as well. On top of that, he provides a veteran presence that can help younger defenders develop. His pairing with Justin Barron has been impressive to watch. Keeping a hometown kid with the Canadiens who can also play the style that a modern NHL defenseman needs to play now, and fits with the Habs system, is also of high value to Hughes. Not to say Matheson is untouchable, but for Laraque's declaration to become reality, the trade offer would need to be one that makes the jaws of both Canadiens' and the acquiring team's fanbases drop.
Canadiens' Minor Moves 
According to Renaud Lavoie of TVA Sports, Hughes is likely going to make moves that solidify the Laval Rocket. According to him, the Canadiens will need to ensure that their American Hockey League (AHL) affiliate keeps a competitive roster for the remainder of the season.  
If there is another injury that happens in the short term, it wouldn't surprise me to see the Canadiens make a minor trade or make a claim off waivers to add to their NHL roster and stop poaching players from Laval.

– Renaud Lavoie 
With the Rocket in an AHL playoff race, injuries or significant trades would impact that roster, and by extension, the development of the prospects there. With the Canadiens' season being lost with no hopes of the playoffs, Hughes should add to the AHL roster by filling the NHL roster with some short-term players on cheap and expiring deals. Development is the focus now. 
Canadiens Acquire a Center 
The Canadiens claimed center Chris Tierney off of waivers this week from the Florida Panthers. With Jonathan Drouin and Alex Belzile filling in at center and without any real indication of the health status of Sean Monahan and Kirby Dach, the Canadiens needed someone to help eat up some minutes without being a liability. This move brings in a veteran on an expiring $750,000 contract, meaning there was no risk to the Canadiens' cap or development situations. 
One thing is for sure, he wasted no time in getting himself on the scoresheet as he scored a goal in his first game as a Canadien while playing over 13 minutes of ice time on the fourth line. The question that is on the minds of the fanbase is, why claim Tierney if management expects Dach and/or Monahan to be back soon? If they aren't returning soon, this may well have been the first of several low-cost moves before the deadline.
Montreal Medical Confusion 
The Canadiens provided an update on the medical status of some, but not all, of their injured players. There was no mention of Monahan, which was odd, but odder still was the update provided on Dach. According to the Canadiens, "Dach won't join the team on the road in Philadelphia. Dach was earlier diagnosed with a non-covid-related illness that has sidelined him since February 16. Through the course of further medical evaluation and testing, it was determined that the illness-like symptoms were related to a lower-body injury."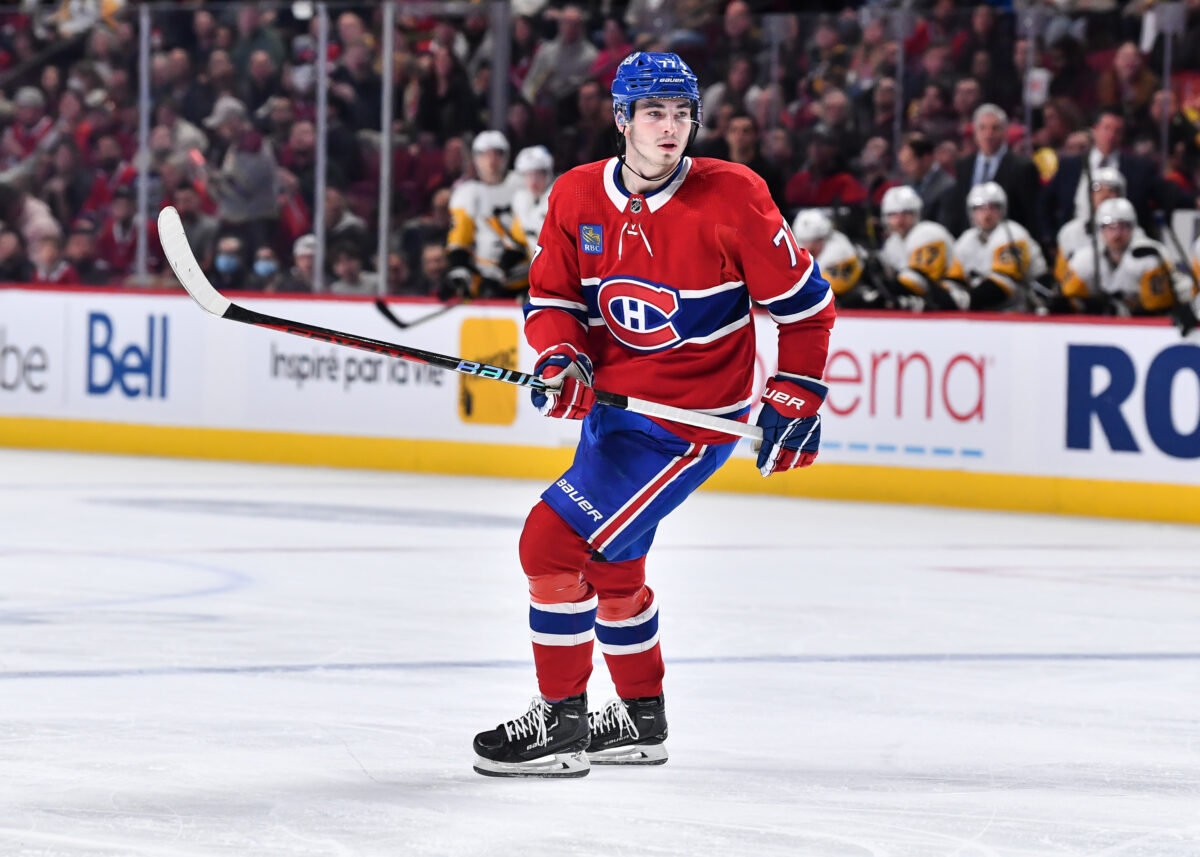 So, is that just some creative writing to avoid the truth behind an injury? What can cause that? Well, it could be that he suffered an infection such as a staph infection. But it is all speculation for now. Especially since the announcement created more questions than answers.
NHL Contenders Wait on Monahan  
Darren Dreger on TSN's Insider Trading stated that Monahan's health status will be updated early in the week of the trade deadline. If the Habs center is projected to return to play soon after the deadline, a team could step up and make an offer. With Ryan O'Reilly and Bo Horvat off the trade block, Monahan would have been the next-best center available leaving Hughes primed for an excellent return.
But that offer may not be what fans and Hughes would have hoped for prior to him being placed on the long-term injured list in December when he had 17 points in 25 games played while stabilizing the Canadiens' lineup and insulating young centers like Dach.
The Canadiens continue to surprise and play entertaining hockey while they're on their way to a lottery pick in 2023. There will be more news to keep up with, so keep an eye on THW's Canadiens coverage for all your hockey needs, including THW's affiliated podcast Habs Unfiltered for the latest news, notes, and rumors.