OTTAWA — Paul Byron scored twice as the Montreal Canadiens defeated the Ottawa Senators 5-2 Thursday night.
Jeff Petry, Brendan Gallagher and Andrew Shaw also scored for the Canadiens (14-10-5) as Carey Price stopped 19 shots to sweep the home-and home series with identical 5-2 victories.
Mark Stone and Colin White scored for the Senators (12-14-3) as Craig Anderson stopped 38-of-42 shots.
Both Matt Duchene (lower-body) and Bobby Ryan (upper-body) left the game with injuries for Ottawa and didn't return.
An unlucky bounce early in the third gave Montreal a 4-2 lead on Gallagher's goal, and with 2:32 remaining Byron added an empty-net goal for his second of the night.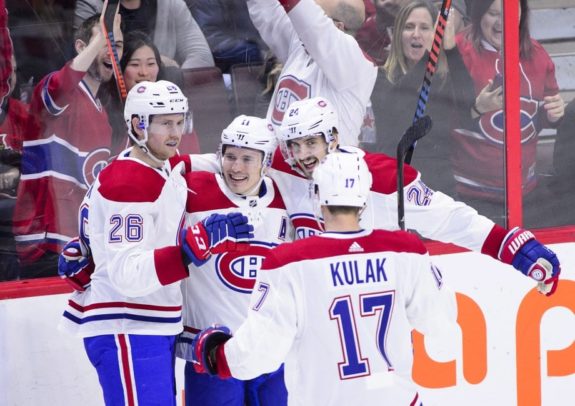 A couple defensive breakdowns by the Senators allowed the Canadiens to take a 3-2 lead after the second period.
After Tom Pyatt failed to clear the puck the Canadiens gained control with Philip Danault making a cross-ice pass to a Byron making his way to the net to put the puck in.
Shaw made it 3-1 with his 100th career goal, beating Anderson from in close. But the Senators cut the lead back to one with a power-play goal late in the period.
Price made a great save on Ryan Dzingel, but White was right there for the rebound for his eighth of the season.
An energizing first period saw the two teams tied 1-1.
Stone opened the scoring for the Senators midway through the period as he beat Price with a quick wrist shot.
The lead was short lived as the Canadiens tied the game 20 seconds later when Petry took a pass at the blue line and beat Anderson with a long wrist shot.
Thursday's game marked the first of a three-game homestand for the Senators, while the Canadiens started a three-game road trip.
Notes: Ottawa remains without D Mark Borowiecki, who is recovering from an upper-body injury.
Lisa Wallace, The Canadian Press