Several decades ago, playing undisciplined against the Philadelphia Flyers would have likely resulted in one or two bench brawls. On Thursday night, it cost the Montreal Canadiens two points in the standings.
On the night, Claude Giroux, Sean Couturier, and linemmate Travis Konecny combined for four goals and six points (two on the powerplay) to beat the Canadiens 5-3 at Wells Fargo Centre.
These certainly are not your Dad's Flyers. The Broad Street Bullies have been replaced with high-end skill in the form of  Giroux, Jakub Voracek and Couturier, and if given a chance on the powerplay, they'll often take advantage of such an opportunity.
"We know they have a lethal powerplay," said Max Pacioretty following the loss. "A lot of their offensive guys make a living off the powerplay, so I think once they get a point or get some good looks, they're going to start feeling it at five on five, and that's kind of what happened. But we still scored three, and you have to find a way to win when you score three.
Canadiens' Penalty Issues
The Canadiens surrendered two powerplay goals on five attempts in Thursday's loss, which was ultimately their downfall. Tomas Plekanec was called for three penalties, while Logan Shaw and Jonathan Drouin each took one.  At 5-on-5, Montreal led in corsi-for percentage (55.07%-44.93%), scoring chances (18-13), and high dangerous chances (8-6).
A lone highlight for the Canadiens on the penalty kill came in the second period when Arrturi Lehkonen scored his third goal in two games. Shaw and Brendan Gallagher also scored, but it was not enough to match the high-flying Flyers' man-advantage.
This season, the Canadiens have not fared well on the penalty kill. Ranked 25th in the NHL with a 77.9% efficiency rating, the team has taken the 11th most minor penalties in the league and have surrendered the fifth most powerplay goals.
"[The Flyers] have a really good powerplay," said Lehkonen. "All their top guys are really good on there, so I think maybe we took a little too many penalties. We had to kills those off, but they scored a couple goals on the powerplay, so that kind of took our momentum away."
Carey Price, who stopped 22 of the 26 shots on goal he faced, stated after the game that a few more saves on his part could have really changed the outlook of the game.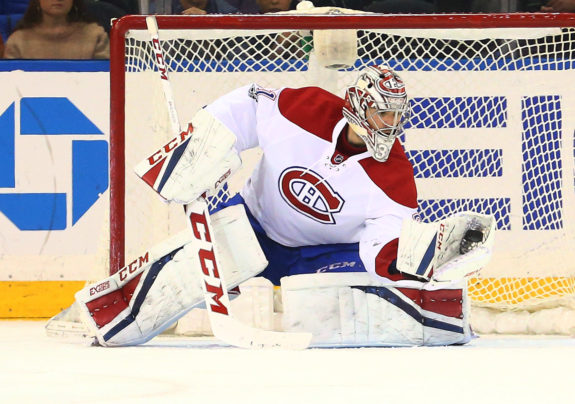 "I would have liked to come up with a couple of key saves on the penalty kill," said Price. "That probably would have been the difference."
Thursday's matchup in Philadelphia was also a display in how little depth at centre the Canadiens have compared with some teams in the league. The Flyers, who have Giroux, Couturier, Nolan Patrick, Scott Laughton and Valtteri Filppula down the middle, faced-off against Plekanec, Paul Byron, Jonathan Drouin and Byron Froese. The results were not pretty.
All but one centreman for the Flyers won at least 54 percent of their draws, while only one Plekanec won over 40 percent of his faceoffs for the Canadiens. Giroux, Couturier each were over 65 percent efficient on faceoffs, while Laughton won 10 of 11 draws. Julien has emphasized a need for improvement down the middle all season long and believes there is still much work to be done.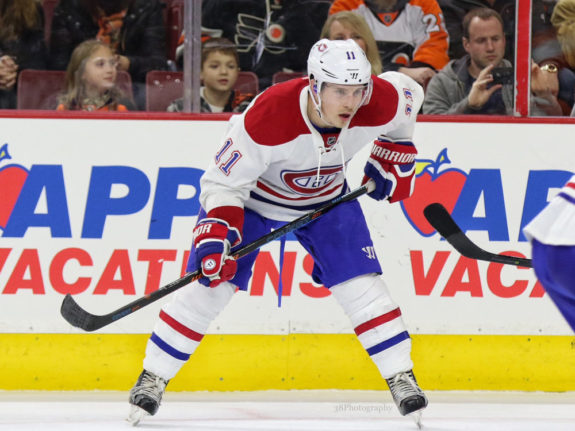 "It's one of our challenges, said Julien. "We've talked about it since the beginning of the year. We are getting a little bit better, but we need to be better than that. That's what we need to do."
The Canadiens return to action on Saturday at the Bell Centre to face PK Subban and the Nashville Predators. In their only matchup of the season thus far, Montreal lost 3-2 in a shootout in Nashville on Nov 22, 2017.
I cover the Montreal Canadiens and Laval Rocket for The Hockey Writers. I am currently a student at the University of Concordia studying journalism in the hopes of one day becoming a full-time sports reporter. I have previously covered the Indianapolis Colts of the National Football League for Pro Football Spot.