Canadiens general manager Marc Bergevin made another depth splash Monday morning in acquiring veteran forward Corey Perry via free agency. The deal has been reported to be 1-year worth $750,000. With forward Michael Frolik also being added at the same price just days ago, it is beginning to look a little crowded in the Canadiens bottom six. Today we will have a look at where Perry might fit into the Canadiens lineup and what he can contribute to the team moving forward.
Personally, I view Perry's signing as a tacit agreement based on two primary factors. One, as another move to institute the fomentation of a winning culture within the team's dressing room. Two, as an insurance policy provided injuries occur in a tightly scheduled 56 game grind.
Perry brings over 1,000 games of regular-season NHL experience as a member of the Anaheim Ducks and Dallas Stars as well as 145 playoff games. He is a member of the illustrious Triple Gold Club meaning he has won an Olympic gold medal, World Championship gold medal and a Stanley Cup. He is very capable of stepping in and providing leadership, stability and grit to the Canadiens.
Perry's On-Ice Potential
He will never be the 50 goal or even 40, 30 or 20 goal scorer he once was but he can still be competitive. After only scoring five goals and 21 points in 57 games in 2019-20, Perry raised his game in the playoffs helping the Dallas Stars reach their first Stanley Cup Final since 1999-00. He finished the playoffs with five goals and nine points in 27 games. Three of those five goals came in the Stanley Cup Final, including the double-overtime winner in Game 5. The Habs could use more clutch scoring.
As seen in the video of Perry's final playoff goal, he still has a nose for finding loose pucks near the net. This is a skill that never truly loses its value and is generally regarded as premium in the playoffs. If Perry can establish himself as a consistent net-front presence in 2020-21, he can perhaps take on some of the opposition ire that is usually reserved for Brendan Gallagher. In addition, Perry's ability to cause a ruckus near the net could open the door for some power-play time.
Regardless of his potential offensive contributions, Perry proved last season that he was still a fairly reliable defensive player. If he can prove he is not a liability defensively then he will endear himself to coach Claude Julien. There is actually some familiarity between the head coach and Perry stemming from their days as part of the 2014 Canadian Olympic team. Julien knows he can trust Perry in pressure situations.
In the past, Julien has tended to lean on veteran players so expect Perry in the lineup if a teammate is struggling defensively. That said, it is still unclear where Perry might find himself on opening night.
Canadiens Taxi Squad
I think it is most likely that Perry splits his time shuttling between playing regular bottom-six minutes and the taxi squad. My thoughts on this partially stem from two things. The currently projected bottom six players for the Canadiens are quite good in those positions and it is difficult to imagine him easily replacing one of them. Secondly, from the layout of the newly formed Northern Division, it may make sense to have Perry in the lineup against certain teams but not against others.
Although the stylistic distinctions between east and west are less pronounced these days, Perry has spent his entire career playing in a tough Western Conference.
In the new format, the Canadiens will have play more frequently against teams with notable grit, including the Calgary Flames, Winnipeg Jets, Vancouver Canucks and in many ways the Ottawa Senators. It would not surprise me if Perry was inserted purposefully for the sort of games where a grind is expected. That is after all, what he is all about. I am not saying he will only play against the teams with more grit but it would make sense to me if Julien deployed Perry strategically.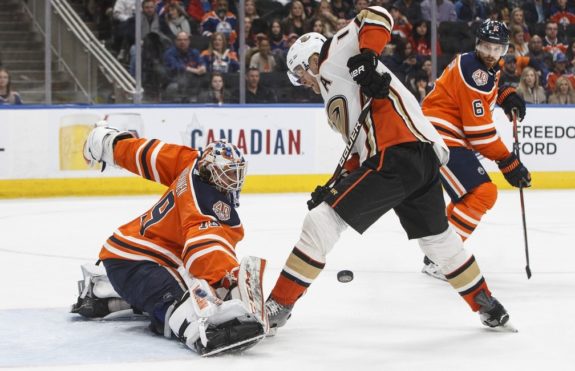 Secondly, the knock on Perry has always been related to his skating and speed. He is certainly slower than most, if not all, of the Canadiens current forwards, meaning he may struggle to fit the team mold of pushing the pace. Against teams like the Leafs, Oilers or Canucks I could see this being a slight problem. Nothing major, but it may mean someone with more speed will need to be utilized. I think in those matchups you fight speed with speed.
In any case, training camp is just around the corner and it will not be long before we get a glimpse into what Julien's plans may be for Perry. His presence, along with Frolik's, should at the very least create some interesting internal competition which may help prepare the team for the season. Overall, I see Perry's addition as a positive one as he should be a reliable depth option for the Canadiens.
---
---